Despite the patent cliff that worries Teva Pharmaceutical Industries Limited (NYSE:TEVA), the company's target price has been recently raised by Susquehanna. At the same time, Soros Fund Management has also increased its equity stake in the pharmaceutical company. Let's take a look at what these entities are thinking and valuing that currently others fail to do so.
Teva operates in three primary areas that include generic, specialty and over-the-counter "OTC" medicines.
Generic section
As the world's largest generic company with an established specialty medicines portfolio, Teva is strategically well positioned to benefit from the current changes in the dynamics of the global healthcare industry i.e. a shift from patented drugs towards the generic ones. This segment contributed 51% of the company's total annual revenue in 2012.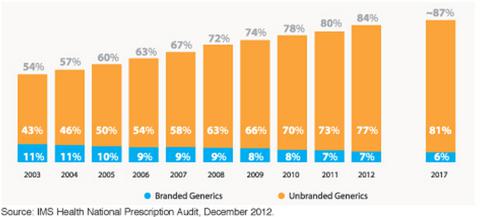 Source: Generics Outlook
With over 400 generic products in more than 1300 dosage strengths, the breadth of Teva's product offerings is likely to continue to be of strategic significance as the generics industry grows and as consolidation continues among purchasers, including large drugstore chains, wholesaling organizations etc. The company currently captures a staggering 16.2% of total US generic prescriptions. Staying conservative and assuming that Teva would not be able to increase its market share, the projected growth in the market size of the generic industry is likely to add significant growth to the company's top line.
Specialty section
Teva's specialty pipeline includes product candidates in several therapeutic areas, with a focus on Central Nervous System "CNS" and respiratory products, and selective innovation in the areas of oncology, women's health, and biologics.
Central Nervous System - Copaxone
The company's specialty product portfolio is headed by Copaxone, the leading multiple sclerosis therapy available worldwide. It has a high demand as more than 2.5 million patients are currently affected across the globe. Teva's drug has been quite popular with a US market share of 40% due to its both efficacy and safety for the long term along with reduced brain volume loss. However, the major concern is the expiry of its patent in the coming year which may result in a significant erosion of the company's revenue as generic competition enters the market. In fact, the sales revenue has already started to drop as per the third quarter results of 2013.
Significant player in respiratory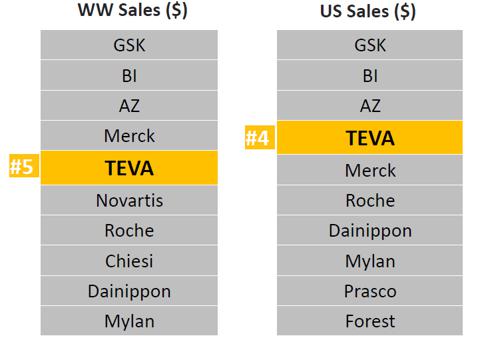 Source: TEVA webcasts and presentations
The company's strong brand performance by ProAir and Qvar is expected to provide an uplift to the revenue contributed by this department. Teva plans to enhance the value generation from its existing brands by introducing novel inhalers. Further, it looks forward to enter into other high value adding drug classes like Asthma/COPD and launch differentiated inhalers. The company's future plans can be reconfirmed by analyzing its rich respiratory pipeline where it has already filed for approval of DuoResp and has many lined up researches in Phase II and III to treat asthma. It is highly prevalent disease with 8% of the US population from asthma and the number continues to grow every year. Physicians have surveyed that 77% of the poorly controlled patients and 46% of the well controlled patients who are currently on nebulizer would switch to Teva's MicroDose device. Successful entry in this area can provide significant growth and standing to Teva.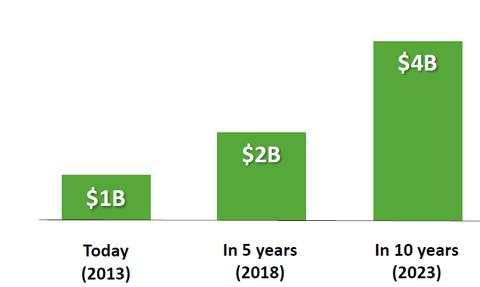 Source: Respiratory revenue projection - TEVA webcasts and presentations
Rising research and development focus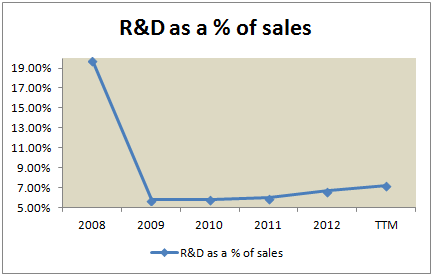 Source: Morningstar
The relaxation in the research and development activity in 2009 may have worried investors today as the company nears the expiry of its major patented drug, Copaxone, while not many drugs are ready to replace it before its withdrawal. However, Teva has realized the importance of research and development and that research conducted today is the passport for the future growth of the company. Thus, the company is once again increasing its spending in this area to secure a better and safer future income stream for its investors.
Cost efficiency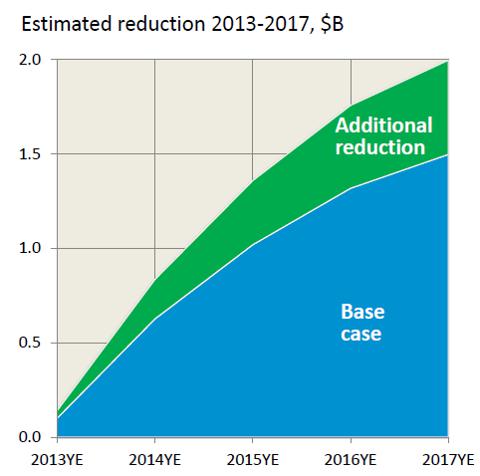 Source: Barclays Healthcare Conference
As the competitive landscape of the pharmaceutical industry continues to intensify, Teva is focusing on making itself more efficient and cutting down its costs. It is expected that almost 70% of the cost savings will be achieved in the upcoming three years. This will help the company is cover up for the price erosion, volume growth and other factors.
Final take
The company seems to be a pretty good buy as its shares trade at a conservative eight times their estimated earnings for 2014, making Teva the cheapest stock among the world's largest pharmaceutical companies. Also, the company is currently offering a dividend yield of 3.14% where the sector is justifying a yield of 1.75%.
Disclosure: I have no positions in any stocks mentioned, and no plans to initiate any positions within the next 72 hours. I wrote this article myself, and it expresses my own opinions. I am not receiving compensation for it (other than from Seeking Alpha). I have no business relationship with any company whose stock is mentioned in this article.