A lot of attention has been paid to railroad stocks lately. And why not? This sector has been extremely rewarding to investors that took a position in any of the stocks illustrated below. Average return YTD is approximately 40%.
But if you concerned about how much price appreciation remains for these companies how do you still make money in this area?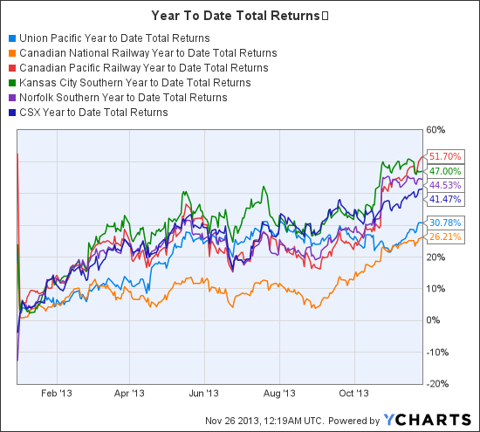 Source (YCHARTS)
One way is to locate companies that will also benefit from growth that is driving the increase in these rail stocks.
I had been looking for one that would and found one that is new to the public markets called American Hotel Income Properties Reit (OTC:AHOTF).
AHOTF is primarily traded on Canadian markets. It became a public entity in February 2013 after doing a $100 million CDN financing.
The proceeds of the financing along with a $70 million mortgage line with a US Chartered Bank allowed it to acquire American based Lodging Enterprises for $127.5 million.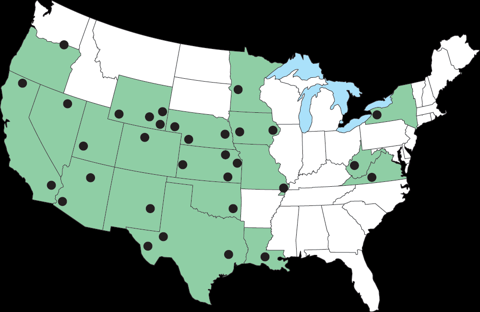 Source (American Hotels - June 2013 Presentation - Slide 10)
Lodging Enterprises held an aggregate of 32 hotel properties (2,505 rooms) located in 19 states, predominantly located in smaller towns throughout the US.
American Hotels then announced the acquisition of another 77 room hotel in Jefferson City, Missouri, in September. This hotel is currently being refurbished with the expectation that it will be ready for use in January 2014.
The company then announced another four hotels that were being acquired in the Pittsburgh area adding 471 rooms. In conjunction with this, it announced a financing for approximately $40 million. The financing was a bought deal and closed at the end of October.

(Source: SEDAR FILING -Final Short Form Prospectus - English - October 24, 2013 - page 18)
With recent acquisitions American Hotels portfolio of rooms has expanded to 3,113 rooms in 37 hotels.
But the growth will continue because American has also four other hotels being developed.
In Santa Teresa, New Mexico, it announced plans for a 56 room hotel and a diner. Planned completion date is for July 2014.
In Brunswick, Maryland, it announced plans for a 25 room hotel and a diner. Planned completion date is for September 2014.
In Wellington, Kansas, it announced plans for a 110 room hotel. Planned completion date is for September 2014.
In Glendrive, Montana, they announced a 50 room hotel and a diner. Planned completion date is for November 2014.
These additions would bring their hotel count to 41 with 3,354 rooms.
So how does this tie into the rail industry?
American Hotels' business model is to locate hotels in close proximity to high volume railroad hubs and switching terminals across the USA. In conjunction with this strategy, it then enters into long term contracts with the large railroad companies to provide occupancy for their crews. These companies include Burlington Northern Santa Fe, LLC, CSX Corporation (NYSE:CSX), Union Pacific Corporation (NYSE:UNP), and Canadian Pacific Railway Limited (NYSE:CP). Union Pacific is its largest client.
For example for the most recently announced developments in Glendrive, Montana, and Wellington, Kansas, American Hotels has secured the hotels revenue stream by signing a 10 year contract for 80% occupancy.
This type of contract is typical of how the Company does its business. It anchors its hotels with high occupancy contracts for up to 10 year periods. Prior to the recent acquisitions - the company indicated in its June 2013 presentation that it had minimum occupancy rates of 74% guaranteed by railroad contracts with the average life being 3.5 years of these contracts.
It also guarantees the company a set income stream whether the rooms are used or not. This takes away the seasonality risk of hotels.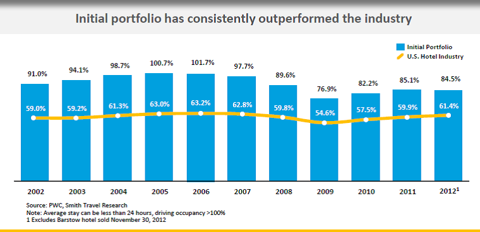 (Source: American Hotels - June 2013 Presentation - Slide 11)
Looking at the Company from a financial point of view is a bit limited mainly because as a public entity it has only been in existence for essentially three quarters. And as a new public entity it means that items like G&A and corporate financing costs are likely higher than what they would be in a normal year, chiefly because the process of going public is more expensive than the cost of doing follow-up financing.
Given that the company has been pretty active in the acquisition and development department, it is hard to get a handle on where they are at financially, as G&A and corporate financing costs keep changing.
Having said that, Q3 gives a somewhat good representation of what a normal quarter would have looked like based on the initial acquisitions.
With this in mind, because this is a REIT, the concern is whether they are generating or will be generating enough cash flow to cover distributions going forward.
Funds from Operations are given as $2,647,371 for the latest quarter and Adjusted Funds from Operations were given as $2,508,542. Using either benchmark this was more than enough to cover the required amount needed for future quarterly distributions - $2.341,125 (based on the initial 10,405,000 shares outstanding).
However, since the company has recently issued another 3,967,500 shares, they now need to generate approximately $3.2 million in cash flow each quarter to cover distributions.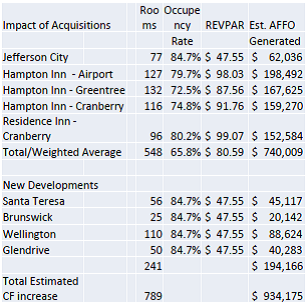 Source (William Koenig)
The company indicated an Occupancy Rate of 83.4% based on 222 days of operation and 84.7% for the latest quarter so for the new developments that are similar to their existing operations I've used the same occupancy levels as the last quarter.
Average REVPAR (revenue per available room) is given as $46.80 on a year-to-date basis and increase to $47.55 for the quarter. So for developments that are similar to existing operations I've used the latest quarter REVPAR rate.
But because the Pittsburgh properties have a much higher REVPAR rate, I've taken the cash flow per REVPAR ratio on existing properties and multiplied this percent by the Pittsburgh REVPAR amounts to calculate the potential new cash flow.
As the spreadsheet shows utilizing this methodology, I get a scenario where additional cashflow generated once all the properties come on stream is greater than the REIT distribution stream.
Obviously this model is speculative at best but one would assume the Company wouldn't undertake a project unless it was accretive to existing cash flow so I am comfortable with the model.
With the Company trading at $10.52US at the time of writing, this gives a yield of approximately 8.5%. With limited liquidity, and a market cap of approximately $150 million, an investor has to be comfortable with the risk of early stage companies. Key to American Hotels is the unique business model combined with the long-term contracts with the major rail companies. In my mind this is one of the better early stage companies going and well worth the early stage risk.
Disclosure: I am long OTC:AHOTF. I wrote this article myself, and it expresses my own opinions. I am not receiving compensation for it (other than from Seeking Alpha). I have no business relationship with any company whose stock is mentioned in this article.