Ventrus Biosciences (VTUS) is focused on the development of treatments for gastrointestinal disorders with a lead product candidate (Diltiazem Topical Cream or VEN 307) that is currently being evaluated in the second of two planned pivotal Phase III clinical trials.
VTUS expects to report results from the second of two pivotal Phase III clinical trials (ClinicalTrials.gov ID NCT01690221) for the relief of pain associated with anal fissures during Q1 2014 (February estimate for results based upon an 11/25/13 announcement that study was fully enrolled and a 28-day treatment period in the study with a 4-6 week estimate for data analysis) to support a planned 505(b)(2) NDA filing during Q2 2014 for a novel topical formulation of an approved drug (diltiazem).
In May 2012, European partner S.L.A. Pharma reported positive results in the first Phase III clinical trial for VEN-307 which included statistically significant results for both 2% and 4% formulations across three endpoints with a side effect profile that was similar to the placebo control group. In September 2013, VTUS reported positive results from three Phase I skin safety and PK clinical trials to support the planned NDA filing.
RECTIV (nitroglycerin) ointment is the only FDA approved drug for this condition, although nitroglycerin (even with topical use) is associated with more side effects (e.g. severe headaches often limit use to one time for this product) since it is a stronger vasodilator (blood vessel relaxation) compared to diltiazem and only a fraction (about 10%) of the drug is absorbed systemically from this topical formulation.
In addition, several compounded products including topical nitroglycerin, diltiazem and a related calcium channel blocker drug (nifedipine) are available for the treatment of pain associated with anal fissures. However these products are not FDA approved and typically not reimbursed by third-party payers (e.g. health insurers or Medicare).
VTUS plans to seek FDA approval for VEN-307 as an off-the-shelf option for this condition that is expected to be more consistent in terms of manufacturing compared to the variability associated with compounded formulations. And while safety is not a concern for compounded diltiazem due to low absorption, there are potential efficacy issues due to variability associated with compounding. VEN-307 is covered by method of use patents through February 2018 along with an expected Hatch-Waxman extension of exclusivity for the current three times daily (TID) formulation of the product if approved by FDA to mid-2019.
In June 2012, VTUS reported that a Phase III clinical trial for Iferanserin ointment (VEN-309) for the topical treatment of hemorrhoids failed to meet endpoints vs. placebo (resulting in the share price plunge illustrated on the two-year chart at the end of this article) so the Company halted development to focus on VEN-307.
FINANCIAL STATS (click here for SEC filing for Q3 2013 filed on 11/12/13):
- As of 9/30/13, VTUS reported $32.2 million in cash with no debt, which equates to $1.54/share in cash.
- As of 11/8/13, VTUS reported 20.9M shares of common stock outstanding, which represented an increase of about 1.3M shares from 8/9/13.
- During the first nine months of 2013, VTUS used ($12.4M) in cash to fund operating activities.
- In September and October, VTUS raised approximately $3.4M and $0.2M, respectively, in net cash proceeds from an at-the market (ATM) facility with Cantor Fitzgerald for the potential sale of up to $20.5M in common stock periodically at the company's discretion with a 3% commission rate. The combination of a cash runway through the potential launch of VEN-307 and the flexibility to sell smaller amounts of stock periodically decreases the risk of a large dilution / stock offering prior to the Phase III results early next year.
- In February, VTUS completed a public offering for the sale of both common (priced @$2.50/share) and preferred stock (convertible into 2.2M shares of common stock) for net proceeds of approximately $20.7M.
- In July 2011, VTUS completed an initial public offering for the sale of 5.2M shares priced at $10.
OUTLOOK AND TRADE SUMMARY:
I estimate a high probability of success (80%) in the second Phase III clinical trial ($5-6 target on positive results and sub-$1 target for negative results) given that VEN-307 has already posted positive results in the first Phase III clinical trial and is based upon an approved drug used for the treatment of pain associated with anal fissures in a compounded (non-FDA approved) formulation.
My run-up target for VTUS is in the mid-upper $3s as biotech stock traders recognize the upside potential in the stock with a very good chance of success in the second round of Phase III results for a company that is well-funded (over $1.50/share in cash with no debt) through a potential product launch and carries a low valuation ahead of a potential NDA filing during Q2 2014.
Since this is an all-or-none catalyst for VTUS, there is substantial downside risk if the Phase III trial fails since the company has no marketed products or late-stage pipeline compounds as a back-up.
Short interest is not a factor in VTUS with 224,395 shares short as of 10/31/13 and the company has an institutional ownership profile of about 44%, including 1.2M shares owned by Baker Bros.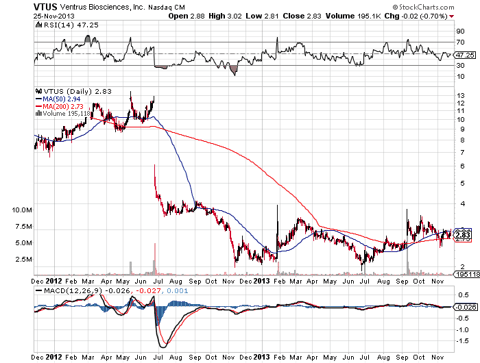 Disclosure: I am long VTUS. I wrote this article myself, and it expresses my own opinions. I am not receiving compensation for it (other than from Seeking Alpha). I have no business relationship with any company whose stock is mentioned in this article.