GlaxoSmithKline (NYSE:GSK) has a strong vaccine portfolio, which includes Infanrix/Pediarix, Rotarix, Synflorix and Cervarix. Its vaccine segment is the second leading revenue contributor, which grew 3% year over year to $1.6 billion in the third quarter of 2013. This segment contributes nearly 15.7% to the company's revenue and generated $4.1 billion for the first nine months of 2013. To build a stronger vaccine portfolio the company is developing new molecules and enhancing the efficacy of its vaccines to treat various indications.
On November 4, GlaxoSmithKline announced the results of the phase III study of its Human Papillomavirus Quadrivalent, or HPV, vaccine, "Cervarix," It is used to treat HPV 16 and HPV 18, which are responsible for 70% of cervical cancer and 85% of anal cancer cases. It has demonstrated that two doses of Cervarix enhanced the immunogenicity in girls aged between 9 years and 14 years. It was also able to match the same efficacy level compared to the licensed three-dose treatment in females aged between 15 years to 25 years. The FDA and EMA have approved the three-dose treatment of Cervarix, and its two-dose regimen was approved in nine countries including Guatemala, Honduras, El Salvador, Haiti, Suriname, Chile, Guyana, Nigeria and Ghana. Further in August 2013, the company filed the Marketing Authorization Application, or MAA, with EMA for Cervarix's two-dose treatment in the European Union.
Recent Findings
According to the American Association for Cancer Research, Women vaccinated with one dose of Cervarix develop the immune system to protect the cells against new HPV infections and cervical cancer viruses. This research was done in three groups, where 78 women were dosed with one dose, 192 with two doses, and 120 with all three doses of the vaccine. The results showed that 100% of the women in all the three groups (treated with one, two, and three doses of vaccine) were able to develop antibodies against HPV 16 and HPV 18 in their blood for four years.
This is a positive sign for GlaxoSmithKline, as even after the single dose of Cervarix antibodies remain effective against the viruses for four years, which will give it an advantage over its competitor's drug.
Opportunities in HPV drug market
Cervical cancer is one of the four deadly cancers in women. HPV types can cause cervical, vaginal and vulvar cancer among women, penile cancer among men, and anal and some oropharyngeal cancers among both men and women. It is estimated that around 529,000 new cases of cervical cancer will be diagnosed every year globally, and in the U.S. approximately 26,200 new cancer cases are diagnosed with HPV. Among these 17,400 women and 8,800 men would be infected with various types of HPV and approximately 13,100 females are diagnosed with cervical and anus cancer each year, generating huge opportunities for HPV vaccine manufacturers.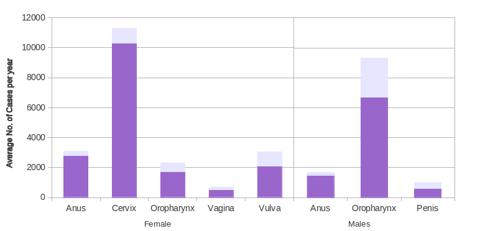 Source: CDC.gov
If the regulatory bodies accept GlaxoSmithKline's Cervarix two-dose regimen, then it has a good chance to capture the market share of Merck's (NYSE:MRK) HPV drug "Gardasil." According to a CDC report, in 2012, 53.8% of U.S. girls aged between 13 years to 17 years started the HPV vaccination regimen, but only 33.4% of them completed all three doses of the regimen. The trend depicted in the table below showed that around 43% of girls are taking two doses and leaving the third one. I expect that if the same trend continues in the future, it will benefit females to get fully vaccinated with just two doses of Cervarix, and generating an opportunity for GlaxoSmithKline and enabling Cervarix to enhance its penetration in HPV drug market.
Estimated HPV vaccine coverage among adolescent girls aged 13 years - 17 years, by numbers of doses - National immunization Survey - Teen, United States, 2007-2012

Source: CDC.gov
Additionally, to enhance their sales Merck and GlaxoSmithKline are stepping toward undeveloped or developing countries, which are highly under penetrated, as the majority of the population can't afford high vaccine costs. To grab the markets in these countries, both companies reduced their vaccine prices under an agreement with the GAVI Alliance, which was created in 1999 with a grant from the Bill and Melinda Gates Foundation to deliver more vaccines to the world's poor population.
The companies reduced their vaccine prices to $4.50 for Gardasil and $4.60 for Cervarix. In another agreement, the Pan American Health Organization will pay $13 a dose to supply these vaccines in Latin American countries.
These reduced prices will be initially applied to a few million doses for a demonstration project. It is anticipated that by 2020 around 30 million-40 million females in 40 countries will be vaccinated. The non-subsidized rate of these vaccines is $130 per dose in the U.S. I presume that even at reduced prices, these vaccines are expected to add significantly to the revenue of both companies.
Further, I expect that the approval of Cervarix's two dose regimen will provide an opportunity for GlaxoSmithKline to tap the future HPV market share. The subsidized prices are only for few million doses, which will attract unvaccinated people to get vaccinated with only two doses, reducing the burden on their pocket and enabling GlaxoSmithKline to enhance its presence in the HPV market and its future revenue.
Competition in HPV drug market
Merck is GlaxoSmithKline's only competitor in the HPV market. Merck's Gardasil reported year-over-year revenue growth of 15% to $665 million in third quarter ended in September 2013. This strong performance was driven by the continuous uptake of this vaccine in the U.S. and other international markets. Gardasil is used to treat HPV types 6, 11, 16, and 18.
According to the International Agency for Research on Cancer, these cancer viruses are three times more prevalent in men than women, and men are four times more likely to get infected by oropharyngeal cancer. Regulatory bodies have approved Gardasil to vaccinate men also, which has supported the strong growth in Gardasil's sales. As Gardasil is approved both for men and women, I can expect it will report continuous growth in the future too.
However, Cervarix, with its two-dose regimen, is expected to capture Merck's HPV market share. To face that situation, Merck is enhancing and building a stronger HPV portfolio. It has developed a new HPV vaccine, "V503." In the late-stage clinical trial, V503 demonstrated superior efficacy of 97% in blocking the precancerous lesions that are caused by strains of the virus, which Gardasil fails to stop. Merck made V503 more efficient in treating around nine strains of HPV, higher than Gardasil and Cervarix. Looking at V503's efficacy, Merck is expecting to file marketing authorization of this new vaccine before the end of 2013. I think that V503 with its capability of treatment nine HPV strains will perform better than Gardasil and garner higher sales revenue for the company, which may help Merck to counter GlaxoSmithKline's Cervarix.
On valuation Side
Backed by the strong drug portfolio, including its leading vaccines segment and superior performance by Cervarix in treating HPV strains with its two dose regimen, GlaxoSmithKline's long-term growth looks strong compared to other drug manufacturers. GlaxoSmithKline's stock generated returns of around 22% year-to-date.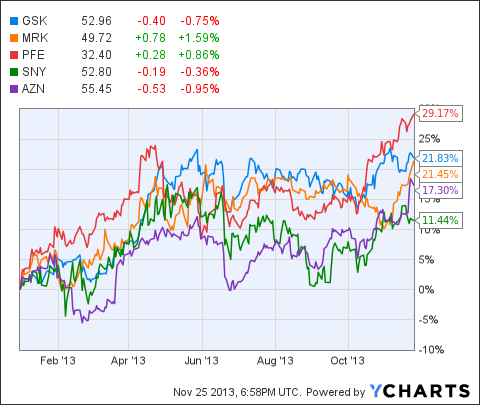 Deepening fundamentals views
| | | | | | | |
| --- | --- | --- | --- | --- | --- | --- |
| Ratios/Company | GlaxoSmithKline | Pfizer (NYSE:PFE) | Merck | Sanofi (NYSE:SNY) | AstraZeneca (NYSE:AZN) | Sector average |
| Dividend Yield | 4.50% | 3.40% | 3.80% | 2.49% | 5.3% | 3.2% |
| ROE | 55.50% | 32.64% | 8.70% | 6.10% | 20.43% | 20.2% |
| Trailing PE | 20.20 | 8.61 | 31.44 | 34.34 | 14.16 | 15.8 |
| Forward PE | 15.00 | 13.64 | 13.4 | 10.53 | 11.13 | 20.00 |
| Price-to-sale, or PSR | 2.99 | 3.64 | 3.02 | 3.20 | 2.52 | - |
Source: Yahoo! Finance
Analyzing the above metrics, GlaxoSmithKline looks attractive and has the potential to be one of the favorite companies for income investors, among other drugs manufacturers. GlaxoSmithKline's dividend yield is higher than the sector average and all its peer companies except AstraZeneca's dividend yield of 5.3%.
It is trailing at a price-to-earnings, or PE, ratio of 20.2 and forward PE of 15, which is in-line with other companies. However, GlaxoSmithKline's strong return on equity, or ROE, is significantly higher than other companies, representing higher growth potential for its future earnings.
Further, GlaxoSmithKline's PSR of 2.99 is relatively less than its peers, depicting that the stock price is trading in-ine with its sales. After missing the consensus estimate for the third quarter, GlaxoSmithKline has reaffirmed its EPS growth of 3%-4% this year from $3.53 in 2012, coupled with the revenue growth of 1%.
Conclusion
With the growth potential of Cervarix and its vaccine segment combined with the optimistic 2013 guidance, I expect GSK to have an upside potential of around 10%-15% in the next coming quarter. Further the strong dividend yield and higher ROE will also help in maintaining the investors' interest in the company.
Disclosure: I have no positions in any stocks mentioned, and no plans to initiate any positions within the next 72 hours. I wrote this article myself, and it expresses my own opinions. I am not receiving compensation for it (other than from Seeking Alpha). I have no business relationship with any company whose stock is mentioned in this article.