Biopharmaceutical companies witness their share prices sky rocket following the approval of a drug or a positive review. The British drug maker AstraZeneca PLC (NYSE:AZN) recently received a positive opinion on the approval of its Xigduo (dapagliflozin and metformin hydrochloride) for adults aged 18 and above with type II diabetes from the Committee for Medicinal Products for Human Use "CHMP" of the European Medicines Agency "EMA".
Prevalence of Type II diabetes
Presently, there are approximately 60 million people suffering from diabetes in the European Region. Gender wise this makes up to 10.3% of men and 9.6% of women within the age bracket of 25 years and older. It is also one of the leading causes of deaths per annum in the region. Overall, high blood glucose is responsible for nearly 3.4 million deaths on an annual basis.
Prevalence of diabetes has been rising among all age groups in the European Region. The high infliction rate can be attributed to increases in weight and obesity, unhealthy diet and reduced physical activity. WHO has estimated that deaths due to diabetes are expected to double in between 2005 and 2030.
Benefits for the developer
Although the company is yet to receive the final nod from the European Commission, there is high probability that the approval may be granted. The next question that comes to my mind is regarding the benefit that lies for the developer. The severe threat that diabetes is currently posing for many can be seen from the high prevalence level. In fact, it is a huge market out there for Xigduo as significant unmet needs still exist where patients' current glucose lowering regimen largely remains inadequately controlled.
AstraZeneca's drug is a tablet designed to be consumed twice a day and is currently the first fixed dosage combination to have received a positive review. It aims to reduce the re-absorption of excess glucose. Though it may take some time to finally reach the drug store shelf, the one solution tablet hints at the positive future growth that the company is likely to experience in the upcoming years once the approval is granted. Thus, it makes the stock a valuable investment for long term shareholders.
Proposed Acquisition
Presently, AstraZeneca has an attractive opportunity to acquire the diabetes research segment of Bristol-Myers Squibb Company (NYSE:BMY) which has announced to stop its research and development activity in diabetes, hepatitis C and neuroscience. The exit of Bristol is likely to reduce competition in three drug segments and the revenue will begin accruing to the acquirer. According to analysts at Citi, the consideration demanded can range in between $4-6 billion and is likely to add an increment of 1-5% to the company's earnings in the future.
Other Growth Drivers
Late stage pipeline - Oncology in Focus
The company's late stage oncology pipeline has been reloaded by three new Phase III clinical program starts which include olaparib, selumetinib and benralizumab. In the oncology segment, Selumetinib is being examined as a second line therapy in patients with advanced or metastatic non-small-cell lung cancer "NSCLC" whose tumors are KRAS mutation-positive. The research has shown a high and durable response rate of 37.2%. Apart from this, the clinical trial is the first Phase 3 study to test whether a MEK inhibitor together with chemotherapy is able to bring superior results compared to chemotherapy on a standalone basis in advanced or metastatic non-small cell lung cancer. Being granted the approval in this area of dire clinical need can open up the doors of success for the company to uplift its declining revenue and profits.
Current patent expiry
The loss of exclusivity of AstraZeneca's on several brands has led to the negative revenue growth of 4% on constant currency basis in the third quarter of fiscal year 2013. These brands were contributing up to 350 million in annual constant exchange rate "CER" sales. The company's profit from its core operations has also plunged by 29% to 2,207 million primarily on the back of decreasing revenue and higher core operating costs.
Research and Development trend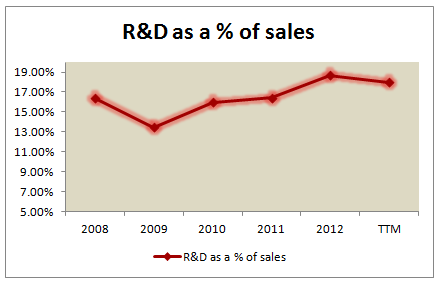 Source: Morningstar
Although the company reduced its research expenditure in 2009, the trend has been increasing ever since then. This increased focus on research and development activity is likely to help the company in reverting back to its normal earnings level in the upcoming quarters rather than sustaining the dip.
Striking Dividend Yield
The company is offering a very attractive dividend yield of 5% in an industry where 1.81% is the normal level. This is quite a valuable stock for investors that demand a regular income stream. Specifically, portfolios for retired investors can consider investing in this company.
Disclosure: I have no positions in any stocks mentioned, and no plans to initiate any positions within the next 72 hours. I wrote this article myself, and it expresses my own opinions. I am not receiving compensation for it (other than from Seeking Alpha). I have no business relationship with any company whose stock is mentioned in this article.