With sequester fears far in the rear view mirror, the aerospace and defense industry has been able to outperform for much of 2013. Strength has been seen across the space thanks to solid earnings beats and decent forward guidance in what many thought was going to be a very challenging environment.
While many companies have done well, one stands out for its potential to benefit from the current trends in the market, and could still be a top pick going forward; Raytheon (NYSE:RTN).
Raytheon in Focus
Raytheon is one of the largest publicly-traded defense companies in the U.S. with a market cap approaching $30 billion. The firm operates in a variety of divisions though it is likely best known for its air and missile programs, radar solutions and spacecraft segments.
The company has been an all-star so far in 2013, adding close to 50% in the time frame. This includes a nearly 10% gain in the past month, as bullish momentum has picked up for the firm.
Yet while some might think that this makes RTN overextended, we believe that more gains could be had based on recent trends in the earnings space which have helped Raytheon to earn itself a top Zacks Rank #1 (Strong Buy).
Earnings Estimate Revisions in Focus
When looking at current analyst opinion of the stock's earnings, investors should note that the current quarter is a little mixed. However, looking further out, there is uniform bullishness on the company's prospects.
In fact, five estimates have gone higher in the past 30 days for the next quarter, and more than 10 estimates have gone higher in the past 30 days for both the current year and the next year time frames. So while analysts might be a little shaky in the near term, they are feeling that the future is pretty bright for RTN looking a bit further out.
And not only have estimates been moving higher, but the magnitude of these changes has been pretty strong too, with moves of over 3% seen in just the past 30 days. Plus, even with the choppier short-term analyst opinion (for the current quarter), the consensus estimate for the current quarter is pretty much flat over the past 90 days.
It is also worth noting that RTN has a pretty great track record as of late when it comes to beating estimates at earnings season. All four of the last four reports saw double digit percentage beats, producing an average surprise of over 20% in this time frame, so clearly RTN knows how to hit it out of the park during earnings season.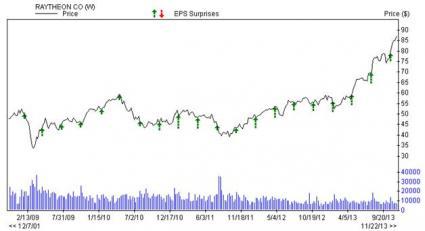 Other Factors
There are plenty of other items to like about RTN at this time including the recently announced $2 billion share buyback. This follows up a buyback that was issued in September 2011 and it suggests that Raytheon believes there is still solid value in the company's stock.
And beyond growth metrics, RTN represents a decent value as well, as evidenced by its modest PE and solid dividend. Currently, the company pays out 2.5% annually to investors while its forward PE is below 15, pretty impressive considering the run-up that shares have seen already.
Bottom Line
While many might have thought that the defense industry was going to have a bad year in 2013, this has not been the case at all. Defense companies have easily fought through sequester issues and RTN has been one of the biggest winners so far.
And while the company might have seen a huge bump in its shares, we think there are still plenty of gains to be had. Not only is RTN still a compelling value, but the company is seeing strong earnings estimate revisions as well, suggesting there is still plenty of time to profit off of this top ranked stock.

RAYTHEON CO (RTN): Free Stock Analysis Report