Consider the evolving energy sector for growth as well as defense.
Growth stocks are expected to increase earnings faster than the market average, while defensive stocks are non-cyclical and typically offer high dividend yields.
As we require energy despite economic conditions and in increasing amounts every year, emerging energy sources have the potential to offer investors both growth and defense.
According to the U.S. Energy Information Administration's "International Energy Outlook 2013," worldwide energy consumption is expected to grow 56% through 2040. While fossil fuels continue to dominate market share, new renewable energy sources could be in a position to provide better opportunities for investment growth.
The EIA report shows that the two fasting growing energy sources in the world are nuclear and renewable (or so-called clean) energy, each increasing by 2.5% annually.
And looking at the numbers in the stock market this year, it seems that investors have caught on to this long-term trend.
(Click to enlarge. Sourced from Zacks Investment Research.)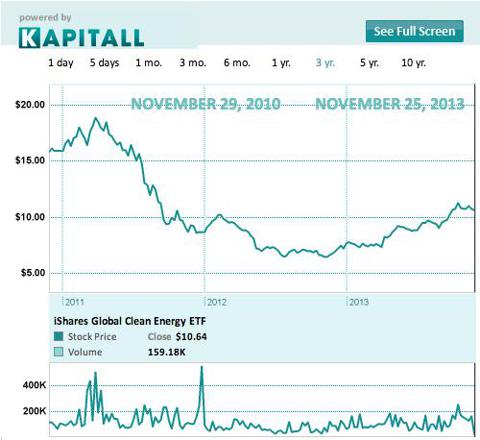 So far in 2013, clean energy has performed well. Just take a look at the iShares S&P Global Clean Energy ETF (NASDAQ:ICLN), which was recently up around 47% for the year (and had even reached a year-to-date gain of around 57% in October).
But while solar and biofuel stocks seem to dominate portfolios like these, wind energy is worth a serious look in the clean energy space, too
The International Energy Agency's report "Technology Roadmap: Wind Energy 2013 Edition" predicts that 18% of global power generation will come from wind by 2050. But in order for that to happen, the 300 gigawatts of power currently being produced would have to grow ten times to around 3,000 gigawatts. And while $78 billion was invested in 2012, that figure is estimated to steadily increase to over $150 billion annually by 2050.
And a report by Pike Research says that the market for installed wind turbines is expected to reach $152 billion by 2017, with about $820 billion overall to be spent on wind projects between 2011 and 2017.
One of famed investor Warren Buffett's Berkshire Hathaway (NYSE:BRK.B) companies is getting in on wind as well. MidAmerican Energy Holdings is slated to spend $1.9 billion on a wind farm in Iowa, which could add as many as 656 new wind turbines by 2015.
General Electric (NYSE:GE), the largest U.S. manufacturer of wind turbines, has orders of more than 1,000 megawatts so far this year.
NextEra Energy (NYSE:NEE) and Invenergy are expected to install up to 4,000 megawatts of turbines this year and as much as 7,000 megawatts in 2014, according to Anne McEntee, General Electric's vice president of renewable energy.
And the "fiscal cliff" deal reached by U.S. policymakers may boost wind energy investment in 2014, with an extension in production tax credits.
It all adds up to a space with tremendous potential for investment, but for U.S. investors looking to profit in wind energy by finding a pure play is somewhat problematic.
While General Electric is a major manufacturer of wind turbines, the portion of the massive conglomerate that's dedicated to this business line is negligible. Still, the company expects growth in this emerging business via investments being made in new wind turbines, such as GE's new Brilliant line, which has improved efficiency by 25% from the previous model.
Overall, General Electric is a $270 billion company that is still finding ways to grow, and with a dividend of around 2.8%, it could be a diversified cornerstone stock for most portfolios.
(Click to enlarge. Sourced from Zacks Investment Research.)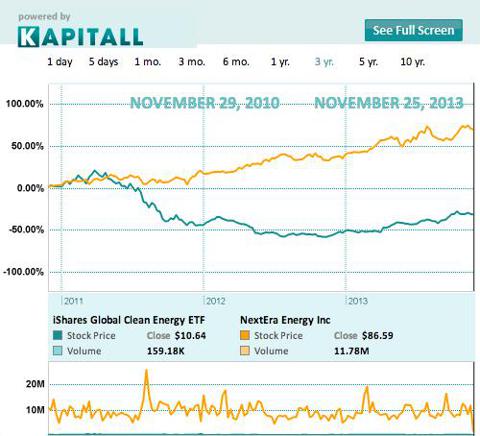 Perhaps the company with the largest exposure to wind energy in the U.S. is NextEra Energy, a $37 billion dollar electric utility company. However, less than 9% of NextEra Energy's capital expenditures are related to wind projects. While wind continues to offer opportunities, NextEra Energy is focused on its solar segment at the moment.
Like most utility stocks, NextEra Energy offers a relatively high dividend yield of around 3%.
But for wind energy-focused investors, the most efficient way to get serious exposure to wind energy is through the First Trust Global Wind Energy Index Fund (NYSEARCA:FAN). This ETF tracks the ISE Global Wind Energy Index and contains around 50 different wind-related stocks. It's globally diversified, though most of its top holding are foreign equities, the largest being Denmark-based Vestas Wind Systems.
The First Trust Global Wind Energy Index Fund was recently up around 60% for the year and is currently trading within sight of its 52-week high, so investors looking to get in may want to wait for a pullback before buying. However, the current lack of other wind energy ETFs may provide a level of support, as the First Trust Global Wind Energy Index Fund is the only real broad investment vehicle available in this energy niche (for now).
(Click to enlarge. Sourced from Zacks Investment Research.)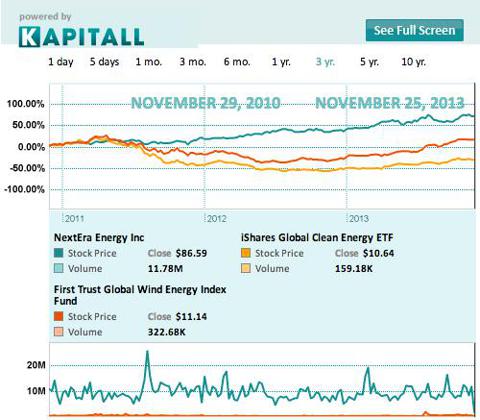 The business of wind, like many renewable energy sources, continues to be supported in large part through tax credits and subsidies. While a tax credit extension was pushed to 2015, the industry could suffer if policymakers shift away from their clean energy initiatives.
Disclosure: I have no positions in any stocks mentioned, and no plans to initiate any positions within the next 72 hours.
Business relationship disclosure: Kapitall is a team of analysts. This article was written by Daniel Cross, one of our writers. We did not receive compensation for this article (other than from Seeking Alpha), and we have no business relationship with any company whose stock is mentioned in this article.