Lightstream Resources (OTC:LSTMF) is a company that the stock market hates.
Why does the stock market hate Lightstream Resources?
The answer is simple. The market thinks the company has too much debt.
I believe a single transaction could completely eliminate that concern and give this company a fresh start with a pristine balance sheet. I also believe that such a transaction could more than double the Lightstream share price in very short order.
This company is debt heavy, but also asset rich. Reducing that debt would also significanly reduce the big discount the market is applying to the valuation of the assets.
Lightstream was formed in 2009 when the Canadian business unit of Petrobank merged with Southeastern Saskatchewan focused Tristar Resources. That merger created a company with a dominant land base in the Canadian version of the Bakken horizontal oil play.
Subsequent to its inception Lightstream went on a major acquisition spree to lock up a big land position in the Cardium horizontal oil play in Alberta and has also acquired significant land positions in several other resource plays.
The fact that Lightstream has a portfolio of very attractive light oil assets is not something that even its harshest critics really suggest.
Likewise, even Lightstream's most ardent supporters would agree that debt reduction needs to be a priority.
Finally In 2014 Deleveraging Becomes Priority Number One
Lightstream just released its 2014 capital plan and guidance. For Lightstream , 2014 is going to be all about improving its balance sheet.
The main action points of the 2014 plan (all designed at balance sheet improvement) are as follows:
1) A Curtailed Capital Program - In 2014 Lightstream is going to spend by far the least amount of money that it ever has on drilling wells, infrastructure and land acquisitions.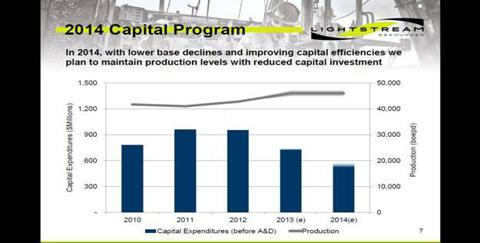 The midpoint of 2014 guidance will have Lightstream spending $550 million which is well under the $700 million spent in 2013 and the more than $900 million spent in both 2011 and 2012.
What is important to note is that despite this greatly reduced capital spending Lightstream's production can still be maintained at 2013 levels because the decline rates of corporate production have greatly lessened.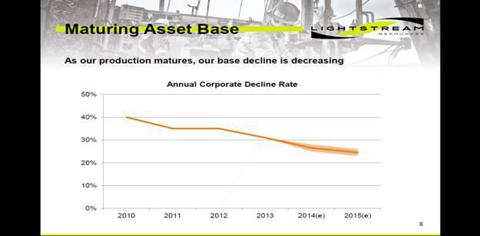 The horizontal oil wells that Lightstream drills have very high rates of initial decline. When the company was formed the overall corporate decline rate was 40% because almost all production related to wells that had been drilled with the prior 24 months.
As these horizontal wells age those decline rates lessen significantly. In 2014 those decline rates are going to be in the range of 26% to 29%. That means the company can spend less to accomplish the same.
2)Asset sales - The second action aimed at deleveraging will be the sale of some non-core assets. Lightstream is targeting the sale of at least $300 million in assets in 2014 and another $300 million in 2015.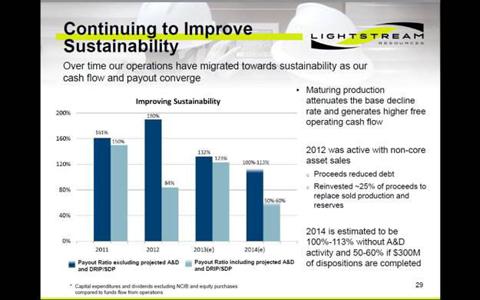 3)50% Dividend Reduction - The third part of this deleveraging action plan is a dividend reduction and elimination of the dilutive Dividend Reinvestment and Share dividend plans.
The dividend will go from $0.08 per share per month to $0.04 per share per month. That will take the cash dividend payout being made by the company from $135 million to $95 million. More important than the cash saving is the elimination of the monthly dilution that the share reinvestment plans were creating.
It Is Time To Give This Company A Fresh Start
With decline rates that decrease every month and some opportunistic asset sales Lightstream can bring its balance sheet to where it wants to be gradually.
That seems to be what the 2014 plan is guiding to.
I think however that it might make more sense to take care of the entire debt issue all at once, and Lightstream has the assets to do it.
I believe that the company should consider selling either the entirety of its Cardium production and land or the entirety of its Bakken production and land.
These are both oil weighted assets with significant production and growth potential. I believe that even in a Canadian market that has an unprecedented number of assets for sale that properties like these could fetch attractive prices.
I think the Cardium is the asset to sell. The production isn't as mature as the Bakken and therefore the decline rates are a little higher. I'd like to see Lightstream with as low of post-transaction decline rates as possible.
I believe that given the scale of Lightstream's Cardium assets that there would be quite a bit of interest.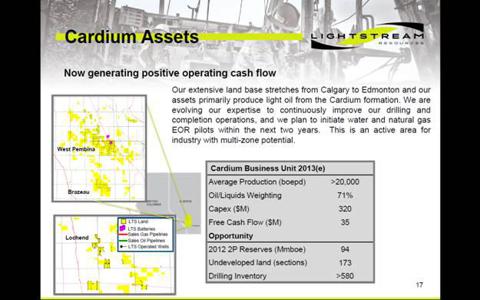 The raw data on Lightstream's Cardium acreage is:
- Production 20,000 barrels per day (71% oil and liquids)
- Cash flow $355 million in 2013
- 94 Million Barrels of 2012 Year End Proved and Probable Reserves
- Remaining identified de-risked inventory of 580 drilling locations
Using that raw data, here is what I think Lightstream's Cardium acreage might conservatively be worth with consideration given to different valuation methods:
Per Flowing Barrel - $120,000 x 20,000 barrels per day = $2.4 billion
Comment: This $120,000 per flowing barrel is the same price Equal Energy received last year for a sale of Lochend Cardium production and assets.
As A Cash Flow Multiple - 7 times $355 million = $2.48 billion
Comment: Seven times cash flow is the average multiple for an intermediate Canadian producer
As a Multiple of Proved and Probable Reserves - $25 x 96 million barrels = $2.4 billion
Note: I used roughly half the price Lightstream received in 2012 when it sold proved and probable Bakken assets for $46/barrel
I think that given the liquids weighting and the fact that this is very large piece of the Cardium play that Lighstream could sell this property for the multiples I've used above.
All of those multiples point to a price of roughly $2.4 billion.
If Lightstream Sells The Cardium What Is It Left With
If Lightstream were to sell its Cardium assets the company would be completely transformed. Post sale Lightstream would have the following attributes:
- 27,000 barrels per day of production (likely 95% liquids)
- No net debt
What would that be worth? I think it should be worth a premium multiple from the market given that the company would have pristine balance sheet (no net debt) and be almost completely liquids weighted.
Lightstream would also have great growth opportunities ahead of it as the company still is just getting started in Swan Hills and has the Montney, Nordegg and Duvernay to follow.
Lightstream's valuation post Cardium sale could look like this:
27,000 boe/day x $125,000 per flowing barrel = $3.4 billion
With 199 million shares outstanding that is $3.4 billion / 199 million = $17 per share
If Lightstream got a premium valuation like other very low debt producers such as Crescent Point or Raging River the valuation could look like this:
27,000 boe/day x $150,000 per flowing barrel = $4.1 billion
With 199 million shares outstanding that is $4.1 billion / 199 million = $20 per share
Both of those share price targets are multiples of the current $5.60 per share price the company currently has.
The interesting thing is that Lightstream wouldn't have to sell the Cardium to accomplish this. It could instead sell its position in the Bakken in Saskatchewan for a similar dollar amount given its 17,000 barrels per day of lower decline almost pure light oil production.
Looking into selling both of these assets (Cardium and Bakken) could help with negotitions and allow Lightstream to wait for the best deal possible.
I'm sure parting with one of these crown jewel properties would be tough to do. But given what doing so could do for this company's long term financial health I think it would be a terrific move.
It would be a complete transformation.
I realize there are a lot of flowing barrels for sale in Western Canada and that it is a buyer's market. However I don't think there are many if any properties for sale that match the scale of production, growth potential and liquids weighting of Lightstream's Bakken and Cardium properties.
Maybe 2014 this company can give itself a fresh start and eliminate this big discount the stock market is applying to these assets.
Disclosure: I am long OTC:LSTMF. I wrote this article myself, and it expresses my own opinions. I am not receiving compensation for it (other than from Seeking Alpha). I have no business relationship with any company whose stock is mentioned in this article.