Spherix:
Spherix (NASDAQ:SPEX) calls themselves a scientific research company that was launched in 1967. The company is mainly an intellectual property company that draws on portfolios of technology patents to support future innovations. Recently the company acquired several hundred patents from Harris Corporation that the company intends to use in expansion of its role in wireless communications and telecommunication sectors. More specifically, in the areas of antenna technology, Wi-Fi, base station functionality and cellular.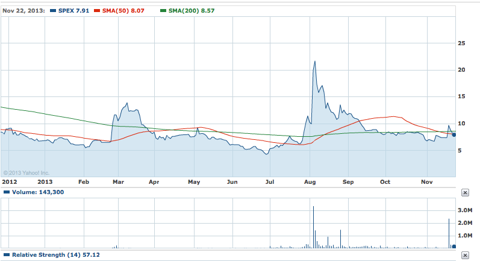 Outside of the technology arena, Spherix is continuing to work on life science and drug development. Furthermore the company is looking into nutrition supplement products with its D-tagatose natural sweetener. The company had a huge run up to a high of $21.70 in the first week of this past August following various articles targeting to spread the word of Spherix as an investment. The company's shares have since retreated to levels seen prior to this run up. As such, the idea of investment or staying on the sidelines comes into play as shares are back to where they were prior to the run up. I continue to remain neutral on the company and do not have a position long or short.
Neutrality: The Bad
There are several good and bad sides to Spherix that have led me to my neutral viewpoint. Enforcing an intellectual patent portfolio be extremely costly, that is why many smaller patent owners team up with PAE's for funding to enforce their patents. Although from a strict operating standpoint, Spherix's balance sheet is cause for concern.

Looking at the nine months ending September 30, 2013 in comparison to the same period in 2012, revenues have dropped significantly.


In the same nine month period that revenues are down, total operating expenses has increased by a multiple of 4.7x.


The decrease in revenue coupled with the increase in operating expenses has lead to a net loss of (13,783,660). This is larger than the loss from the prior years nine month period loss of (1,946,524). This has led to a net loss per share of (14.43) in comparison to (9.70) in the prior period.
Enforcing an IP portfolio can create a large cash burn, so too much emphasis should not be placed on the company's balance sheet. Although one of the more questionable items is the large increase in the number of shares that has a dilutive effect on shareholders. For the nine months ending September 30 2013, the company's share count has increased from 200,547 in the prior period to 955,292 currently.

Although this does not tell the whole story, the company actually has north of 2 million shares outstanding. At 2,429,904 shares outstanding as of November 14, 2013 this is up considerably from the prior year's period of 691,463 shares.

As the share count has increased by 1,738,441 shares since around this time last year, the share price has actually decreased. So if an investor is thinking that they can get in Spherix at a price before the run up in August to $21.70 or the same price from a year ago - remember that the share price does not tell the whole story.

With a share price around the same today as where it was last year at this time, shares are worth a lot less due to dilution as the share count has risen by a multiple of 3.51x. The amount of dilution, coupled with the decreases in revenues and increases in operating expenses points to problems with Spherix's balance sheet that need addressing before taking an investment.
This information can help, although it does not tell the whole story though as Spherix's SEC filings can be misleading. Spherix actually has 16,361,584 shares outstanding. This is due to the fact that these SEC filings do not show other classes of shares that are outstanding, such as the D shares that convert into a rate of 1D share to 10 common shares.
Neutrality: The Good
Spherix acquired North South Holding's patents back in September of 2013 and the company has already executed on the portfolio. On behalf of the company's subsidiary, CompuFill LLC, Spherix's team of patent monetization experts has already started generating revenue from the portfolio just months after acquiring it. The patents involved deal with on-line pharmacy automated refill systems, that have a priority dating back to October 1997.
Recently on November 4, Spherix announced they would be appointing Alexander Poltorak as Chairman and CEO of Spherix. This is an excellent addition to the company as Mr. Poltorak has extensive experience in the IP sector. Prior to Spherix, Mr. Poltorak founded and is currently Chairman and CEO of General Patent Corporation (NYSE:GPC) that was the first intellectual property firm. The firm focuses on IP strategy, enforcement, valuation and licensing. Moreover, he is a managing director of IP Holdings LLC, an IP based banking company focusing on providing intellectual property focused financial, brokerage and advisory services. In closing, Mr. Poltorak is an excellent addition to Spherix due to his extensive experience in the industry.
On July 24, 2013 Spherix announced a deal with the Rockstar Consortium. The company purchased a set of mobile communication patents from the company for a contractual price of $4 million dollars. Rockstar is entitled to receive a percentage from future recovery profits and an initial return on investment though. Payment involved for these patents included a $2 million dollar cash payment and 176,991 shares of Spherix's stock at $5.65 per share that is subject to a six month lockup. If rockstar decides to unload their shares in January this could push the stock lower as this is above 7% of the outstanding share count.
Later, on September 10, 2013 Spherix announced the closing of its deal with North South Holdings inc, to obtain 224 patents. The portfolio deals with wireless communications, satelite, solar, radio frequency and phameceutical ditribution. Based upon these patents the company filed a lawsuit against T-Mobile USA (NASDAQ:TMUS) and two other lawsuits dealing with pharmaceutical distribution. The comapny has stated that these patents add to its scope of patents in the movile communicaiton sector aquired from the Rockstar Consortium.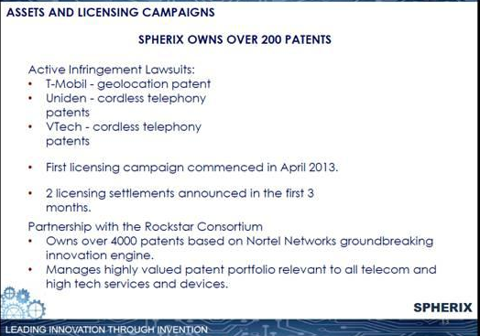 The comapny has an enormous breath of patents, especially after its acquisition of patents form North South Holdings and the Rockstar consortium. One item to clear up is that Spherix has done a transaction with Rockstar who recently declared its own IP litigations. There is no way to put an exact number on Spherix's patent portfolio. Although value can be percieved through the company's actions and what they hold. It does seem odd that Rockstar gave up its set of patents to Spherix. Especially since Rockstar has declared its own lawsuits, if it had seen them as profitable the consortium would want to keep the portfolio.

Spherix's patent portfolio can be worth a lot of money long term as the company has an eye on generating long term revenue from its patent holdings. This past September the company announced its lawsuit against VTech (GM:VTKLF) that has over $2.6 billion in revenues that is being claimed over the infringement period. If Spherix is able to get even a miniminal royalty rate, below or above one percent, on a portion of this $2.6 billion amount - that would result in major income for the company. Moreover, any settlement or litigation win would increase the value of Spherix's patent portfolio as the value would now be realized.

Also, the company has initiatied another lawsuit against Uniden on September 9, 2013, just six days after announcing its lawsuit agaist VTech. Spherix has stated that Uniden's US revenues from cordless phones that infirne one ore more claims on one or more of Spherix's patents exceeds $785 million. Furthermore, the company's patent portfolio aquired from North South holdings has initiatied a lawsuit against T-Mobile back on August 5, 2013.
Anthony Hayes, North South CEO, stated, "This is the first complaint filed on the patents North South acquired from Harris Corporation, but we anticipate more. This is a valuable portfolio and we will continue to demonstrate its worth as we move towards our merger with Spherix Incorporated. (SPEX). Use of North South's intellectual property without a license is unjust and we are committed to protecting the rights afforded North South under the United States Constitution."
Keep in mind that the above statement is prior to the completion of the merger. One key item that goes along with the thesis of this article is that P lawsuits can take anywhere from 12-36 months. VirnetX (NYSEMKT:VHC), a company I am invested in and have written about before, has taken well over two years in its current case against Apple that is awaiting a royalty rate from the judge. This also does not include the time for any appeals, and does not include the second case against Apple.
This example is not meant to deter investment in VirnetX, as I am invested in the company, although to point out that Spherix's recently filed lawsuits have a long time to go before any conclusions are reached. A few months is nothing in the world of IP litigation - patience really is a virtue and a viable cash balance to support the timeline.
The company has not received any Markman Hearings for any of its cases yet, so the timeline is still young. As previously pointed out, Spherix's cash burn through its operating losses will lead to more dilution moving forward if the company can not obtain substantial revenue from licensing opportunities. The details of the recent deal were not disclosed, so it is not known how much the CompuFill settlement will offer. Although Spherix is going to need 3+ years of legal fee money, and with losses and dilution increasing, there is no need to rush an investment that could loss value due to an increased share count that may be needed.
It is my opinion that the company may have to increase the amount of outstanding shares again as the company's licensing so far has not been able to negate the increase loss per share or the increase in the company's net loss. This drives that the company will not only need more money to support itself, but also its future litigation efforts.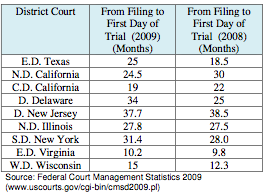 With $2.5 million in cash as of September 30, 2013 down form $4.5 million on December 31, 2012 - the company does not seem to have enough money to provide for multiple lawsuits over a multi-year period. As such, dilution will likely occur again, coupled with net loss until the company either wins or losses its cases many years from now or generates meaningful income from its licensing opportunities in the interim. Just look below at an example case length - the Apple (NASDAQ:AAPL) and Samsung (OTCQB:SSNF) trial. (Source)

The best scenario would be for Spherix to generate income from its licensing opportunities to support itself and its litigation efforts against the big guns over the long term.
Another risk to the company is the Shield Act, aimed at stopping patent enforcement. Even though large companies that complain do the same thing - ergo Apple, Microsoft (NASDAQ:MSFT) and the crew's consortium (Rockstar) filing patent suits. Having to pay for both sides' legal fees if Spherix loses a case can be harmful to a company with a small cash holding. This act will likely come more into fruition during Spherix's enforcement period, and may lead Spherix to concentrate on only the important lawsuit - this would also decrease legal fees!
Conclusion:
One of the main reasons I remain generally neutral on Spherix is the breadth of patents that the company controls, and its low market capitalization of under $7 million that can make for a cheap entry price over the long term. Although a future of a profit generating patent portfolio can be subject to the very dilutive effects of having increasing operating losses eat away at your balance sheet while the company executes on behalf of the portfolio. This has been seen from the dilutive effects over the past year. I remain neutral on Spherix in the interim until new developments on the patent portfolio's value come to light through litigation efforts or new information that becomes available. Until then I am on the sidelines as a faltering balance sheet can erode expensive IP enforcement efforts over the long term.
On the flip side, if the company can avoid future dilution by licensing its portfolio in the interim to support itself then that would be a very different story. I will be looking in the coming quarters to see how much cash burn has increased or decreased coupled with proceeds from recent licensing settlements to see if the company is sustainable in the interim. Moreover to see if the company's operating expenses can shave down and the revenue increase to further help the balance sheet. Although, I will be looking at these items from the sidelines as there is no rush to invest in a company that has a 3+ year timeline ahead of itself - better to buy in at the right time over this time period than be stuck holding the bag.
Disclosure: I am long VHC. I wrote this article myself, and it expresses my own opinions. I am not receiving compensation for it (other than from Seeking Alpha). I have no business relationship with any company whose stock is mentioned in this article.
Additional disclosure: Always do your own research and contact a financial professional before executing any trades. This article is informational and is in my own personal opinion.