It has been a marvelous year for stocks. From the beginning of 2013, the U.S. stock market as measured by the S&P 500 Index exploded higher and never looked back. But for those investors that were allocated to anything other than the stock market, the year has taken on a far more sobering complexion. For in the place of stellar gains are scant returns if not outright losses across nearly all other major asset class. This has been a most unpleasant development for investors accustomed to using broad asset class diversification to achieve respectable returns while managing risk.
And it has been even more unsettling for those investors that simply wish to generate modest income and avoid any meaningful exposure to risk. Unfortunately, the allure of robust stock market returns at a time when all else has fallen flat may now be leading many investors to abandon their asset allocation strategies and throw their lot in fully with stocks at what might be a most inopportune time.
The following 2013 year-to-date returns highlights how far the U.S. stock market has outperformed nearly all other major asset classes:
U.S. Stocks (NYSEARCA:SPY): +28.74%
Emerging Market Stocks (NYSEARCA:EEM): -4.84%
Real Estate (NYSEARCA:IYR): +0.16%
High Yield Bonds (NYSEARCA:HYG): +5.28%
Preferred Stocks (NYSEARCA:PFF): +0.16%
Gold (NYSEARCA:GLD): -26.05%
Silver (NYSEARCA:SLV): -34.87%
Copper (NYSEARCA:JJC): -14.98%
U.S. TIPS (NYSEARCA:TIP): -6.88%
U.S. Bonds (NYSEARCA:AGG): -1.51%
Long-Term U.S. Treasuries (NYSEARCA:TLT): -11.60%
Municipal Bonds (NYSEARCA:MUB): -3.02%
Investment Grade Corporate Bonds: -2.15%
International Treasuries (NYSEARCA:BWX): -3.09%
Emerging Market Bonds (NYSEARCA:EMB): -7.67%
So what exactly has been driving the stock market so firmly higher while all other asset classes have been left behind? It certainly has not been the economy, which continues to churn along at a sluggish pace. It also has not been fundamentals, as corporate revenue and earnings growth have effectively ground to a halt with growth in the low single digits that fell woefully short of far more rosy projections coming into the year. Nor has it been corporate profit margins that continue to linger at historical highs and have moved sideways at best throughout much of the year.
And it has not been any signs of optimism for the outlook, as companies have been revising revenue and earnings projections aggressively lower throughout the year. In short, the exceptional stock market result thus far in 2013 is based on virtually nothing of substance. This is supported by the fact that we have seen stock valuations increase by a striking 20% during the 2013 rally. In other words, investors are scurrying seemingly each and every day to buy essentially the same item whose price has been marked up by over 20% from a year ago.
Of course, the real reason why the stock market continues to move higher is none other than the seemingly endless and arguably reckless expansion of the U.S. Federal Reserve's balance sheet. The following chart speaks for itself.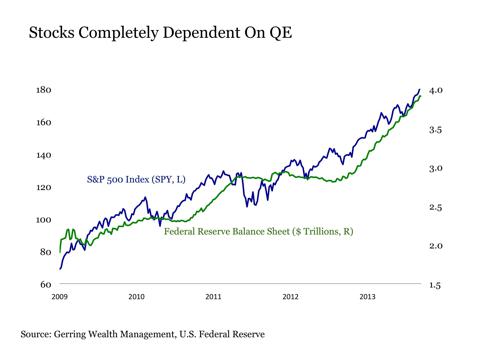 The power of the Fed helps to explain why U.S. stocks have risen so steadily throughout the year that they never came any closer than +4.4% above their 200-day moving average on the S&P 500 Index during the year. This marks the first time stocks have managed to go an entire year without breaching its 200-day moving average much less stay more than +4.4% above it since 1995. A remarkable year for stocks in an otherwise uninspiring economic and corporate fundamental environment, all thanks to the Federal Reserve whose balance sheet is about to breach $4 trillion and rising. So glad it has all been worth it in producing a sustained economic recovery, if only it actually did.
So what happened to not fighting the Fed? Yes, this notion has certainly held true for U.S. stock investors, but what about all of those investors that participate in all other major asset classes? The experience in 2013 with Fed stimulus has marked a stark contrast to the post crisis years that had come before it, for coming into this year it was not only stocks but virtually all other asset classes that had rode the money printing wave higher (the only exception, of course, has been U.S. Treasuries that ironically see their interest rates rise under the influence QE despite the Fed's stated intent of the program to lower interest rates).
But all of that changed with the advent of QE3 Treasury purchases that began at the start of 2013, as many major asset classes were suddenly left behind. And the remaining few such as real estate that were tracking the U.S. stock market have since fallen off in alarming fashion. For while stocks and REITs were both up +18% year to date through mid-May, stocks have since continued higher while REITs gave up all of their gains and more in less than a month and are now effectively flat for the year.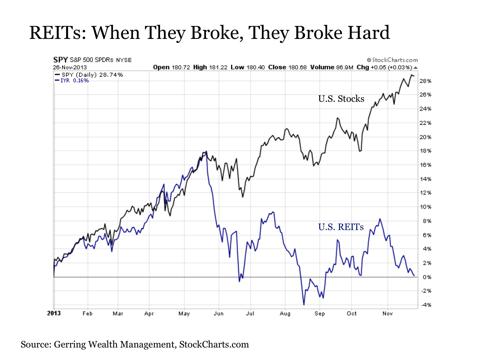 Troublingly, many investors are now responding to the euphoria of the stock market rallying while all else has languished. For example, since the initial outbreak of the financial crisis in July 2007 all the way through the week ended October 9, 2013, investors had withdrawn a net -$600 billion from U.S. stock market mutual funds according to the Investment Company Institute. But in the five weeks since through November 13, 2013, investors have suddenly poured a net +$24 billion into the U.S. stock market. In other words, retail investors that had stood clear of the stock market throughout the entire duration of the rally since early March 2009 are only now starting to flood their way back in.
This is a notable sign for U.S. stocks from a contrarian perspective. Where is the money coming from? At least some of it is likely coming from the bond market, which had seen +$1.2 trillion in net inflows from July 2007 through May 2013 only to see -$144 billion in net outflows in the months since. In short, it appears that at least some recently beleagured bond investors may be switching over to stocks, perhaps in the pursuit of higher returns. But as we all know, past performance is never an indication of future returns.
The fact that stocks have risen relentlessly higher when all other asset classes have essentially failed in 2013 raises two important questions. First, how much longer can stocks push higher under the influence of QE before they relent along with all other asset classes? Second, liquidity has a preference, and at what point does this liquidity start to flow away from stocks and toward so many of these other asset classes that have struggled so mightily thus far during this latest round of Fed stimulus? Divergences have a way of regressing their way back together before it's all said and done, and the wider the divergences become, the more staggering the subsequent regression can be.
So while the party continues to rage in the U.S. stock market with optimism running wild and the bears nowhere to be found, it remains important to maintain a level head. Gains may very well continue into the New Year, as the upward trend in stocks is firmly in place, but it may be worthwhile to keep in mind that the stock advance throughout 2013 may be built on less than solid footing to say the least. And if any of the other major asset classes are an indication, things can get ugly rather quickly once the intoxicating effects of monetary stimulus finally wear off even if the liquidity is still flowing from the Fed.
Instead of chasing the stock rally higher, it may be worthwhile for investors to survey through the wreckage of the many asset classes that have been sold off throughout 2013 to see if any attractive opportunities are now presenting themselves. For despite what has been a difficult 2013, the merit of broadly diversified asset allocation lives on as strong as ever.
Disclosure: I have no positions in any stocks mentioned, and no plans to initiate any positions within the next 72 hours. I wrote this article myself, and it expresses my own opinions. I am not receiving compensation for it (other than from Seeking Alpha). I have no business relationship with any company whose stock is mentioned in this article.
Disclosure: This post is for information purposes only. There are risks involved with investing including loss of principal. Gerring Wealth Management (GWM) makes no explicit or implicit guarantee with respect to performance or the outcome of any investment or projections made by GWM. There is no guarantee that the goals of the strategies discussed by GWM will be met.