Tahoe Resources (NYSE:TAHO) is working on building a world-class silver mine known as the Escobal project. This is a very high-grade, monster silver deposit which was discovered in 2007 and is located in Southeast Guatemala.
The Escobal project hosts a massive indicated silver resource of 367.5 million ounces, and an inferred silver resource of 36.7 million ounces, for a total of 404.2 million ounces. However, it is important to emphasize that this resource is high-grade at 422 g/t average grade for the indicated resource and 254 g/t for inferred category.
Grade is king, and this is one reason why I have companies like Tahoe currently on my radar. Higher grades generally mean that miners are able to produce the metal at a lower cost. With silver currently trading under $20, I believe that Tahoe's Escobal operation should still be quite profitable (more on this later). This gives the company a huge advantage over other silver miners which can barely turn a profit at current prices.
The project also has tremendous exploration potential which could significantly increase the life of mine, which is already estimated at 18 years. The mine should also produce a considerable amount of gold, zinc and lead, which could lower overall costs.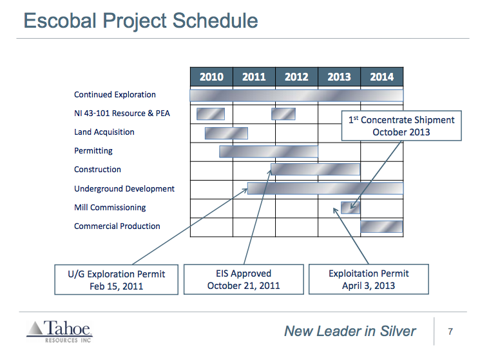 With commercial production expected at Escobal in the first quarter of 2014, I believe Tahoe Resources offers an attractive long-term investment opportunity, especially for those bullish on silver.
Share Structure and Company Information
Tahoe trades on the TSX under THO and on the NYSE under the symbol TAHO.
The share structure for Tahoe is solid as the company has roughly 146 million shares outstanding (149 million fully diluted). At a current share price of $18.50, this gives Tahoe a market cap of $2.7 billion.
Major shareholders of the company include Goldcorp (NYSE:GG), Fidelity/Pyramis, Mackenzie Financial, BlackRock Investment Mgmt., Tocqueville and RBC Asset Management.
The Escobal project is located in southeastern Guatemala, approximately 70 km from Guatemala City, near the municipality of San Rafael las Flores. Full operating permits for the mine were received in April 2013.
Why Tahoe Resources?
Tahoe has a number of things working in its favor as it gets ready for commercial production at Escobal:
*Commercial Production Well On-Track: Project completion is estimated at 99 percent as of Sept. 30, 2013. $317.9 million has been spent on the 3,500 TPD capex, with just $8.7 million remaining.
*Outperforming the Market Already: You will see from this chart below that Tahoe has returned 100 percent since it launched in 2009; meanwhile the Silver Miners Index (NYSEARCA:SIL) has shown losses during this time period.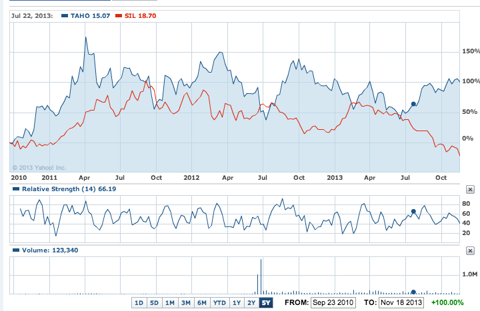 It is important to note that Tahoe actually makes up 5.32 percent of the SIL holdings (The largest holdings in the SIL are Fresnillo PLC at 12.4 percent, Silver Wheaton (SLW) at 11.8 percent).
*High Grades, Huge Resource, Big Production: As mentioned before, the Escobal project contains a massive resource base of more than 400 million silver ounces with exploration upside to boot. Not to mention that the resource also holds 367,500 ounces of gold in the indicated category (and 36,700 inferred).
The project is fully-financed and fully-permitted and is expected to produce 20+ million ounces once in commercial production, starting in the first quarter of next year.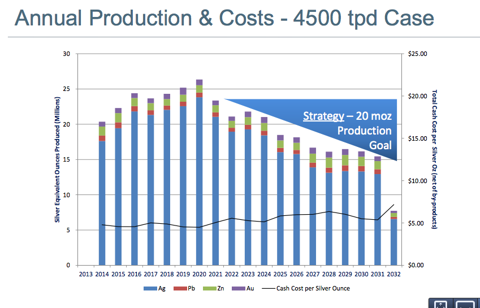 As you can see from the above chart, Tahoe's production goal is to produce 20+ million silver equivalent ounces per year. Besides silver, this also comes from gold, lead and zinc, which also helps reduce overall cash costs.
*Projected Low Operating Costs: Because of these super-high grades, the company projects operating costs to be among the lowest in the industry at just $4.70 per ounce and all-in sustaining costs of just $8.85 ‐$9.85 per ounce. This is expected to result in free cash flow per year of $198 million, at the base case of $20 silver, with a payback period of just over 2 years. I believe this is one reason why Tahoe has outperformed the silver market this year as investors have confidence that this operation will be very low cost.
With silver prices higher, you can imagine the upside the project holds. The company projects that with a silver price of $35 (gold $1,800, Zinc $.90 and lead $.95), the Escobal project should produce annual free cash flow of $485 million (Note: These numbers are from the company Preliminary Economic Assessment which was completed in May 2012). With an enterprise value of $2.6 billion, this would give Tahoe an EV/Cash Flow of only 5-6.
*Exploration Upside: To make things even sweeter, the project has pretty large exploration upside.
The indicated and inferred resource s highlighted in blue and light blue. However, there is even more mineral potential outside of those areas, as highlighted in pink.
For example, drill hole E12-376, located just to the left of the inferred resource, returned results of 33.5 metres of 337 g/t silver, including 4 metres of 517 g/t and 5.5 metres of 502 g/t.
Another drill hole, E12-390, located 500 metres west, returned results of 1.3 metres of 913 g/t.
It is hard to say just how much the resource can be expanded, but based on these drill results, I would say there is definitely potential to at least increase the mine life by several years.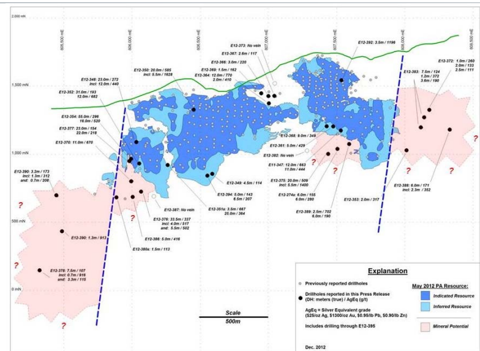 *Enough Capital to Get To Production and Low Debt: I am pleased that this company has not resorted to taking on a lot of debt to get its project into production. Other silver miners have chosen this route and they are now paying the price as silver has dipped to under $20 and their projects are barely profitable. There is $50 million drawn from the company's credit facility in June and the company is now fully-funded and it is very likely that it will not require more debt or equity to get to cash-flow status.
*High Leverage to Silver: The one main reason investors might consider buying shares of Tahoe is to gain leverage to a rising silver price. Tahoe Resources has this leverage as the project also boasts a very high internal rate of return. At $20 silver, the IRR is 46.8 percent. Using the upside model of $35, this number jumps to 96 percent.
*Solid, Proven Management Team: The company's management is one of its strong points in my opinion.
The company is led by CEO Kevin McArthur, who is also the founder of the company. McArthur is quite experienced and formerly served as President and CEO of Goldcorp, until he retired in 2008. He also spent 18 years at Glamis Gold Ltd. where he served as President and Chief Executive Officer from 1998 until its acquisition by Goldcorp in November, 2006.
The Executive Vice President and Chief Operating Officer is Ron Clayton, who was previously Senior Vice President, Operations, and the General Manager of several underground mines for Hecla Mining Company (NYSE:HL).
Mark Sadler is the Vice President and Chief Financial Officer. He holds 20 years of experience in the mining industry having worked for Glencore Ltd. and Rio Tinto/Kennecott from 1990 to 2012.
As you can see, some of Tahoe's key figures have years of experience in the mining industry, working for large companies such as Goldcorp and Hecla.
What are the Risks?
Just like any investment, Tahoe does not come without its risks.
- The biggest risk for Tahoe is simply a drop in the price of silver. So if silver drops and stays below $15 for a period of time, Tahoe's profits would suffer a great deal.
You will see in this chart below that the price of silver has been depressed and currently trades at just under $20 an ounce.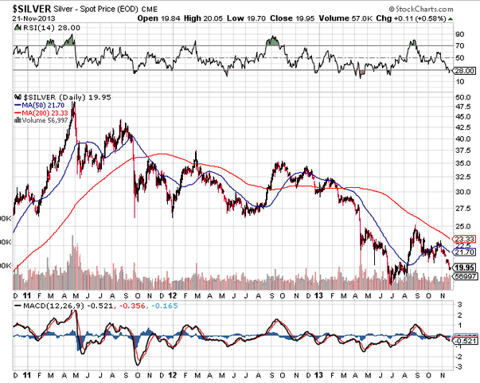 While I remain bullish on silver in the long term for a number of reasons, there is no telling what could happen to the price in the short term.
For example, an unexpected recession in 2014 (similar to the one we experienced in 2008) could force prices downward in the short term. Under that scenario, silver would most likely underperform gold as it has done in the past during recessions (because of the metal's many industrial uses, as this demand drops during a recession).
However, because of Tahoe's high grades and projected low costs, it should not suffer as much as other silver miners which have higher operating costs. Tahoe should actually be profitable should silver drop even lower from here as the company has projected all-in sustaining costs around $10-11. (Keep in mind that these are just projections, and all-in sustaining costs could come in higher than anticipated).
- Tahoe is also a single operating silver miner, so if anything were to go wrong at Escobal, it would hurt the company. Silver miners that have multiple mines tend to be safer than single operators for that reason.
Is Guatemala Worth the Risk?
There is country/political risk in Guatemala. Even though I believe the company is doing everything it can to be socially responsible and bring this silver mine online safely, this is something investors need to take note of.
For example, a 2012/13 mining study on the impact of government policies was conducted by the Frasier Institute. This study - the Policy Potential Index - ranked Guatemala among the lowest on the list, right above Bolivia and right below Greece and the Philippines.
This study took the following factors into consideration, among others:
"Uncertainty concerning the administration, interpretation, or enforcement of existing regulations."

"Uncertainty concerning environmental regulations (stability of regulations, consistency and timeliness of regulatory process, regulations not based on science)."

"Regulatory duplication and inconsistencies (includes federal/provincial, federal/state, inter-departmental overlap, etc.)"
(Source: FraserInstitute.Com Global Mining Survey Results)
- The Guatemala President has asked congress to approve a two-year temporary moratorium on the granting on new mining and exploration licenses.
However, Tahoe said that none of their licenses will be affected by the proposed action: "While most of our prospective ground is in areas where we hold approved licenses, we will have to pull back on some of our regional work for a period of time," added Mr. McArthur. I don't feel that this poses a serious risk to Tahoe, but it is certainly something to keep an eye on. (Source: July 10 News Release)
- On May 1, 2013, there were several anti-mining protests and incidents near the Escobal Project. "While many of these activities have been peaceful and respectful, violence from outside influences has escalated in the past weeks since we received our operating permit," said Mr. McArthur. Work and construction at the mine were temporarily slowed following the incidents.
"One of our top priorities is to protect the health, welfare and safety of our employees and contractors from these criminal actions," Mr. McArthur said in the release.
According to McArthur, Tahoe currently employees 665 workers at Escobal, 96 percent of whom are Guatemalan, with an additional 1,300 contractors helping to construct the mine. Source: (May 1 News Release).
While there hasn't been any protests or violence reported outside the mine since that incident, this is another thing to keep an eye on, especially since Tahoe is a single operating mine company and any delays or shutdown would affect them greatly.
- In June of 2012, the Guatemalan President proposed to change the constitution to allow the government to take up to a 40 percent stake in new mining projects in the country, according to a Reuters article.
Shares of Tahoe plunged more than 18 percent following the report.
However, Tahoe responded shortly after the report was released and said that the proposed reforms would not affect its Escobal project.
Since that news was released, Tahoe did not have any problems getting all of its permits, receiving its final permit in April of 2013.
The company appears to be doing everything it can to be a responsible miner:
"Through responsible mining practices and close cooperation with community leaders, local governments and business leaders, Tahoe actively contributes to the economic and social development of the communities in which it operates. Tahoe works to strengthen communities with a special emphasis on improving local infrastructure, potable water supplies, waste management practices, education and healthcare." Source: TahoeResources.com
Still, country risk in Guatemala appears to be a concern even as Tahoe has achieved all of its permitting and is only months away from commercial production. This is an even bigger risk because of the fact that Tahoe will be a single-mine operator. I believe that Tahoe, once in production, should do everything it can to diversify out of the country for their next silver mine.
Who are Tahoe's Competitors?
Tahoe faces competition from other silver miners such as First Majestic Silver (NYSE:AG), Hecla Mining, Pan American Silver (NASDAQ:PAAS), and Silver Standard Resources (NASDAQ:SSRI), among others.
Here is a comparison of these companies. Keep in mind that the cash costs and production figures given are rough estimates.
| | | | |
| --- | --- | --- | --- |
| Company | '14 AG Ounces Prod. (Estimate, Millions) | All-In Sustaining Cost (Estimate) | Market Cap (NYSE:B) |
| Tahoe Resources | 20 | $9-10 | $2.56 |
| Hecla | 10-12 | $15-20 | $1.0 |
| Pan American | 26-28 | $15-17 | $1.55 |
| Silver Standard | 9-11 | $20-22 | $476.5 (Million) |
| First Majestic | 14-16 | $18-20 | $1.1 |
Final Thoughts
Tahoe Resources has outperformed most other silver stocks during this period of prolonged weakness. The company is nearing commercial production and has one of the most attractive silver assets in the entire world.
The difference between Tahoe and other gold and silver development companies is the fact that Tahoe is so close to production. Once in full production, I think it is very likely that Escobal is one of the lowest-cost silver mines in the world, one which will be very profitable. Tahoe also has a fairly solid balance sheet and very strong management team, another big plus.
Tahoe Resources does not come without its risks, however. These risks include the political risks of operating in Guatemala and the risks of being a single-mine operator. While Tahoe has not been affected by any government regulation or actions just yet, several incidents outside the mine and proposed mining laws are a cause for concern for investors. Once in production, I believe Tahoe should try to diversify out of the country for its next silver mine.
If you are a believer in silver and want some leverage to the price, Tahoe Resources could be worth an investment.
Disclosure: I am long SLW. I wrote this article myself, and it expresses my own opinions. I am not receiving compensation for it (other than from Seeking Alpha). I have no business relationship with any company whose stock is mentioned in this article.