AT&T (NYSE:T), Verizon (NYSE:VZ) and Sprint (NYSE:S) continue to see declines in the amount of mobile voice revenue they earn from each mobile subscriber. Meanwhile, the mobile data (SMS and Internet) revenue earned per subscriber is increasing. We expect both of these trends to continue for all three companies.
We estimate that the mobile phone business is the largest contributor of value to the stocks of all three major carriers – AT&T (43%), Verizon (34%) and Sprint (89%). The shift from mobile voice to mobile data has implications for where the value of each stock comes from and how the mobile carriers will compete. For example, you can see in our analysis of Sprint, that 55% of Sprint's value comes from its mobile voice plans and phones business, while another 34% of value comes from Sprint's mobile internet business.
We have updated the Trefis price estimate for AT&T's stock from $34.79 to $35.09 based on trends supported by AT&T's recent earnings release:
AT&T Mobile Voice Plan Prices Will Fall Further
AT&T continues to gain mobile phone subscribers at a rapid pace, adding approximately 7.3 million subscribers in 2009 and expanding its customer base to more than 85 million subscribers. However, overall voice revenue per subscriber continues to decline with revenue from monthly plan subscribers ("postpaids") declining as much as 7% to $41.74 per month for the average subscriber.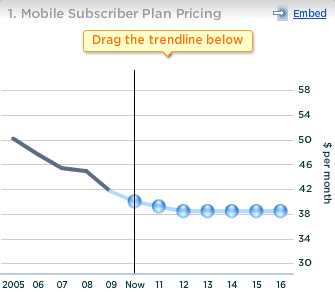 We estimate that mobile phone plan pricing (for voice service) will continue to decline over the forecast period due to on-going competition between AT&T, Verizon and Sprint. You can modify our forecast for mobile phone plan pricing to see how it impacts AT&T's stock.
AT&T SMS and Internet (Data) Revenue Will Rise Further
SMS and Internet revenue earned from each AT&T subscriber will rise further as a result of higher data usage attributable to increasing penetration and usage of smartphones. We estimate that AT&T's SMS & Internet revenue per mobile subscriber for 2009 increased by 21% to $14.5 per subscriber. Amongst AT&T's monthly mobile plan subscribers, which exclude prepaid mobile phone customers, the SMS & internet revenue per subscriber increased even more and helped AT&T to grow overall revenue per monthly subscriber (voice plus data).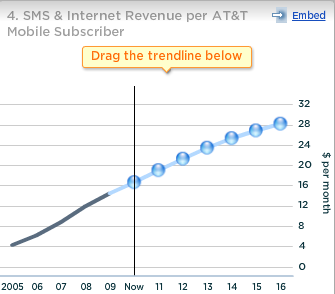 We estimate that SMS & Internet revenue per subscriber will continue to increase as smartphone penetration increases and faster mobile data standards (3G, 4G) encourage mobile phone subscribers to use data more often. You can modify our forecast for SMS & Internet revenue per subscriber to see how it impacts AT&T's stock.
Disclosure: No positions