Concerns about Greece's fiscal health helped drive European markets lower on Wednesday, after news of a proposed February 24 general strike reignited fears that the country may default on its massive debt load.
And while the European Union appears to be giving support for the Greek government's proposed initial spending cut and tax hike measures to reduce the deficit, investors seem to feel–and rightfully so–that Greece may have dug itself too big of a financial hole.
After all, the country is between a rock and a very hard place. Necessary tax hikes and spending cuts will likely derail its economic recovery; so would defaulting, but with the added danger of dragging other countries into the breach.
With this in mind perhaps it may be time to examine Greece's demographic landscape to see what impact it may have on the country's economy, both in the near term, and the long.
According to United Nation population projections, Greece will essentially experience flat growth from now until 2025, with positive immigration making up the difference in a decline in the natural increase (births). This flat population growth, which is expected to turn solidly negative by 2025, suggests that the country may have a difficult time growing its economy in the years ahead and that future generations will be overly burdened with past debts.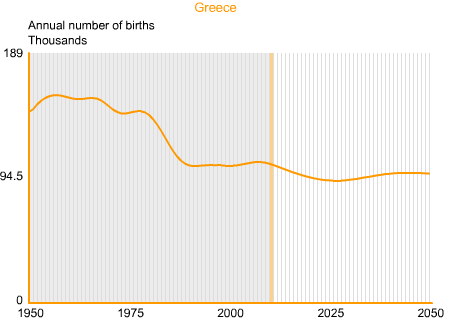 Source: UN 2007 and Institut National d'Etudes Demographiques
However, this admittedly over-simplistic assessment becomes more dire when considering the aging of the population. Currently about 19 percent of the Greek population is age 65 or older. The proportion of the population is expected to rise to 23 percent by 2025, and, more worrisome, to about 30 percent by 2050. Worrisome, because in general those over 65 contribute much less to a country's economy than those of the standard 18-64 working ages, and in some cases cost more than they contribute.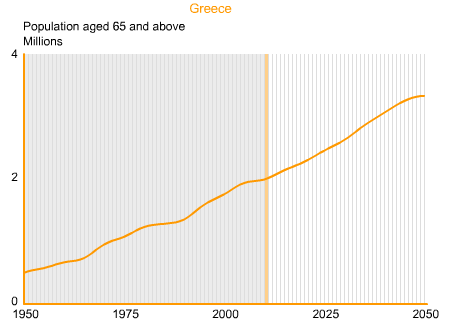 Source: UN 2007 and Institut National d'Etudes Demographiques
Thus, demographically, Greece, for the next 40 years, will have to grow its economy with a shrinking workforce while increasing its support for an expanding elderly population.
Greece Population
2008 (latest available data) Population: 11,262,000

2025 Estimated Population: 11, 274, 000 (0.01 percent growth)

2050 Estimated Population: 10,939,000 (-0.23 percent growth)
Economic Background: 52nd out of 127 in Forbes 2009 "Best Countries for Business":
Greece has a capitalist economy with the public sector accounting for about 40% of GDP and with per capita GDP at least 75% of the leading euro-zone economies. Tourism provides 15% of GDP. Immigrants make up nearly one-fifth of the work force, mainly in agricultural and unskilled jobs. Greece is a major beneficiary of EU aid, equal to about 3.3% of annual GDP. The Greek economy grew by nearly 4.0% per year between 2003 and 2007, due partly to infrastructural spending related to the 2004 Athens Olympic Games, and in part to an increased availability of credit, which has sustained record levels of consumer spending. But growth dropped to 2.8% in 2008, as a result of the world financial crisis and tightening credit conditions. Greece violated the EU's Growth and Stability Pact budget deficit criteria of no more than 3% of GDP from 2001 to 2006, but finally met that criteria in 2007-08. Public debt, inflation, and unemployment are above the euro-zone average, but are falling. The Greek Government continues to grapple with cutting government spending, reducing the size of the public sector, and reforming the labor and pension systems, in the face of often vocal opposition from the country's powerful labor unions and the general public. The economy remains an important domestic political issue in Greece and, while the ruling New Democracy government has had some success in improving economic growth and reducing the budget deficit, Athens faces long-term challenges in its effort to continue its economic reforms, especially social security reform and privatization.
Disclosure: No positions.