Bank of America (NYSE:BAC) looks better from the valuation perspective, compared to its competitors like Goldman Sachs (NYSE:GS), JPMorgan Chase (NYSE:JPM), Citigroup (NYSE:C), and others. In this report, I am laying focus on other aspects of Bank of America, which can result in higher revenue for the bank in upcoming months.
Shrinking Net Interest Margin
There was a time in first quarter of 2011 when net interest margin, or NIM, had touched a high of 3.84%. Since then, it has declined to 3.26% in the third quarter of 2013. NIM is a key performance indicator investors and analysts track to gauge a bank's decisions on investments in comparison to debt situations.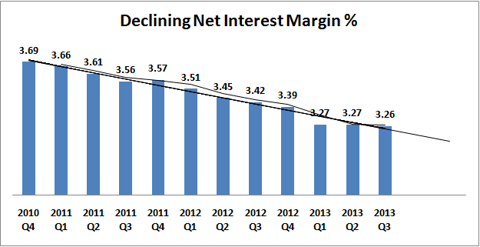 Major U.S. banks have observed reduction in net interest income or, NII, due to shrinking net interest margins which has been continued by Fed since financial crisis. Under-pressured NII of the U.S. banks was hit hard when Fed continued its bond-purchasing program, even though it was expected to end sooner. There is a fair amount of anxiety over banks operating in loan-deposit models for the majority of income. Not only these banks are under pressure, but Bank of America, JPMorgan and Citigroup is facing the same problem.
When Federal Reserve maintained lower interest rates in 2008, their idea was to give liquidity to the banks, so that it could lend money in the form of loans, and the economy could recover after the recession. However, recently, CNBC reported that banks are almost doing nothing with the liquidity they are getting. The data shows that the funds available for loans have increased by around $95.8 billion to $2.3 trillion, which is an all-time high in the U.S. Moreover, with the recent movements in the treasury bonds and foreign exchange markets, many people are hopeful on Fed's decision over Tapering in December 2013. Stronger job data, better GDP data of third quarter of 2013 are enough to fuel rumors on Fed's decision, but it would be interesting to see how Federal Reserve will play this ball at the year-end.
I feel that Federal Reserve will continue its bond-purchasing program in December, since economy has registered a growth of around 1.5% on an average annual growth rate basis. This can affect the NII of the banks, especially JPMorgan, which is operating at a NIM of around 2.39%. In-comparison to JPMorgan, Bank of America and Wells Fargo (NYSE:WFC) are in better position, as these banks operate at NIM of 3.25% and 3.45%, respectively.
Considering this scenario, I think that Bank of America will be a better avenue for investors instead of JPMorgan. Bank of America has total assets of around $2.12 trillion, and an NII of around $10.17 billion.

On the other hand, JPMorgan has total assets of around $2.46 billion, but due to shrinking NIM, its NII is declining and it has dipped to around $10.78 billion in the third quarter of 2013.

I think, Bank of America will perform better than JPMorgan, as a result of its higher NIM. Moreover, if Fed takes decision to taper the bond-purchasing program, I think, Bank of America is in a perfect position to take advantages of increased NIM.
Shorts are winding up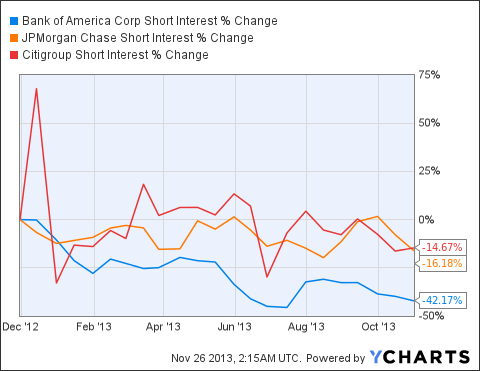 BAC Short Interest data by YCharts
Short interest ratio reflects the sentiments of investors on a particular stock, and by measuring this, investors can judge the market outlook on the stock. This year, short interest ratio of Bank of America has remained lower than that of its peers, JPMorgan and Citigroup. Short interest ratios of all three banks in the chart have declined this year, but the major beneficiary out of this scenario is Bank of America, which is trading at a short interest ratio of around -42.17%. On the other hand, Citigroup and JPMorgan are higher on short selling, and this can reflect in its price.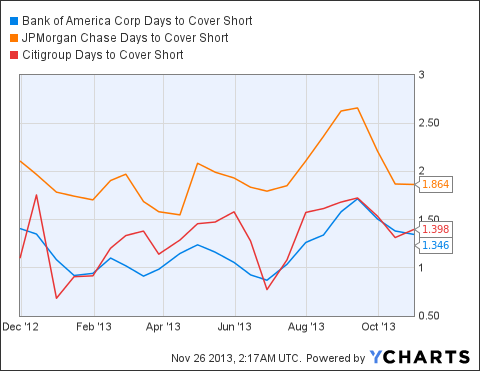 BAC Days to Cover Short data by YCharts
Second metric to look when analyzing the short selling is number of days to cover short. This is calculated by comparing current short interest with the average daily share volume. In the days to cover short, Citigroup and Bank of America stands at around 1.39 and 1.34, respectively. However, JPMorgan seems to lose its ground again on this metric, as it is on the higher side of this metric. Stocks having more than two days to cover short require a cautious approach, while these banking names are below that level, but I think, declining days to cover short in Bank of America is a welcome sign.
Stock performance

Bank of America has yielded comparatively higher return to investors in the last 12 months; it has appreciated by around 62%, beating benchmark index S&P and its peers. On the other hand, Citigroup is second on the list, while JPMorgan and Wells Fargo have managed to give return of around 49% and 40.5%, respectively. Bank of America's performance from its operations has reflected on the stock performance as well, and I think, this will get better from here. Bank of America beat Wells Fargo and Citigroup on Year-to-date return as well, having registered a return of around 36.49%.

Conclusion
I think, stock of Bank of America can see an upside even though it has appreciated well in this year. The Federal Reserve's decision on Quantitative Easing will be crucial, which will impact the next years' quarterly results of banks. Moreover, short interest ratio and days to cover short are also favoring stock of Bank of America and it shows that investors are showing the trust in the bank. Considering all these factors, I think, investors should think about going long on Bank of America in the upcoming quarters.
Disclosure: I have no positions in any stocks mentioned, and no plans to initiate any positions within the next 72 hours. I wrote this article myself, and it expresses my own opinions. I am not receiving compensation for it (other than from Seeking Alpha). I have no business relationship with any company whose stock is mentioned in this article.