We previously examined the performance of various country-specific ETFs in 2010 and Japan (NYSEARCA:EWJ) and Russia (NYSEARCA:RSX) were standouts. This trend has shown no sign of abating, and may well continue throughout 2010. In particular Japan, which has been a "dead money" market for about 20 years now, may be poised for relative outperformance gains in 2010 vis-a-vis some other major country ETFs.

The other international ETFs profiled in the chart include India (NYSEARCA:PIN) in purple, Canada (NYSEARCA:EWC) in white, Australia (NYSEARCA:EWA) in blue, China (NYSEARCA:FXI) in green, Germany (NYSEARCA:EWG) in orange, and Brazil (NYSEARCA:EWZ) in yellow. Brazil is the laggard of these countries thus far this calendar year.

If you don't buy my assertion that Japan may outperform this year and prefer to bank on a rebound by the current bottom performer Brazil, then one could attempt to "fade" the current trend by going long EWZ (through stock or options) and shorting EWJ for roughly the same amount. That would be considered a "paired" or hedged trade.

Examining the Top 10 holdings of the iShares MSCI Japan Index (EWJ), it looks to be a pretty well-diversified ETF. Only 1 of the Top 10 holdings is over 3% of its assets, that being Toyota (NYSE:TM) at 5.4% as of the latest reporting. Certainly the recent troubles of Toyota USA should be taken into account when trading or investing in the EWJ.



ETF Relative Performance Chart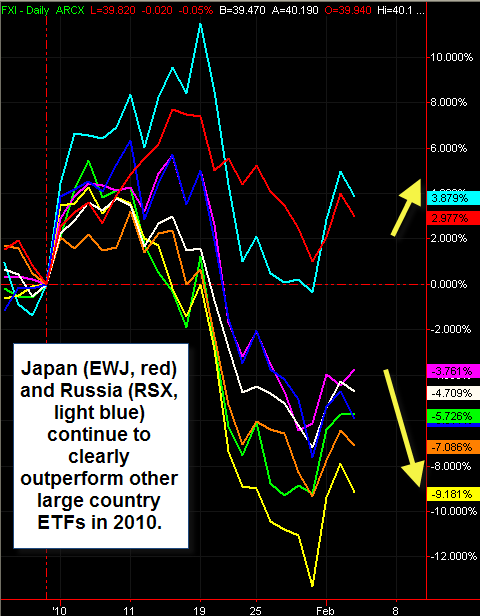 Disclosure: No positions.