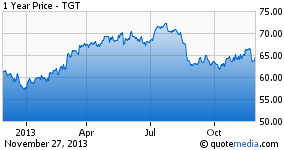 Target (NYSE:TGT) recently came out with third quarter earnings, which were disappointing on almost every metric. The company had to deal with a government shutdown during the quarter, which weakened consumer demand. They missed same store sales numbers, coming in at a 0.9% growth, compared to expectations of 1.2%. While the bottom line earnings number of $0.84/share was in line with expectations of between $0.80 and $0.90, Target did cut expectations slightly, predicting full year profit to be between $4.59 and $4.69 per share, slightly below last year's profit of $4.76.
In early 2011, Target announced they would purchase Zellers Canada, renovating some stores and reopening them as Targets and shutting down others. The first stores started opening earlier this year. Target currently has approximately 100 stores open in Canada, hoping to push that number to 124 by the end of the year.
The big drag on the company's results is their newly expanded Canadian division. The company is predicting that fourth quarter results will suffer between $0.22 and $0.32 per share because of weak results in Canada, after having third quarter results dragged down by $0.29 because of Canadian weakness.
Target Canada listed a few reasons for the weakness, including the Canadian consumer not using Target as a one stop shopping destination, a poor inventory mix, and taking less profit to clear out this excess inventory. While the company is reporting weak results to begin with, they're sticking with their forecast of having $6B worth of sales and an additional $0.80/share in profit on their bottom line, just from Canada.
Because I'm based in Canada, I've been going to Target's Canadian stores off and on for months now. I've also worked in the retail business for a decade, including positions at both grocery stores and food companies that service grocery stores. While I have a little bit of experience in the industry, it's very obvious what Target's problem is in Canada.
They don't have any inventory.
I visited two Target stores in Calgary, one on Sunday and one on Monday. I saw the same thing in both stores - empty shelves everywhere. Both men's and women's apparel were in pretty good shape, but they were the exceptions, not the rule.
I managed to get a few pictures before staff started to give me dirty looks. Let's take a look at a couple, starting with the toy section at store number one.
This is the toy section as we approach the Christmas season. Maybe I just caught the store between trucks, but this is exceptionally bad. This is just one picture, but the entire section was almost this empty.
How about the grocery section? Here's a portion of the grocery shelf from store number two, which I visited on Monday night.
You'll notice how, even past the four feet of completely empty shelf space, the next section looks full, even though it's clearly just been faced.
Target signed an agreement with Sobeys, a Canadian retailer, to supply all the products in their grocery department. Sobeys is a good Canadian retailer, and they've been in the news recently because they purchased Safeway's (NYSE:SWY) Canadian operations for $5.5B US. Sobeys stores are, for the most part, full. They're good at inventory control. Either Sobeys is running low on stuff they've put aside for Target, or Target's Canadian operations are doing a horrible job of ordering.
And finally, one more picture. This is from the pets section.
There's very little additional commentary needed. It speaks for itself.
I've been visiting Target's stores in Canada since July, shortly after they opened, and these inventory issues have existed the whole time. Conversations with staff confirm that sale items go quickly, and they're just not getting enough inventory to keep up with customer demand.
The inventory issue is the heart of what's wrong with Target's Canadian stores. People don't use them as a one stop shopping destination because Target is constantly out of things. Sales are suffering because Target has empty shelves everywhere. And because Target is so new, staff are still getting used to all the new systems.
The bottom line? Right now, Target's Canadian operations are a bit of a disaster. As I walked around the store on Monday night, I saw only a few customers, and maybe two or three people actually pushing around a semi-full shopping cart. I went next door to the Loblaws (OTCPK:LBLCF) operated store, where it was busy, and filled with people actually buying things. Until Target can turn around its Canadian division, I'd avoid the stock.
Disclosure: I have no positions in any stocks mentioned, and no plans to initiate any positions within the next 72 hours. I wrote this article myself, and it expresses my own opinions. I am not receiving compensation for it (other than from Seeking Alpha). I have no business relationship with any company whose stock is mentioned in this article.