This is how BBA Aviation plc (OTCPK:BBAVF) (OTCPK:BBAVY) describes itself:
BBA Aviation plc is a provider of aviation services and aftermarket support to operators of business and general aviation, military and commercial aircraft. The Company delivers its services at over 220 locations on five continents. The Company operates through two segments: Flight Support segment and Aftermarket Services segment. The Company's Flight Support segment provides refuelling, ground handling and other services to the business, general and commercial aviation markets. Its Aftermarket Services segment maintain, manufacture and support engines and aerospace components, sub-systems and systems. The Flight Support segment consists of Signature Flight Support and ASIG, and Aftermarket Services and Systems segment consists of Engine Repair and Overhaul, Legacy Support and APPH. Its Flight Support has approximately 200 locations worldwide, and its Aftermarket Services has approximately 23 locations worldwide.
The company has a market capitalization of about US$2.5 billion; its ADR trades in the USA under the ticker symbol BBAVY. Each ADR corresponds to five original shares (that trade on the London Stock Exchange under the ticker symbol BBA).
Over the past few years, BBA's earnings were only about stable without any growth. This clearly depended on the financial crisis, which caused a reduction in business flight hours and corporate investment.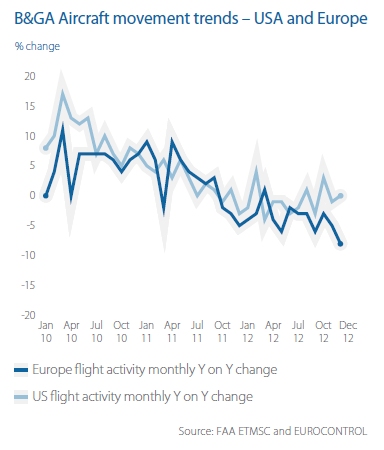 Hence, as investors anticipate aircraft movement and corporate investments to start growing again, during 2013 BBA's stock has steadily trended upwards.
Here are some key figures: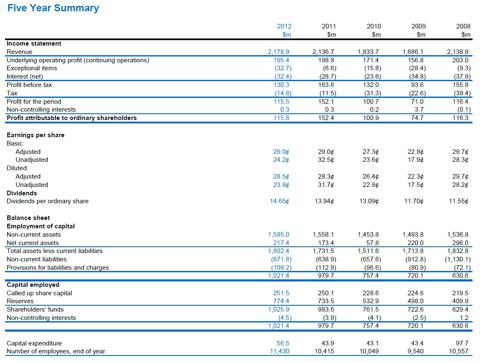 And this is the revenue segmentation by business: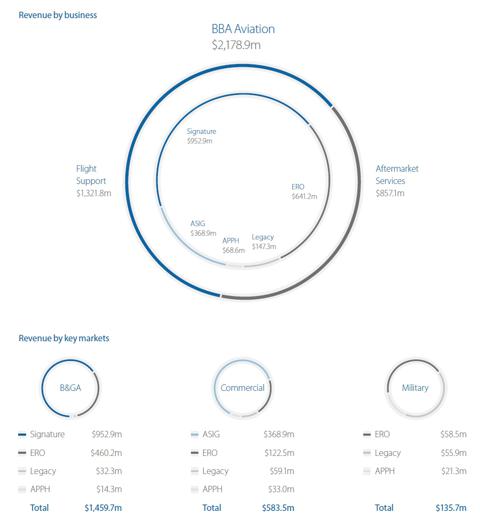 Operating margins are about 10% for the Flight Support segment and about 11% for the Aftermarket Services segment, hence the segmentation of operating profits is roughly the same as revenue segmentation.
- So why am I considering the stock for retirement portfolios?
Let's take a closer look at BBA's segments and its business dynamics.
Flight Support Segment
With over 100 locations, Signature Flight Support is the largest fixed base operation (FBO) network in the world. Its main activity is to provide business travellers a high-quality, full service support like refuelling, hangar and office rentals. The industry has strong barriers to entry. First of all, the requirement for a lease from an airport authority to operate an FBO. (The average unexpired lease term of BBA's FBO network in the USA is 17 years, hence there is little risk of material contract expiries in the near future.)
ASIG, the commercial flight support segment, is the world's leading independent refueller with operations at 70 airports worldwide. It provides support to commercial airlines, e.g. refuelling, baggage handling, maintenance and de-icing. It is easy to see the barriers to entry in this market. Few companies have the technical expertise necessary to provide commercial aviation services and the authorizations required to operate at individual airports are not easy to obtain.
Basically, Signature and ASIG operate as monopolies or inside oligopolistic structures. Moreover, the economics of the service business are favourable: BBA points out that its businesses "have a service focus and operate with low asset intensity and a naturally flexible cost base, making them highly cash generative and therefore inherently well suited to deal with market cyclicality."
Aftermarket Services and Systems Segment
This segment is made of three different businesses.
1) Engine Repair & Overhaul has been granted licenses from OEMs to service their engines. It is authorised for engine overhauls on 80% of the business and general aviation engines now in service.
2) Legacy Support basically provides cost-effective, high-quality solutions in the continuing support of maturing aerospace platforms. This is again a monopolistic business. As planes get older, OEMs stop manufacturing replacement parts and grant Legacy a licence to build them on its own. Legacy thus often becomes the only provider worldwide for replacement parts that are necessary to continue operating older aircraft.
3) APPH is a niche landing gear and hydraulic sub-systems manufacturer. It manufactures, designs and supports systems and sub-systems for original equipment and aftermarket applications. This is a business with similar economics to Legacy, as the intellectual property on self-developed aviation components represents a high barrier to entry.
Business Economics
In all its segments, BBA operates in the position of a monopolist or inside an oligopoly, which gives the company excellent pricing power. Furthermore, during downturns with reduced business activity, growing activity in the Aftermarket Services segment partially compensates for lost refuelling and flight support revenues, as businesses tend to overhaul older aircraft to keep them in service for a longer time. The Aftermarket Services segment thus provides a solid base with reduced cyclicality and even counter-cyclical characteristics, while the low asset intensity and flexible cost base of the Flight Support segment helps to moderate the impact of recessions.
The business is very cash generative, as it does not require large investments. Typically D&A charges are far higher than capital expenditures (a consequence of the industry consolidation, where BBA acts as an active consolidator), leading to higher free cash flows compared to net income. If we conservatively presume that all capital expenditures for property, plant and equipment and intangible assets are maintenance related, deducting proceeds from disposals of property, plant and equipment, we get the following data:
| | | | |
| --- | --- | --- | --- |
| ($ millions) | 2010 | 2011 | 2012 |
| Net Income | 100.7 | 152.2 | 115.5 |
| Adjusted Net Income | 116.3 | 135.7 | 138.7 |
| Operating Cash Flow | 235 | 235.6 | 207.2 |
| Net PPA Expenditures | 35.3 | 29.3 | 55.4 |
| Adjusted Free Cash Flow | 199.7 | 206.3 | 151.8 |
Adjusted free cash flow is consistently higher than stated net income and even higher than adjusted ("underlying") net income.
Growth Opportunities
Future growth of the aviation industry and related businesses will most likely continue to track GDP: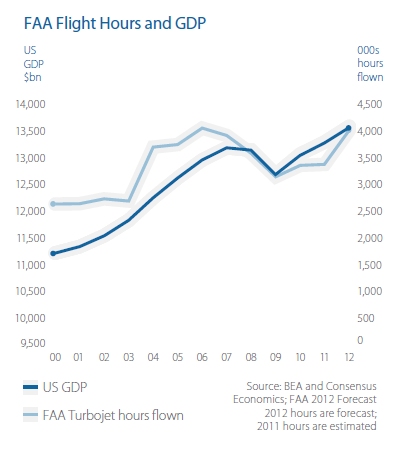 Further opportunities arise from industry consolidation. Being the largest operator in its sector, BBA is an active consolidator and continuously enlarges its operations through acquisitions of smaller flight support networks and aftermarket niche manufacturers.
Thus, we can expect BBA's results to at least track GDP, but probably deliver somewhat higher returns. As compensation is directly linked to ROI and awards vest only above annual EPS growth rates of 6%, management is highly incentivized to allocate capital efficiently.
Moreover, considering the current geographic segmentation of revenues, BBA probably has huge growth opportunities in the fast growing Asian business aviation segment.
All in all, I would consider BBA a stable business with excellent economics that will likely provide at the very least inflation protected returns, but also has nice growth opportunities. And this is what makes the stock suitable for retirement portfolios.
Depending on their respective home countries, investors should however consider currency exposure risks from BBA's global operations:

Valuation
Analysts project free cash flow per share to reach about US$2 per ADR in 2014 or US$0.40 per original share. (BBA is incorporated in the UK, but its accounting currency is the US$.) FCF adjusted (as explained above) for the difference between D&A and capital expenditures should be even higher. Presuming a stable pay-out ratio, the dividend should rise to 80 cents per ADR and 16 cents per share. As the ADR trades at US$25.7, the projected (non adjusted) FCF yield comes in at about 8% and the dividend yield at about 3%. If BBA really was the cyclical business it seems to be at first sight, the current share price could be considered a fair valuation. In my opinion BBA would deserve at least a slightly higher multiple, comparable to the broad market average. Thus I would see the stock fairly valued at about 14-15 times adjusted free cash flow, translating into a price of $28-30 per ADR (ticker BBAVY).
(Figures, charts and tables have been taken from the company's 2012 Annual Report.)
Disclosure: I have no positions in any stocks mentioned, and no plans to initiate any positions within the next 72 hours. I wrote this article myself, and it expresses my own opinions. I am not receiving compensation for it (other than from Seeking Alpha). I have no business relationship with any company whose stock is mentioned in this article.