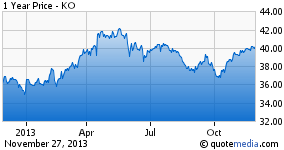 Coca-Cola (NYSE:KO) is one of the oldest brands in America that is still active, but it hasn't been keeping up with the times. Demand in the U.S. and other nations is growing for healthier drinks than the sparkling beverages that have been the hallmark of the soft drink maker's success the past century. A new paradigm is shaping up in which juices are gaining in popularity while sparkling beverages are declining. PepsiCo (NYSE:PEP) has taken the initiative to diversify its portfolio as The Coca-Cola Company stays locked into its old traditional sodas, leading to soft revenues the past few quarters.
New Ideas
Despite its stubborn stance to keep pushing declining sparkling beverages, The Coca-Cola Company is taking some steps to innovate for the future outside of nutritional concerns. One development is genomics. Chief Technology Officer Guy Wollaert was recently interviewed by Beverage Daily, a division of India-based Live Mint. He told the news outlet that the company is working on customizing drinks for individuals based on their genetic composition. In other words, the exploration of health metrics will improve with precision to produce more customized drinks for consumers.
Demand for Health Drinks
Americans have a growing craving for healthier drinks containing lower calories and less sugar. The falling demand for soda has affected both Coca-Cola and Pepsi, but Pepsi has the edge in responding to consumers who want healthier drinks. Pepsi drinks that appeal to this market include Gatorade and Naked Juice. While Pepsi's revenue is divided between food and beverages, Coca-Cola continues to earn most of its revenue from sparkling beverages. Currently Pepsi is more visionary because it is broadening while the clock ticks on Coca-Cola to take more action.
Serving China
Coca-Cola is planning to spend more than $4 billion on China from 2015 to 2017 to compete with other soft drink makers. New manufacturing plants and products will help meet the market demand. The company aims to grow global revenues by 200 percent to $200 billion by 2020. The company has already made a substantial investment in China of $4 billion for the 2012-2014 period. Acquisitions in China will be considered in order to compete in the healthier drink market for products like juice and almond milk. The company will open two facilities each year in China over the next decade. Coca-Cola remains the number one soft drink leader in China with a 16 percent market share by total volume, according to Euromonitor data.
Flat Soft Drink Finances
The company's Q3 announced October 15 was inline with estimates, but missed on revenues. Part of the reason net revenues fell 3 percent year over year and 2 percent year to date was currency issues. Without structural adjustments, comparable currency neutral net revenues increased by 4 percent year over year and 2 percent the first nine months of 2013. Net income was up 10 percent and operating margin grew 23.5 percent. Operating income fell 12 percent in the quarter and 6 percent since January. Aside from structural changes, comparable currency neutral operating income was up 8 percent in the quarter and 6 percent since January.
Most of the volume growth was attributed to the Coca-Cola brand. The Coca-Cola soft drink increased 4 percent, Coca-Cola Zero grew 23 percent, while Vanilla Coke and Coca-Cola Cherry Zero went up 10 percent. One of the company's attractions for investors is that it pays an above-average 2.7 percent dividend, which has been increasing for 51 straight years. Zacks remains optimistic due to the company's global profile and a solid cash position.
Buy, Sell or Hold
The general consensus on Coca-Cola for November 2013 is hold. Zachs has maintained a neutral recommendation due to its long-term fundamentals, despite soft revenue two quarters in a row. The company hasn't discussed much in the way of new products, other than its environmental bottling concept. That's a good start, but it needs to get deeper into health drinks or its financial future will be full of cavities. Coca-Cola remains a strong brand with 500 varieties in 200 counties, but it's slipping from its heyday. In September, the company fell from its 13-year hold as the world's most valuable brand, falling behind Apple (NASDAQ:AAPL) and Google (NASDAQ:GOOG), according to Interbrand.
Hold is a position that reflects the stock in several ways. The stock itself has been locked into a holding pattern between $35 and $45, which has been the trend for nearly two years. It's not something to get too excited about other than hedge funds and traders might find support and resistance levels to be consistent. Coca-Cola also holds on as the soft drink leader but competition is becoming more intense and the company cannot afford to resist meeting consumer demand for healthier drinks much longer as fear of aspartame has hurt sales in the United States.
Disclosure: I have no positions in any stocks mentioned, and no plans to initiate any positions within the next 72 hours. I wrote this article myself, and it expresses my own opinions. I am not receiving compensation for it (other than from Seeking Alpha). I have no business relationship with any company whose stock is mentioned in this article.