Central banks are currently occupied by growth and employment concerns and inflation is generally in control in the US and EU. With rates kept low for an extended period of time and global uncertainties winding down, perhaps it is time to consider a play on a growth recovery.
In this article, I will share why I am bullish about the agriculture space, which may benefit from a growing economy and low to rising interest rate environment. In this article, I have found potash fertilizer producers like Agrium Inc (AGU) and Potash Corporation of (POT) to be potential investment ideas to fit this theme and will write a follow up article on each company to evaluate them as a long-term investment.
However, as agriculture related commodities are subjected to short-term price fluctuations due to variables like weather, I see opportunity in picking up stocks that are affected by these price swings, as long-term fundamentals remain unchanged.
Investment Thesis
Global population growth means that more people will need food on their table, and urbanization results in more farm land being converted into residential and industrial land. In recent years, there has been an additional demand driver - biofuels. The "Food for Fuel" phenomena has resulted in dual use for agriculture land and its produce, linking prices of some agriculture produce to fuel prices for example. The above ideas are not new. These ideas have been around especially during the hype over the 2000s commodities super-cycle. However, as prices of agriculture commodities fall, so has many agriculture companies. However, the fundamental drivers as mentioned remain unchanged.
The S&P GSCI Index Spot CME (SPGSCI) has performed poorly, -3.44% for the year-to-date as compared to the S&P 500 Index, which is up 28.99% for the year-to-date and i sense opportunity here. Agriculture companies has underperformed relative to the S&P 500 Index as well. The S&P Global Agribusiness Index (SPAGREDP) is up 9.45% for the year-to-date.
In a recent Bloomberg article citing a report by McKinsey, writer Joe Richter writes about supply constraints such as arable farm land in China and Brazil being converted due to urbanization and discusses about a price floor in commodities.
Long-Term Drivers of Demand and Supply
The world population reached 7 billion on October 31, 2011, according to the United Nations. It was 6 billion in 1999, and the forecast is 8 billion in 2024. This roughly means that the world has been growing and will continue to grow by 1 billion in every 13 years or so.
China has recently announced a relaxation in its one-child policy, allowing families to have 2 kids if one of the parents is an only child. This could further drive demand from China, which has already been fueling the commodities super cycle.
Urbanization has a double whammy effect on supply and demand. Land conversions directly result in a loss of arable land. At the same time, demand is increased indirectly through demand in raw materials required by the urban population, for example, bioethanol, cotton. As emerging countries change their diet to eat more protein, this causes a strain on food supplies because it takes more grain to produce 1kg of protein (I had not quoted the typical understanding that it takes 7kg of grain to produce 1kg of beef, but here is an article that you might find an interesting read on the grain-to-protein conversion ratios).
Growing consciousness in eco-friendly farming practices and building carbon sinks provide a check on rampant expansion of arable land and helps protect our forest. That restricts arable farm land expansion and we have therefore been relying on technology to increase yields.
Potash
I like the idea of investing into fertilizers or crop inputs as these are generally required in most farms, and these boosts yields. Fertilizer producers have popped onto the screen and I like companies with exposure to potash in particular, a source of potassium which is one of 3 primary elements required by plants.
There is a natural defensive moat for potash manufacturers due to high cost of developing greenfield projects as compared to nitrogen and phosphate fertilizers. A risk would be in BHP's Jensen project which is a $14 billion project forecasted to have production coming on-line in 2020.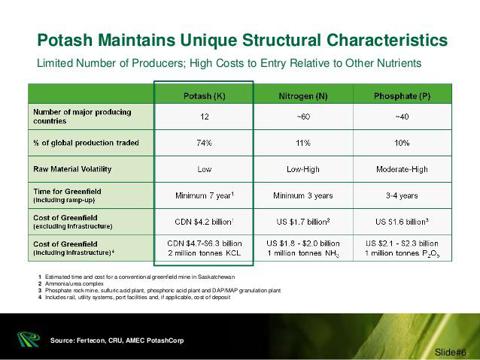 Source: Potash Corp's presentation (here)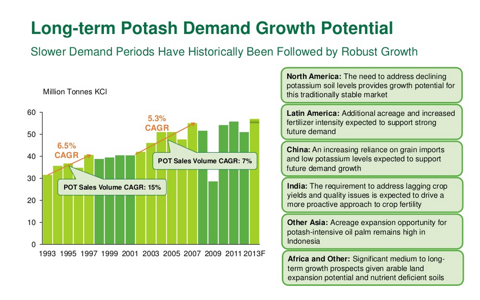 Source: Potash Corp's presentation (here)
While Potash Corp notes that slow demand periods have been followed by subsequently robust demand growth in potash, Agrium Inc forecasts a 5 year CAGR of 4.2% for potash, 2.5% for nitrogen, and 2.5% for phosphate.
Short-Term Price Fluctuations
A buy and accumulate strategy as prices of agriculture commodities fluctuate severely and undergo alternating periods of tight supply situations and good harvests situations, but the underlying demand and supply drivers are unchanged. Time to turn bullish?
I have selected the price charts of corn and sugar to show how severe price fluctuations can be for commodities.
Corn Price (source: here)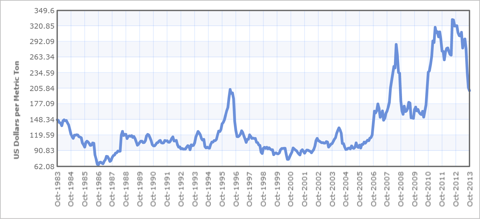 Sugar Price (Source: here)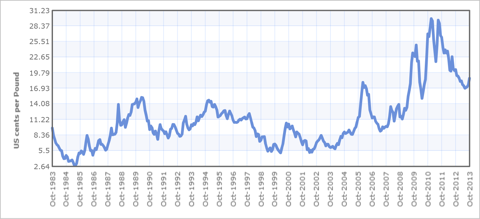 Palm Oil (Source: here)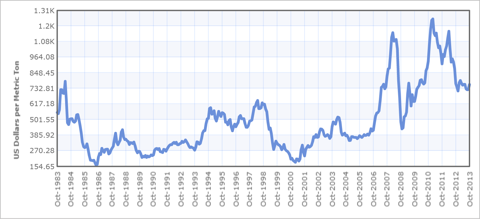 The charts above also show a similar price trend which suggests a strong correlation. The sharp dips to me means you never can quite time the market, but accumulate when prices are low for longer term investors.
Outlook on Corn Prices
Agrimoney.com reports elevated forecasts of US corn sowing for the next year's crop cycle as US corn stocks look to increase. Further, good weather in the start of the South America growing season tells a story of a period of depressed corn prices.
Biofuel mandates around the world introduced a new driver to demand for agriculture produce. However, countries are beginning to see a risk in food crops being used as alternative fuels. In the US, the Environmental Protection Agency has just proposed for the first time a cut back to ease an annual requirement for ethanol in gasoline to levels lower than from the past two years. Effecting such cuts could significantly impact demand for ethanol (derived mainly by corn in the US), leading to a decrease in corn prices. Point to note though is that the push for bioethanol based fuels has only been cut back and not entirely taken away.
In Agrium's November 2013 Crop Input Market Report, Agrium suggests that farmer cash margins for corn and soybeans would decline for 2013/14 but forecasted to pick up in 2014/15.

Source: Agrium November 2013 Crop Input Market Report
Long-Term Investments
Looking beyond the quarterly or current year results, as agriculture companies get hit with earnings declines due to weak prices of agriculture produce, it would look increasingly attractive to buy and hold these companies.
AGU reported earnings down 61.2% from last year in its latest quarterly earnings release and as did POT, down 45%. The stock prices are trading fairly near 52-week lows, and are both looking attractive as an addition to your long-term investment portfolios.
I am in no hurry to add to these positions however, and would accumulate on signs of earnings weakness for the long haul.
Disclosure: I have no positions in any stocks mentioned, and no plans to initiate any positions within the next 72 hours. I wrote this article myself, and it expresses my own opinions. I am not receiving compensation for it (other than from Seeking Alpha). I have no business relationship with any company whose stock is mentioned in this article.