This is a quick note to update you on 2 major changes to Infusystem (NYSEMKT:INFU): 1) it has been substantially derisked over the last few months after the results of the Round 1 Recompete were released; and 2) there is a new transaction comp that just hit the tape today (Apria signed a definitive agreement to sell its ambulatory infusion business for $2.1B).
While I do not plan to rehash the entire INFU story, I will mention that it has been extremely hard to value due to the risk of DMEPOS competitive bidding (which is now off the table) and lack of true public comps.
As of today, both of these issues have been resolved. The high-level updates are as follows:
DMEPOS Bidding Update.
Infusion was included as a category in the Round 1 Recompete, after being excluded from both the original Round 1 and Round 2 bidding. The impact of the Round 1 Recompete is now known. It impacted 9 MSAs in the US, most of which were small/regional (no major MSAs were included). In addition, the overall cuts to Infusion system reimbursement were modest. Further, INFU's management has disclosed that the impact that reimbursement cuts had on them were even more modest than the nationwide impact: 1% of INFU's revenues were impacted, and those 1% of revenues received category cuts averaging 21% (per CMS). The end result is that INFU emerged virtually unscathed from this round of reimbursement cuts. We can now expect ~3years of uninhibited growth before the next round of DMEPOS bidding potentially stacks more cuts onto INFU (and even then, we do not know that CMS will include infusion in the nationwide bidding).
Comparable Transaction Update.
Apria printed a press release that they have agreed to sell their home/ambulatory infusion business for $2.1B to CVS Caremark. This is a multiple of 9x their LTM EBITDA of $234mm (despite being a PE-backed company, Apria files financials). While this is not a direct comp because Apria also provides registered nurses to assist with home infusion therapy, it is as close as you are going to get.
Valuation.
Based on the above, I believe it is fair to value INFU based on a range of realistic assumptions, including an EBITDA multiple ranging from 7x to 9x, as well as a range of EBITDA outcomes ranging from $13.5mm to $16.0mm. This valuation exercise implies a high/avg/low price per share of $6.52/5.28/3.13, after netting out the debt in the capital structure ($25.4mm of total credit facility loans; equivalent to 1.8x leverage).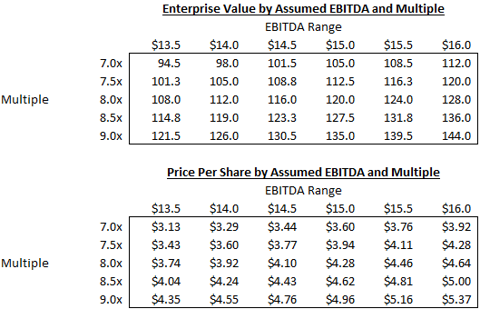 Please do your own research, this article was merely meant to outline my updated thesis at a high level. Feel free to ask questions in the comments, as I have spent quite a bit of time looking at this company/industry.
Disclosure: I am long INFU. I wrote this article myself, and it expresses my own opinions. I am not receiving compensation for it. I have no business relationship with any company whose stock is mentioned in this article.
Additional disclosure: This article does not reflect the opinions of my employer, nor any affiliates. It is expressly my personal opinion. I am currently long, but may trade in/out of this security without updating you.