It appears retailers were able to carry the positive holiday momentum into the new year after all, as most companies posted better-than-expected same-store sales in January.
While typically the lightest month of the year in terms of volume, and no doubt in large part due to extremely easy comparisons to a year ago, January's strong performance nonetheless suggests retailers might have finally turned the corner.
Preliminary results show total sales increased 5.6% from a year ago to $26.6 billion for the 32 retailers we track, while same-store sales were up 3.3%. This is the fifth straight gain after 12 consecutive months of declines, and the best showing since April 2008. (Click to enlarge)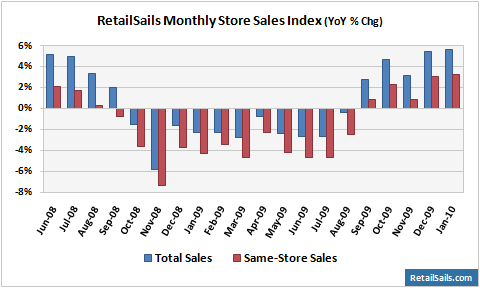 Retailers were focused on clearance merchandise during the month, and inventories are still being kept extremely tight even as the spring lines are rolling in. Some of the strongest performers in January were not surprising: warehouse clubs Costco (NASDAQ:COST) (+8.0%) and BJ's Wholesale (NYSE:BJ) (+8.4%), which were helped by gas prices that are nearly 50% higher than a year ago; off-price retailers TJX (NYSE:TJX) (+12.0%) and Ross Stores (NASDAQ:ROST) (+8.0%), which have been posting consistently strong results for the better part of a year; and teen retailer Aeropostale (NYSE:ARO) (+6.0%) which posted its 29th same-store sales gain in the last 30 months.
There were some notable surprises, though:
After 20 consecutive months of negative same-store sales, Abercrombie & Fitch (NYSE:ANF) posted a comp gain of 8%, while total sales climbed 16%. The question is, does this represent a real turnaround or just a blip on the radar?
Luxury department stores were some of the worst performers during the recession, but the high end has been making a comeback: same-store sales at Nordstrom (NYSE:JWN) (+14.0% vs. -11.4% a year ago), Neiman Marcus (Pending:NMG) (+6.8% vs. -24.4%), and Saks (NYSE:SKS) (+7.0% vs. -23.7%) all posted their second straight month of strong gains.
The Buckle (NYSE:BKE) reported a same-store sales decline of 1.2%. This breaks an incredible string of 40 consecutive months of comparable sales gains. The teen retailer has shined over the last few years as stole market share from rivals, and this weakness is likely a reflection of the double-digit comparisons the company was up against.

Some retailers have still yet to see any meaningful improvement, and continue their infamous streaks of negative comparable sales: JC Penney (NYSE:JCP) (-4.6%) – 24 straight months, Dillard's (NYSE:DDS) (-5.0%) – 18 straight months, 30 out of the last 32 months, Stein Mart (NASDAQ:SMRT) (-2.5%) – 20 straight months, 30 out of the last 32 months, Stage Stores (NYSE:SSI) (-11.3%) – 19 straight, and Wet Seal (WTSLA) (-3.7%) – 25 consecutive months.
As January was the fiscal year end for the majority of retailers, we look ahead to companies reporting their 4th quarter and annual financial results in the weeks ahead. We expect many retailers to beat watered-down results on cost-cutting and improved margins, since discounting and promotional activity was much less pronounced than last holiday season. However, most of the potential for cost savings is in the rear-view mirror, and companies will have to see top-line improvements or earnings could take a hit.
See below for details by company. Check back later, as we will be updating individual retailer pages all day, and will have an in-depth monthly report posted by this weekend.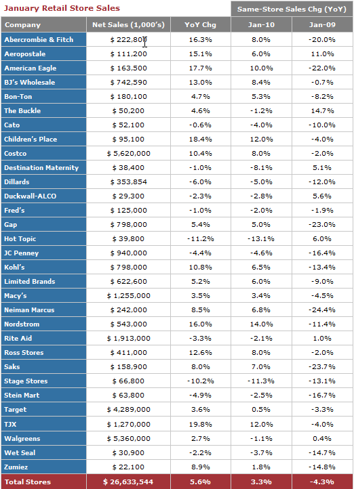 Disclosure: No Positions