Too many articles these days are predicting the fall of the biggest market capitalization company in the world. Yet Apple (NASDAQ:AAPL) continues to thrive for its investors and customers. When CEO Tim Cook says it will be an "iPad Christmas", foolish investors will try to prove him wrong. If you look at the Black Friday deals this year, it is clear the risk is on the merchants, not Apple.
The Apple products you see on sale leading up to Christmas are already sold from Apple's perspective. This channel inventory will show up in the 2014 Q1 revenue and earnings. This Black Friday, Target (NYSE:TGT) reduced the price of an iPad Air, regularly priced at $499, to $479 and then gave an additional $100 Target gift card? Target is one of many retailers that realized it is an "iPad Christmas" and was willing to take a loss on one item to drive foot traffic on the biggest shopping day of the year.
The same thing happened with Wal-Mart (NYSE:WMT), Best Buy (NYSE:BBY), Staples (NASDAQ:SPLS), Mac Mall, and others deciding to offer huge discounts to drive traffic. Yet many predict how Apple is on the way down. See this article from another SA author predicting the doom of Apple. Do you know of anyone that has said, "I would love a $149 tablet for Christmas."? Probably not.
Since recent supply chain rumors of Foxconn (OTC:FXCOF) production exceeding a record 500,000 iPhone 5S units daily have surfaced, one can only imagine how many iPhones Apple will sell this quarter. Something important to remember about the number Apple reports in its quarterly earnings call: sales numbers are sell-in, not sell-through. That means that the entire channel inventory build for all of these different retailers and wireless carriers will not only include the very first iPhone 5S or 5C sold, but also the 4-6 weeks of channel inventory they like to have in the rear-view mirror.
Rather than drive comparable unit sales like Samsung (OTC:SSNLF) this holiday quarter, Apple is thinking longer term. Their strategy included not keeping the last two phones as lower-end models (reference the 2012 holiday quarter with the iPhone 5, 4S and 4). Instead they decided to produce two brand new, 64-bit architecture, iPhone models. This leaves the iPhone 4S as the only legacy phone in their lineup. This will drive higher sales of newer models which will also drive their margins up. Last quarter, Apple reported gross margin of 37%. They then guided to 36.5-37.5%. I don't think anyone realized just how popular the new iPhone 5S would be.
In its opening weekend, sales of 9 million iPhone units were met with reports of the newest high-end 5S model outselling the iPhone 5C 3-to-1. Now to the math: If Apple is producing 500,000 iPhone 5Ss per day, that would be 45 million in a 90-day quarter. With shipping times constrained for most of this quarter, you can bet this may be the low end number since constrained supply likely means demand has been healthy since its launch. Add in your iPhone 5C units using the 3-to-1 ratio and you are north of 60 million sold. See the table from Consumer Intelligence Research Partners (CIRP) below where Dec 2012 had a mix of just 50% flagship iPhone 5 sales.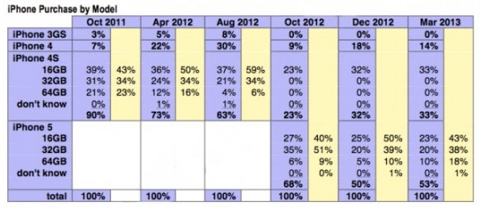 This corporate move of marketing their high-end phones to move at a much higher than historical rate will prove to benefit both higher gross margins and higher average selling prices. That will translate to a boost to both EPS and revenue. Last holiday quarter, 47.8 million iPhones were sold and 33.8 million iPhones were sold in 2013 Q4. If 60 million iPhones are sold this quarter, that would be a 25.5% year-over-year growth rate and a 77.5% quarter-over-quarter growth rate. This would be absolutely incredible considering Apple is the biggest market cap company in the world. Remember however, margins and ASP (not units) are the winners for investors in this scenario.
Now to iPads; did everyone notice the iPad Mini with Retina is $70 more expensive than last year? Its retail price went from $329 to $399. What effect do you think this will have on margins? Remember, investors will welcome margin and ASP increases as much as they will unit sales. An ASP increase of $70 (a 21.3% increase) may drive fewer sales. However, unit sales would have to proportionally drop 20+% for revenue on this line to decrease. William Power from Baird is predicting the opposite with 27.4 million iPads in 2014 Q1 as compared with 22.8 million in the year ago quarter. Other experts are also predicting an increase of iPad unit sales. So is Tim Cook. Maybe, just maybe, Tim Cook knows what he is doing.
Disclosure: I am long AAPL. I wrote this article myself, and it expresses my own opinions. I am not receiving compensation for it (other than from Seeking Alpha). I have no business relationship with any company whose stock is mentioned in this article.