Sovereign debt concerns have exploded this year, and the chart below makes this fact very clear.
It shows short-selling interest for the sovereign debt of different nations, as calculated by short-interest firm Dataexplorers in a February report.
Dataexplorers presents Short interest as an alternative to using credit default swap data alone: "CDS data on these markets is well publicized, but what does short selling data tell us about the current market attitude to developing country government bonds?"
The degree of recent short selling is indicated by the blue bars, while that of one year ago is in red. Longer bars implies far more traders betting against a nation's debt.
What is particularly striking about the data is that while some of the infamous European sovereign-default-risk PIIGS (Portugal, Italy, Ireland, Greece, and Spain) rank highly on this list of troubled nations, many Eastern European nations look far worse in terms of short interest. Note some PIIGS aren't in the table, they might not have been included in Dataexplorer's screen.
If the shorts are right, Eastern Europe may actually be the spark that sets off the rest of Europe's financial crisis. Note Abu Dhabi shot up this year as well, no doubt due to Dubai's crisis.

(via Alphaville)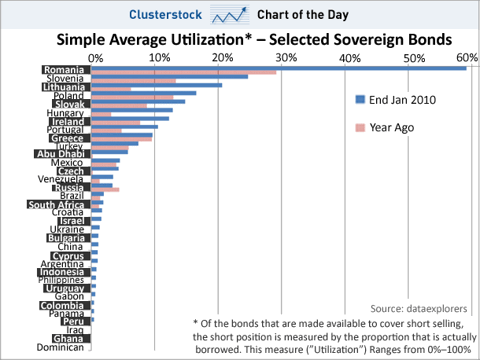 Original Post

Disclosure: No Positions