A recent article about Coca-Cola (NYSE:KO) by SA contributor Tom Genot caught our attention. The comments section in that article was pretty interesting as well, with a lot of readers pointing out some of things they didn't agree with. With all due respect to Mr. Genot, this article provides a few rebuttals and addresses why Coke is still one of the best stocks to buy, especially for dividend growth investors.
The Product Line: When talking about Pepsi (NYSE:PEP) and Coke, a point often raised against Coke is how Pepsi is diversified while Coke sells "just" the same soda. The chart below from Trefis.com shows the various components of Coke's business and their contribution to the stock price.
Coke's Dasani as well as Pepsi's Aquafina are top names throughout the world when it comes to bottled water. Coke's Minute Maid has been selling juices for more than 60 years. Powerade is popular as a sports energy drink. Even in the soda category, it is not just about the "same old Coke" as Sprite, Fanta and Diet Coke are pretty famous as well. The point is, Coke is not just a soda company and has diversified itself enough into various beverages.
Contrary to popular opinion, Pepsi's Frito-Lay division is its number one money maker, ahead of the soft drink division.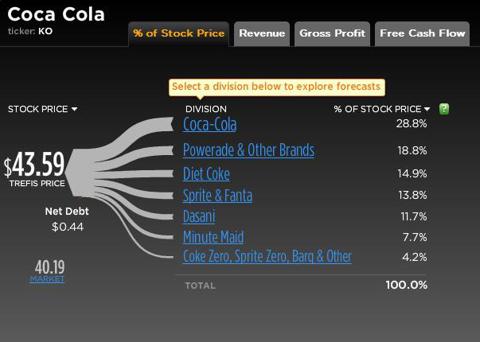 (Source: Trefis.Com)
Dividend Growth: Mr. Genot's article pointed out that Coke's share price has been in the $35 to $45 range for two years and suggests this pattern is likely to continue. There are a few points to be considered here:
1) A price jump from $35 to $45 is still a 30% increase in the stock price over that period. Investing in Coke, just like any other stock, requires investors to evaluate the current valuation before purchase.
2) One shouldn't expect a price range wider than that, as this stock has a low beta of 0.26.
3) In February 2013 the dividend was increased by 10% while February 2012 saw a jump of 8.5%.
I think we all can safely agree that most investors have Coke in their portfolio for its dividend and dividend growth. The table below shows the last 5 dividend growth rates for Coke.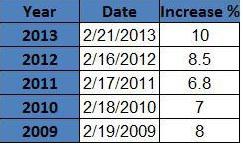 Upcoming Dividend Increase: This point is here just to remind investors that Coke's 52nd consecutive annual dividend increase will likely be announced on February 20th, 2014. No, this is not a prediction to compete with Nostradamus. Please click here to know why we are so certain about it.
Buy, Hold, or Sell: Mr. Genot's article mentions that the general consensus on Coke is a "Hold." While we maintain that analyst estimates need to be taken with a pinch of salt, Coke's average target price according to Yahoo Finance is $45, a 12% premium to the market price. Trefis has a price target of $43.5, which is still 9% away. And do not forget the near 3% yield, which will likely increase again in February.
Business Fundamentals: Coke's brand name and its worldwide presence are often cited as the company's biggest strengths. But Coke's real strength lies in its distribution, which makes sure the products reach the right place at the right time with minimum possible expenses. Coke repeatedly evaluates its distribution strategy, like the recent move to hand over some of the distribution network back to independent bottlers. While most of us are aware of those big red Coke trucks distributing throughout the developed world, there are a variety of distribution strategies followed all over the world, like the Micro Distribution Center (MDC). You can read about MDC here on Coke's website.
Valuation: Valuation is often cited as another reason to avoid Coke at this level. But investors should remember that most blue chip stocks like Coke and McDonald's (NYSE:MCD) often carry a premium. Think about it for a minute, if Coke's share price does not catch up with the annual dividend increases, Coke will be yielding more than 10% after 52 years of consecutive dividend increases. Investors bid up the share price year after year so the yield does not go to crazy levels.
Conclusion: This company/stock has pretty much got everything:
Wide moat and international presence
Diversified beverage business
A moderate valuation
Low beta (which can be quite handy pretty soon with the market reaching highs)
Decent yield
Moderate payout
High dividend growth
We stick with our long-standing original conclusion that if you are looking at initiating a position in Coke, now is as good a time as any. Sure, there will be pullbacks here and there. If you are looking at a core holding that you expect to hold for many years or even generations, there can be very few stocks that can rival Coke.
Disclosure: I am long KO, MCD. I wrote this article myself, and it expresses my own opinions. I am not receiving compensation for it (other than from Seeking Alpha). I have no business relationship with any company whose stock is mentioned in this article.