I am bullish on agriculture commodities and am looking to take a long position on Agrium (NYSE:AGU) and/or Potash Corp (NYSE:POT). Here is another company Wilmar International Limited (OTCPK:WLMIF or OTCPK:WLMIY) that I have been personally invested in (directly into the company traded on the Singapore Stock Exchange), and am looking to add to my BIG Portfolio. The company released its third quarter results in early November but due to its lack of exposure on Seeking Alpha, I thought it would be good to share this with the community.
I invested into the company because I like companies that generate cash and can do so over a sustained period of time. Agribusinesses are also in a rough patch due to falling agriculture commodity prices. The company has a large presence in China, where the vegetable oils and flour is required, and they have diversified operations in processing and upstream production. This integrated business model allows them to buffer (if not benefit) from falling commodity prices and gain from a rebound in upstream products like sugar and palm oil prices.
Here is the long term chart of the company, traded on the Singapore Stock Exchange.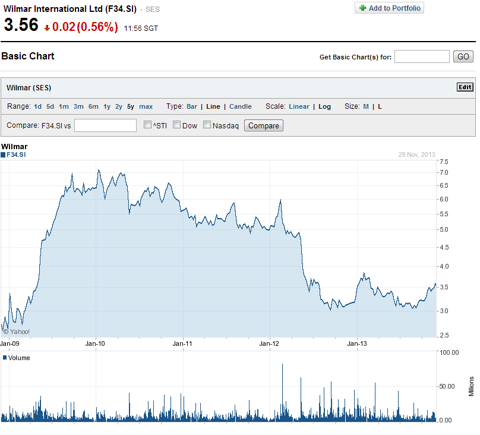 Source: Yahoo! Finance
More about the company.
Background
Wilmar International Limited is a leading agribusiness in Asia. Here's a description of the operations from the company's profile:
Wilmar's business activities include oil palm cultivation, oilseeds crushing, edible oils refining, sugar milling and refining, specialty fats, oleo-chemicals, bio-diesel and fertilizers manufacturing and grains processing. At the core of Wilmar's strategy is a resilient integrated agribusiness model that encompasses the entire value chain of the agricultural commodity processing business, from origination and processing to branding, merchandising and distribution of a wide range of agricultural products. It has over 450 manufacturing plants and an extensive distribution network covering China, India, Indonesia and some 50 other countries. The Group is backed by a multinational workforce of about 90,000 people.
I personally feel that having Archer Daniels Midland Company (NYSE:ADM) own a strategic stake in the company does help investors have some confidence in terms of corporate governance and disclosure, which is good.
Financial Highlights

Source: WLMIF Press Release
Net profit increased for the quarter and 9 months ending September 30, 2013 despite declining revenues. The Plantations and Palm Oil Mills segment of the business was affected by lower production yields and falling Crude Palm Oil ("CPO") prices. Here's a chart on CPO prices taken from IndexMundi.com.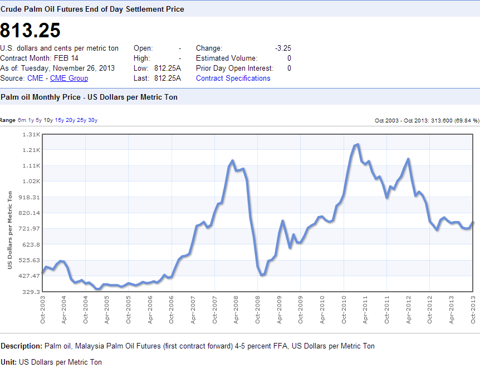 Source: IndexMundi.com
Here's a summary of how the other main business segments performed:
1. Palm & Laurics:
Third quarter sales volume increased by 4% to 6.1 million metric tons. Pretax profits increased 17% to $212 million.
2. Oilseeds & Grains
Third quarter sales volume increased by 7% to 5.6 million metric tons. Pretax profits $53.7 million compared to 3Q2012 of $60.3 million.
3. Consumer Products
Third quarter sales volume increased by 14% on stronger demand for edible oils and flour. Pretax profits increased 20% to $58.3 million.
4. Sugar
Pretax profits increased 49% to $151.2 million.
For the full earnings announcement, please visit the company's website here. I find the third quarter's earnings presentation useful to get a brief understanding of the company.
Selected Key Statistics from Yahoo! Finance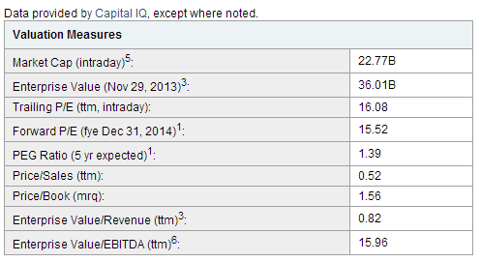 Source: Yahoo! Finance (http://sg.finance.yahoo.com/q/ks?s=F34.SI)
Disclosure: I am long OTCPK:WLMIF, OTCPK:WLMIY. I wrote this article myself, and it expresses my own opinions. I am not receiving compensation for it (other than from Seeking Alpha). I have no business relationship with any company whose stock is mentioned in this article.