The S&P 500 sliced through its January lows yesterday, killing any notion that this latest drop is just a brief dip on which to buy. The next lines of support are the November low (1,040) and then the October low (1,020).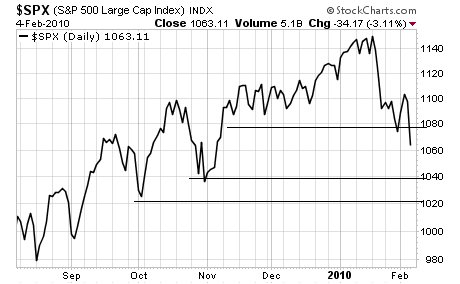 The US Dollar index rallied strongly above 78-79 to test 80. This area will likely prove major resistance (look how long it took for the Dollar to break below this level back in 2009). Any break above 80 and we're going to see stocks and commodities way down.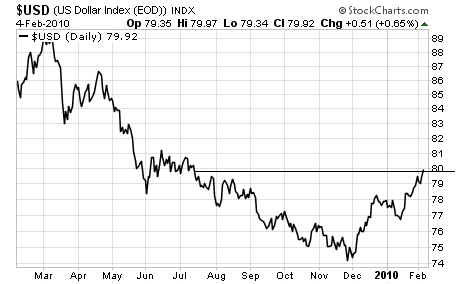 Gold has broken down below key support. We're likely going to $1,025 or even $1,000 in the near future. The near-term uptrend has been broken. It will take a while for the bulls to reclaim control here.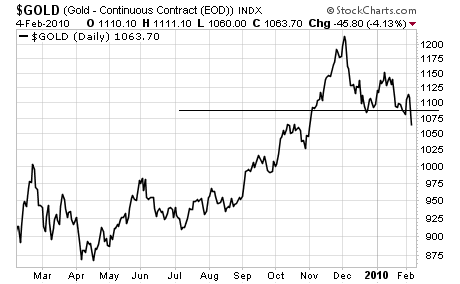 Finally, as nasty as things were for the US, they're even nastier abroad. Emerging markets are already down more than 10% from the January highs compared to a 7% drop in the S&P 500.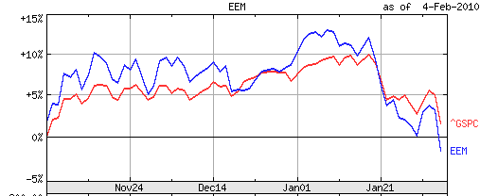 It looks as though the deflation trade has once again taken the reins. The Dollar is up as are Treasuries while everything else is down. Also, the US has begun to outperforming emerging markets (a complete reversal from the trend of the rally since March 2009).
This could very well be the start of something much, much larger. Keep your eye on the Dollar for signs of what's to come.