Nike (NYSE:NKE), the world's biggest sportswear manufacturer, has received an overweight rating in the market with the announcement of its revenue target for the fiscal year 2017. The company has a strong foothold in its domestic North America territory, and with gaining some of Adidas' market share in its home turf, i.e. Western Europe, Nike is expected to sustain its revenue growth.
On the eve of its investor meeting, Nike announced that it is targeting revenue of $36 billion in fiscal year 2017 compared to its revenue of $25.31 billion in fiscal year 2013.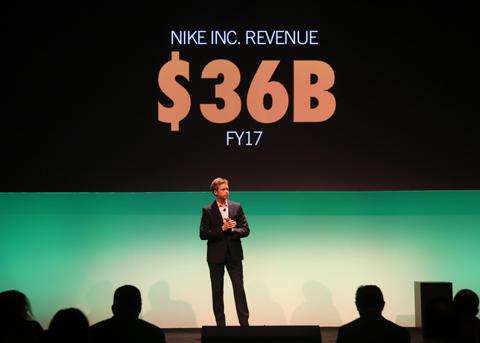 Source: Nike
This strong top line growth is expected to come from Nike's key strategic initiatives that produce innovative products for meeting the latent demands of consumers. Nike's product launches, such as FuelBand last year, have positioned Nike in the digital health monitoring market. The wearable FuelBand bracelet measures one's movements throughout the day and tells how many calories have been burnt through the day's activities.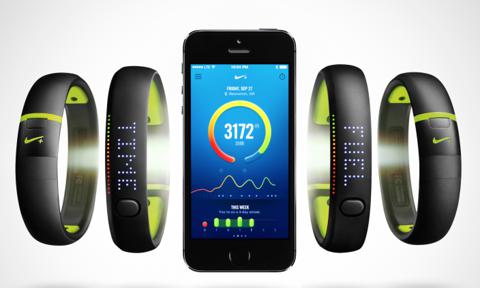 Source: 9to5mac.com
In addition to its innovative products, I think growth from other geographies will help Nike achieve the overall revenue target. The Western Europe region is among the prime regions for Nike, and with 16.3% contribution in fiscal year 2013, the company is looking to expand its presence in this geography. Nike's Western Europe region posted revenue of $1.3 billion, up 11% year over year in the first quarter of fiscal year 2014. This growth was due to strong demand from countries like the U.K., Austria, Switzerland, and Germany. In addition, the company reported EBIT of $265 million in the first quarter of 2014, up 25% year over year, thanks to the restructuring initiatives. Last year the company took initiatives to reorganize its Western Europe business, realigning its resources with growth opportunities and driving efficiencies in its operations.
The company reported future orders growth of 12% (excluding currency changes), which will help it sustain growth from this market. Nike benefited from last year's London Olympics and European Championships, which increased demand for its products.
Nike's biggest competitor, Adidas (OTCQX:ADDYY), has been struggling to maintain its market share especially on its home turf, i.e. Western Europe. According to Euromonitor, Nike had 12.4% market share in the Western European sporting goods market in 2012, while Adidas had 13.2% share. Western Europe is biggest revenue contributing region for Adidas with 27.38% share in fiscal year 2012.
Unlike Nike, Adidas' Western European sales declined 9% year over year, to revenue of $4.15 billion (Euro 3.05 billion), and its total sales declined 4% year over year for the first nine months of 2013. Adidas has been losing its market share to Nike, which has resulted in weak Western European results.
To regain its lost market share, Adidas is coming out with initiatives to maintain its market leadership position. During its recent quarterly results, Adidas announced that it will follow its one aligned strategy across the region (Western Europe). The company is moving from an individual country based strategy to one broader Western Europe Arm model. This will help it better mobilize resources to target broad western European consumer needs.
I believe Adidas' "one aligned strategy" for the Western Europe region is important for gaining its lost market, and maintaining its lead over its rival Nike. Though Nike is closing the gap, better mobilization of resources will see Adidas increase its Western Europe sales.
Battle Brazil
As Brazil gears up to host the FIFA World Cup next year, sportswear makers like Adidas and Nike have locked horns to capitalize on this market opportunity. Leading the race is FIFA's official partner and sponsor, Adidas, which has sponsored every tournament as a partner since 1970. In addition to being an official sponsor and partner, the company is also an official sponsor for World Cup contenders like Spain, Argentina, and Germany. The company generated approximately $2.03 billion from the last FIFA World Cup in South Africa, and this time it expects to earn revenue of $2.68 billion from soccer sales during 2014. Adidas has received another boost with extension of its FIFA world partnership through 2030. Therefore, I believe Adidas' strong continuing partnership with FIFA will help the company capitalize on the market opportunity from this extravagant event. Adidas has already kicked off its FIFA campaign, launching new lines of soccer boots and jerseys for teams like Germany, Spain, and Argentina.
Nike is also not far behind in capitalizing on this new opportunity. The company has kicked off its campaign with the launch of its sports kit for the host Brazil team. The company has a strong partnership with the Brazilian Football Confederation, after it began sponsoring the national team's jersey in 1997. Brazil's shirt is Nike's top selling jersey internationally, and this strong demand will continue as the event date draws near. Nike has taken lead in sponsoring the national team's sports kit, featuring its brand in 10 of the tournament finalists, while Adidas has deals with eight teams. I believe the upcoming FIFA World Cup, followed by the 2016 Olympics in Brazil, will be an important catalyst for the company's top line growth and will help it achieve the fiscal year 2017 revenue target. Nike expects to generate $1 billion in revenue from Brazil in the current fiscal year 2014.
Another player in sportswear industry, Puma (OTCPK:PMMAF), is also trying to grab a slice of this market opportunity. The third biggest sportswear maker, Puma, has a sponsoring deal with eight teams for the FIFA World Cup 2014. Although the company has lagged in the sportswear industry compared to its rivals Nike and Adidas, it has chance to capitalize on the market opportunity with the FIFA World Cup 2014. The company reported consolidated sales decline of 2.5% year over year (currency adjusted) to $3.12 billion for the first nine months of 2013. Puma is going with a new mission statement "Forever Faster." The new tag line is an initiative to re-establish the Puma brand in the mind of consumers. It will launch this initiative in 2014, with the application of its new brand strategy involving a new brand building media campaign. This involves delivering products that meet the new trends via a fast innovative approach.
Continued return for shareholders
Nike has a history of providing high value to its shareholders. During the first quarter of 2014, the company repurchased 8.4 million shares for $526 million. This repurchase was part of an $8 billion share authorization announced in September 2012 for a span of four years. Up to now the company has repurchased $1.3 billion worth of stock, therefore I expect a more aggressive share buyback in the coming quarters.
As the company makes progress towards reaching its revenue goal for fiscal year 2017, investors can expect an increased return from holding Nike stock due to the increase in EPS.
Conclusion
Nike is currently benefiting from increased consumer demand for its innovative products and is on track to achieve its revenue target by fiscal year 2017. The company is currently trading at the twelve months trailing P/E of 26.52, and its forward P/E for the year ending May 31, 2015 is at 22.20. This dispersion denotes that going forward the company's earnings will increase due to top line growth and its share repurchase program. Based on Nike's return history, investors can expect their investment to produce continuous returns.
Disclosure: I have no positions in any stocks mentioned, and no plans to initiate any positions within the next 72 hours. I wrote this article myself, and it expresses my own opinions. I am not receiving compensation for it (other than from Seeking Alpha). I have no business relationship with any company whose stock is mentioned in this article.