Citigroup (NYSE:C) currently trades at $52.92 and its 52-week High at $53.68 is clearly in sight. Citigroup is up 53% over the last twelve months already and 28% year to date. So, can Citigroup's valuation grow higher?
The US economy is slowly recovering and so is the financial sector which is still the prime beneficiary of ultra-low interest rates. With an improving long-term economic outlook and a cyclical nature of bank stocks, Citigroup still makes an attractive value proposition even though shares have nearly doubled over the last two years. Its low relative valuation and improving fundamentals give the shares substantial room to go higher and could even double based on multiple expansion and EPS growth.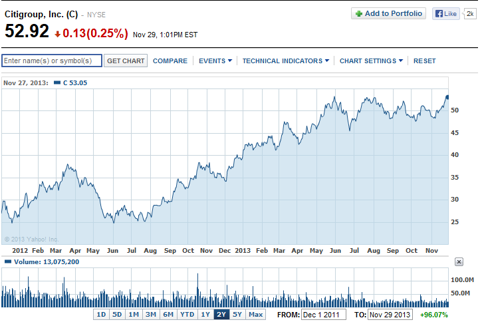 The performance chart for the most recent five-year period (below) shows that Citigroup is still the worst performing large-cap, banking franchise in the financial sector. Bank of America (NYSE:BAC) decoupled in terms of performance over the last year and just marked a new 52-week High. I bought BofA back in 2010 and 2011 and found the pricing of the stock to be nearly ridiculous as the shares approached the $5 territory as the company was priced for failure (the discount to book value at some point stood at over 70%). BofA has lost quite a bit of ground during the financial crisis but has bounced back nicely after the market realized that a doomsday kind of mentality is rarely helpful in investing. BofA certainly was a unique case due to its ill-conceived acquisition of mortgage company Countrywide which blew massive holes in BofA's balance sheet. I believe BofA still has substantial upside potential. Citigroup, on the other hand, remains one of the most beaten financials in the industry with still lagging performance and I continue to see a lot of contrarian potential in this $160 billion franchise.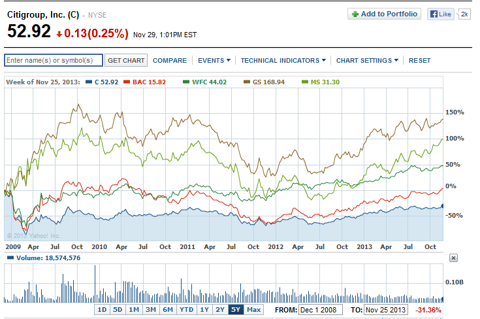 Citigroup makes an interesting value proposition for investors who aren't in it for a quick buck:
In my experience this statement, more often than not, holds true: The underperformer of yesterday is the outperformer of tomorrow. It is probably this experience that makes me a staunch contrarian (just look at the charts of BofA, American International Group (NYSE:AIG) or Radian (NYSE:RDN) to see that Buffett is right when he says investors should buy when others are fearful). Despite a decent stock market performance for Citigroup (after all, the stock doubled over the last two years), the company is still lagging significantly in performance compared to peers.
Dividends: Now, clearly Citigroup isn't being bought by investors because of its stunning dividend yield. Quite the opposite is true: The company pays a negligible $0.01 per share probably because the bank doesn't want to be listed for a complete dividend suspension. Future dividend increases could provide meaningful value to shareholders as the company operates under normalized business conditions. A reinstatement of the quarterly dividend at a meaningful level will also support the share price. I would expect an initial dividend yield in the range of 2% in either 2014 or 2015. This could be a huge catalyst for Citigroup's stock as it signals the company's belief that is has overcome financial crisis conditions for good.
Furthermore, Citigroup offers investors exposure to a growing global banking operation with significant emerging market access. 21% of Citicorp's YTD revenues (that is, $11.5 billion out of $55.4 billion) are earned in Asia and 22% of 2013 YTD net income ($3.0 billion vs. $13.6 billion). Asia is driving global growth and significant parts of wealth creation going forward will take place in Asia. Not only does Citigroup have a strong presence in Asia and can capitalize on those wealth creation trends, but it also offers Asian investors investment opportunities in the US. I estimate that Citigroup's emerging market platform will massively gain in importance over the next decade and be instrumental in driving net income and EPS growth.
Citi Asia now comprises of 560 retail branches in 18 countries. Citi has a particularly noteworthy operations footprint in Korea (210 branches), Taiwan (63), China (56), Hong Kong (43), India (42), Thailand (40) and Japan (32). China especially offers Citigroup substantial opportunity to capitalize on higher Asian growth, wealth creation and rising financial products demand. Citi's integrated global business model allows the company to tap those attractive markets.
Citigroup's valuation is very low and, correspondingly, provides shareholders with a great margin of safety. Citigroup's tangible book value per share stood at $54.52 for the third quarter 2013 (a current share price of $52.92 implies a discount of 3% to Citigroup's tangible book value per share). Considering total book value, the resulting discount would be even larger at 18%. The following graph displays the P/B ratios for Citigroup, BofA, Wells Fargo (NYSE:WFC), Goldman Sachs (NYSE:GS) and Morgan Stanley (NYSE:MS). Citigroup has the second lowest P/B ratio after BofA but its margin of safety is still significant.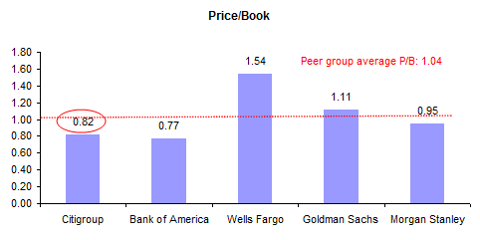 In terms of earnings valuation, Citigroup is the cheapest large-cap bank out there. Citigroup trades at 9.8 times forward earnings which translates into a 10.3% earnings yield. BofA trades at 12x, Goldman Sachs and Wells Fargo at 11x and Morgan Stanley at 12.4x forward earnings. Higher US- and global GDP growth could provide substantial catalysts for Citigroup's EPS development. I think a well-run, profitable large-cap bank can reasonably trade at 15x normalized forward earnings. This should provide investors with significant upside potential when the US economy enters the mature phase of the expansion stage in the business cycle.
Conclusion
Citigroup offers investors cyclical exposure to an improving economic climate in the US as well as significant emerging market exposure. Its Asian businesses have great potential to increase the scale of their operations and penetrate their respective markets more deeply, especially in China, Taiwan, India and Thailand.
A dividend resumption could also be another catalyst for Citigroup's shares that will attract new segments of buyers. Economic momentum is likely to turbocharge Citigroup's EPS growth and should provide the cash flow to back a recurring dividend. Furthermore, Citigroup's valuation metrics make an investment of comparatively low risk. With a P/B ratio of 0.82 and a forward P/E ratio of less than 10, the risk of an investment is greatly reduced. Its lagging performance over the last five years also indicates outsized rebound potential; just like BofA. Citigroup posts declining mortgage delinquencies, rising revenues and earnings and consistent, sequential increases in capital ratios (Tier 1 common ratio Basel 1 of 12.6% and Tier 1 common ratio Basel 3 of 10.4% as of Q3 2013). Long-term BUY on financial recovery, emerging market exposure, potential dividend initiation in 2014/2015, low book and earnings valuation and significant upside potential due to EPS growth and multiple expansion.
Disclosure: I am long C, BAC, AIG, RDN. I wrote this article myself, and it expresses my own opinions. I am not receiving compensation for it (other than from Seeking Alpha). I have no business relationship with any company whose stock is mentioned in this article.