Return on equity shows how much profit a company generates from shareholders' money. The return on equity standout among the automakers is Ford (NYSE:F). The other automakers are not as effective in converting shareholder money into profit. Return on equity is a measure of management's effectiveness, so I see this as an important metric and competitive advantage for Ford's continued success. The return on equity is calculated by taking net income and dividing it by the shareholder's equity.
Here's a look at Ford as compared to its competitors:
| | | | | | |
| --- | --- | --- | --- | --- | --- |
| | Ford | General Motors (NYSE:GM) | Toyota (NYSE:TM) | Honda (NYSE:HMC) | Volkswagon |
| Return on Equity | 28.5% | 13.27% | 11.11% | 8.39% | 10.14% |
| Forward PE | 9.31% | 8.34 | 10 | 12.6% | 7.91 |
| PEG | 0.69 | 0.66 | 0.41 | 0.60 | 0.20 |
| Price to Book | 3.25 | 1.89 | 1.17 | 1.09 | 1.07 |
| EV/EBITDA | 12.56 | 6.63 | 15.64 | 10.17 | 7.87 |
| Gross Margin | 14% | 10% | 18% | 25% | 25.4% |
| 5-Yr. Expected Annual Earnings Growth | 14.77% | 16.8% | 33.2% | 28.4% | 48.8% |
| Dividend Yield | 2.4% | 0% | 2% | 4.7% | 1.3% |
All of the automakers featured above are attractively valued as compared to the overall market. The automakers also have above average earnings growth as compared to the average S&P 500 company. However, Ford stands out above the others because of its high return on equity [ROE]. The ROE is a key metric that is used by legendary investors, Benjamin Graham and Warren Buffett. Graham and Buffett typically like to see a company's ROE above 14% - 15%. Ford is the only automaker that fits this criterion.
As investors, we can picture ourselves as one of the panel members on Shark Tank. Although we don't have nearly as much money as the Shark Tank panel members, we can evaluate these businesses to determine if they are worthy of our investment money. Ford is converting 28.5% of shareholder money into profit. This more than doubles the ROE of the other automakers. This shows that investors can confide in the work that CEO, Alan Mullaly and his team are doing from a business standpoint. This management team is getting the most bang for its investor's buck. The management effectiveness is ultimately reflected in the outperformance of Ford's stock price as compared to its competitors.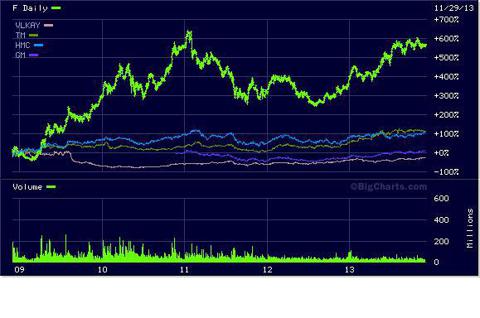 The 5-year chart shows how Ford's stock has significantly outperformed the other automakers. Ford was able to bravely navigate out of the financial crisis without a bailout. The company has not only survived without a bailout, it has thrived without one.
Ford's success in recent years has been tied to producing the vehicles that consumers want while doing it profitably. Sales were driven by top sellers such as the Ford Focus, Fiesta, Fusion, and the F-Series trucks. Looking forward, global economic growth will be a catalyst for further revenue and earnings increases. Ford will need to continue to operate by having supply meet demand. The company has executed well on this in recent years, so it needs to keep that momentum going. Competition is the largest risk for Ford. By continuing to offer the products that consumer's demand, Ford should continue to post the above average earnings increases that are essential for above average stock gains.
The transformation of the Lincoln brand is one example of how the company is responding to consumer demand. Lincoln is focusing on the fastest and largest growing segments of the luxury markets. Lincoln is aiming to compete in 90% of the luxury industry by 2015. This is in response to a projection for the global premium industry to grow 39% by 2017. China and the United States are expected to comprise 50% of the global premium market. As a response, Lincoln is in the process of trying to tap into the China market.
Another example of how Ford is responding to consumer demand is implementing driver-assisted technologies. Features such as active park assist, Lane-Keeping Aid, and adaptive cruise control are all designed to make the driving experience safer and easier for consumers. Active park assist allows drivers to let their vehicles do most of the parallel parking for them. Lane-Keeping Aid uses cameras to ensure drivers don't drift outside of their driving lanes. Adaptive cruise control uses radar to track the vehicles in front of the car to ensure that the driver maintains a safe driving distance. These innovations should also help catalyze future revenue and earnings growth for Ford.
Overall, Ford looks attractively valued, pays a dividend, has an above average ROE, and has above average expected earnings growth. These factors should allow Ford to continue to beat the performance of the market and perhaps continue to outperform the other automakers.
Disclosure: I have no positions in any stocks mentioned, and no plans to initiate any positions within the next 72 hours. I wrote this article myself, and it expresses my own opinions. I am not receiving compensation for it (other than from Seeking Alpha). I have no business relationship with any company whose stock is mentioned in this article.