Ahead of what could be a major milestone at the 55th Annual Meeting of the American Society of Hematology, Cyclacel's (NASDAQ:CYCC) stock price has risen steadily as I predicted it would. The pace of appreciation has been in lockstep with a steady drumbeat of good news over the past several months.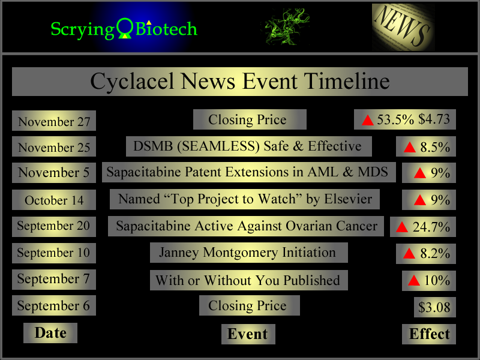 That trend is likely to continue, but before I make the case for an explosive move to the upside, I want to briefly address a change to my investment philosophy that has implications far beyond my risk profile as it will impact the number of articles I author here on Seeking Alpha.
Many professional advisors caution that a balanced portfolio across multiple sectors is the best strategy for the so-called average investor. The theory has it that balancing profit to loss scenarios minimizes risk exposure. Being inclined to believe I'm slightly below average but stupid enough to proceed anyway, I've narrowed my focus to only one sector - biotechnology.
I did this about a year ago and began following the "shot-gun" investment philosophy of Bret Jensen who advocates scattering your investment dollars across multiple good biotechnology bets.
I therefore selected about a dozen stocks, including those I wrote about here on Seeking Alpha and initiated positions, adding to those I felt optimistic about and withholding from those I felt less enthusiasm for.
I've been extremely successful.
About three months ago, I wrote an article entitled, With Or Without You Cyclacel Is Going To Rise and believing in my own rhetoric, I terminated all other positions and moved everything into this one pot.
Now, I'm going to show you why...
The first thing that should be noted, is that Cyclacel has made me money. Lots of money! By way of dollar cost averaging I'm up 45.78% in slightly less than 3 months. Projected over a year, that would give me a return of roughly 183% which slightly exceeds analyst expectations and I'm satisfied with that.
Topline Phase 2 Results in Myelodysplastic Syndromes Were Startling But ASH Could Change Everything In a Hurry
Please take a look at the model below, available on the Cyclacel website which graphically depicts how Cell-Cycle Biology, which received a Nobel Prize in 2001, works its magic.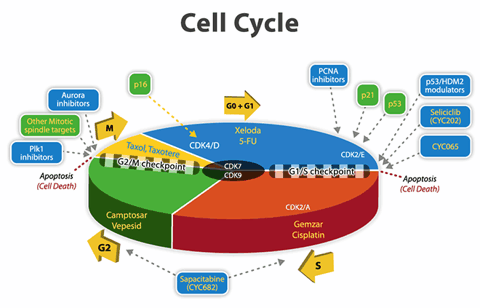 A description is available on the Cyclacel website here but the first paragraph summarizes nicely:
The cell cycle, the process by which cells progress and divide, lies at the heart of cancer. In normal cells, the cell cycle is controlled by a complex series of signaling pathways by which a cell grows, replicates its DNA and divides. This process also includes mechanisms to ensure errors are corrected, and if not, the cells commit suicide (apoptosis). In cancer, as a result of genetic mutations, this regulatory process malfunctions, resulting in uncontrolled cell proliferation.
So what Cyclacel's compounds do is take advantage of this natural process by reprogramming the cancer cells to die as nature intended that they would.
Sapacitabine, Cyclacel's lead compound has been granted orphan drug status in the United States and Europe in both Acute Myeloid Leukemia and Myelodysplastic Syndromes. These treatment spaces with growing patient populations and combined billion dollar markets are desperately in need of alternative therapies especially for elderly persons who comprise the larger percentage of these populations. In phase 2 trials, sapacitabine has proven to be both more effective and safer than existing therapies.
But sapacitabine has also now been shown to be active against solid tumors in combination with seliciclib, Cyclacel's other cell-cycle compound. And this activity has been displayed not only in ovarian cancer but in breast and pancreatic cancer as well.
Beyond its versatility in treating both blood cancers and solid tumors, sapacitabine has been shown to work well with others. So much so that Cyclacel has extended its patents in working with hypomethylating agents such as decitabine into the year 2030.
I've already made the case in my previous article, now embargoed for Seeking Alpha Pro readers only, as to why Cyclacel's Pivotal Phase 3 (SEAMLESS) Trial in AML will succeed where others have failed. And not wanting to cover old ground, please allow me to summarize my position.
Sapacitabine works! It significantly improves overall survival against all existing compounds in combination with decitabine.
Sapacitabine is an oral medication taken from the comfort of home. For elderly patients, already physically diminished in constitution, this means not having to drive to the clinic for an infusion of azacitidine or decitabine by way of an intravenous drip.
The FDA is actively seeking new therapies for elderly patients in AML because of the dearth of tolerable existing treatments.
The FDA wants to give legal sanction to the prevalent off-label use of decitabine in elderly AML which is now standard of care because of its low side-effect profile.
So all-in-all sapacitabine is a versatile, harmonious, safe and effective treatment with a high likelihood of success in its pivotal Phase 3 (SEAMLESS) Trial. But the real catalyst for what lies ahead will be revealed on Sunday, December 8, 2013 at 6:30 PM when President and CEO Spiro Rombotis takes the podium at ASH.
Myelodysplastic Syndromes: The Bigger Market is Met With Bigger Results
Please take a look at the graphic below which gives you a simplified construct of just how impressive sapacitabine is as a single agent in the treatment of refractory MDS patients.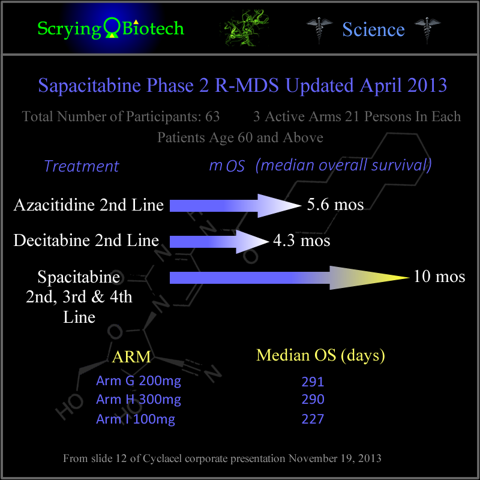 Please keep in mind that these were the sickest of the sick patients, many of whom had undergone not just one round of previous therapy, but two, three or four rounds before sapacitabine was administered (refer to slide 12 of the November 19th corporate presentation).
Also, as the title of my graphic indicates, this data was last updated in April of 2013. Assuming that results were compiled and reported through the end of that month, this means that updated data at ASH could show patients living considerably longer. One year survival rates were already at an impressive 38%. 213 days have now passed since then and revised figures may warrant consideration for Accelerated Approval by the FDA.
This would be a game-changer for Cyclacel and its shareholders.
Here is CEO Spiro Rombotis answering a question on MDS data at the Q3 Conference Call from Mike King of JMP Securities after having specifically made clear his inability to address such concerns due to the ASH embargo.
Mike, to put this in context, we view the median overall survival as an important data point because in this study we count the months or weeks of median overall survival from the time the patient was registered on the sapacitabine study. We do not count the number of weeks or months that may have elapsed from the time that they were withdrawn from frontline therapy until they present for registration on study. So we would look at that approximately 9.7 months for example on Arm G that Judy referenced, that could be longer depending on how many weeks or months passed if the patients failed frontline therapy.

In our population of patients, as you may have seen in the presentation made earlier this year, we have people with double and triple refractory disease who failed not only azacitidine, but also decitabine at the same time and some have also failed lenalidomide. So we are treating the sicker population potentially with a much worse prognosis, but certainly in the absence of randomized studies, it's hard to extrapolate from these historic comparisons, but we think the data is very encouraging and so do the key opinion leaders who participated in this study that can be consulted.
Here, Rombotis is desperately trying to make clear what so many investors seem to miss: that sapacitabine uniquely addresses an impaired segment of the disease population and while doing so achieves astounding results.
This first week of December should spur investment interest from traders looking to capitalize on a run-up to the Rombotis presentation. But more than this, the presentation results could lead to already possessive longs holding their shares with even greater resolve.
There is little doubt that these results in Refractory-MDS will lead to another Phase 3 trial for sapacitabine in 2014. The only question will be whether or not that trial too is given a Special Protocol Assessment and/or Accelerated Approval by the FDA. There is, however, one other important implication in the wake of Spiro's presentation at ASH.
Big Pharma Will Be Watching and Cyclacel Will Find Itself in Offer Selection Rather Than Offer Solicitation Mode
One of the recent catalysts for Cyclacel was an invitation to the Therapeutic Area Partnership, or TAP Conference by Elsevier Business Intelligence. Presenting on Tuesday, November 19th, Spiro Rombotis was able to address a gathering of representatives second to none in the biopharmaceutical space. All this after being named a "Top Project to Watch" by that organization.
While such a gathering may be of great importance, and Elsevier seems to indicate this by suggesting that $17bn in alliance and acquisition agreements have been signed through it, including most recently the buyout of Trius by Cubist (CBST), of even more importance may be the surprise appearance of an abstract at ASH regarding the efficacy of sapacitabine in AML.
Surprising, because this abstract which will be fully presented Tuesday, December 10, 2013 was not authored by Cyclacel but by a company with outstanding credentials and a great deal of capital to spend - Novartis (NYSE:NVS).
Here's an out-take that clearly suggests an active interest in Cyclacel's prized asset.
Effective clinical treatment of AML has largely depended on a class of antimetabolites - the nucleoside analogs. Of these, sapacitabine is a nucleoside analog prodrug that is in development for the therapy of AML. It is converted to its active metabolite...which interferes with DNA synthesis by initially causing a single stranded DNA break that is converted into a double strand break in the subsequent replicative cycle. Such double strand breaks are primarily repaired by the homologous recombination repair HR pathway. Consequently, efficient HR may offer a potential resistance mechanism to therapy with sapacitabine.
And just what has Novartis been up to? Well, they have a compound, panobinostat which seems to play nicely with sapacitabine as we have seen twice before in decitabine and seliciclib.
Panobinostat and vorinostat are pan HDAC inhibitors (HDACi) that modulate gene expression, induce apoptosis, and are clinically active against specific leukemias and lymphomas. In pilot experiments, we identified that exposure of AML cell lines to a combination of panobinostat or vorinostat and sapacitabine had a greater than additive effect on cell viability.
Anyone who remains unconvinced of the power of Cyclacel's intellectual property needs to awaken from their deep slumber.
So, What are the Negatives?
To summarize, we have a company with a pivotal phase 3 trial currently underway with a market potential in AML of roughly $200M - $300M a year. Additionally, we have a second pivotal phase 3 trial likely to take place in mid to late 2014 which may or may not receive Accelerated Approval from the FDA. All of the commercial rights to these compounds reside in the hands of Cyclacel shareholders.
The company has $36M of operating capital on hand - more than enough to see it through the conclusion of its (SEAMLESS) trial.
That said, every investor should be aware that involvement in the biotechnology sector carries with it considerable risk. And investing in a micro-cap company like Cyclacel is even more problematic.
One need not go back very far to see the destruction that failed trials and disastrous advisory committee meetings have wrought this year alone. Cyclacel is not immune to such disaster. No biotechnology enterprise big or small is.
In addition to the drag that lends itself to Cyclacel's science being misunderstood and therefore undervalued, Cyclacel also suffers from an image problem. Aggressive financing throughout this year has soured investor sentiment although I believe the tide has turned in that regard.
There is also the daily false reporting of the collective market cap of the company on Yahoo and Google Finance through a misrepresentation of the number of preferred shares outstanding.
Though I remain disappointed that the company has publicly ignored the issue, I'm willing to admit that it is in fact inconsequential to the real value of the company. Those persuaded by false reporting have not done their due diligence.
Therefore, the only real issue that serves to temper investor enthusiasm at this time is the remaining DSMB reviews of the pivotal Phase 3 (SEAMLESS) Trial now at its mid-point of enrollment.
DSMB Reviews: What Are They Exactly?
So let's first acquaint ourselves with what DSMB reviews are and then look at Cyclacel's chances of successfully surviving them.
It should be noted from the off that Cyclacel has already successfully completed and passed 3 DSMB reviews of sapacitabine in elderly AML - 2 in this study and 1 in phase 2.
Historically, trial sponsors like Cyclacel are required to appoint observers to their studies, but the Data Monitoring Committee or DMC is just one option. It is however required in trials that will compare rates of mortality or major morbidity as this one does.
One prevalent misconception about futility reviews is that they are strictly about trial related deaths. They aren't. The following is from the FDA Regulatory Guidelines for DSMB Reviews.
One of the major responsibilities of the DMC is to evaluate the relative treatment effects based on protocol-specified endpoints to determine if the trial is meeting its objectives. The DMC will usually recommend termination when these thresholds are crossed, but it is not obligated to do so, since other aspects of the interim data may complicate the issue. For example, the data on effectiveness may be very strong, with a stopping boundary having been crossed, but emerging safety concerns may make the benefit-to-risk assessment non-definitive at the interim review.
In other words, efficacy goals may be accomplished but the trial compromised if people are having adverse pulmonary events, cycle stopping side-effects or worse, dying. In such cases, the study might be terminated early.
The word "futility" however, refers not specifically to fatalities, but rather, to falling so short of trial endpoints as to make accomplishing them futile.
Statistical assessment may also suggest that early termination of a trial be considered on the basis of futility, as defined previously. In this case, a DMC may recommend the early termination on the grounds that the trial is unlikely to meet its objectives and there is therefore no basis for continuing enrollment and/or follow-up.
So what are Cyclacel's chances of crossing the futility boundaries and what exactly are they? Well, here's what we do know.
In Cyclacel's pilot lead-in Phase 2 study of sapacitabine in AML, they exceeded DSMB parameters and passed their one and only review in October of 2011. Special emphasis appears to have been placed on 60-day mortality and sapacitabine's death rates at 4 and 8 weeks were 4 and 12 percent respectively, 50% below low-intensity chemotherapy and far below best supportive care.
With respect to efficacy, sapacitabine is being taken in alternating weekly cycles with now standard of care, decitabine in the pivotal Phase 3 (SEAMLESS) Trial. In a cross study comparison where 65% of the patients were above the age of 75, sapacitabine/decitabine blew away decitabine alone by an average overall survival of 49.2% or plus 9.4 months to 6.3 months.
It should be noted that sapacitabine's side-effect profile was in line or lower by comparison to all therapies on record.
The DSMB just completed its second review of Cyclacel's (SEAMLESS) trial and recommended that the study should continue as planned. According to the press release...
The DSMB reviewed available data from 212 randomized patients and noted that no safety or efficacy concerns were identified.
Passing these reviews has a catalytic effect on the stock price and the press release goes on to say that...
The DSMB will conduct additional periodic reviews of each 100 patients and will also perform a futility assessment once half the required events have been observed.
In Conclusion...
I remain more bullish than ever on Cyclacel Pharmaceuticals and will add to my position whenever I'm able to do so.
With a woeful market cap of $90.28M as of November 29, 2013, Cyclacel has room to run and nothing but ignorance to hold it back. The more informed an investor becomes regarding the science of sapacitabine, the dynamics of the (SEAMLESS) trial and the realistic potential for a partnership agreement being forged, the more likely he or she will be able to contribute to the accelerating surge in stock price performance.
Even without a partnership, a developmental stage biotech with concurrent pivotal phase 3 trials in combined blockbuster market indications should fare well in a natural run-up to approval. And with that very real possibility lurking in the background, speculators should drive shares even further towards a more realistic valuation.
Disclosure: I am long CYCC. I wrote this article myself, and it expresses my own opinions. I am not receiving compensation for it (other than from Seeking Alpha). I have no business relationship with any company whose stock is mentioned in this article.
Additional disclosure: Any information or opinion expressed herein may not be true, accurate or correct and it does not constitute any suggestion to buy, sell, hold or adopt any investment strategy for this stock or any stock that may be mentioned. Reliance upon information in this article is at the sole discretion of the reader. The sole purpose of my article is to entertain by providing information the accuracy of which is as good as the public sources it was derived from. Do not act on anything I have written. Rather, do your own due diligence and consult an investment professional before making any investment decision. Acting on what any one writer, including me has imparted to you is foolish at best. I have no better access to resources or gift of opinion formulation than you do. I sometimes make mistakes. There are a myriad of things which can happen in lieu of any forward looking statement I have made. Any stock featured or mentioned in an article I compose is subject to all manner of influences which can change its value in dramatic fashion upwards or downwards. These events can be of a wide variety not limited to news related occurrences, managerial decisions, trial failures, stock manipulations and so on. I make every effort to declare positions I have in stocks I cover or mention in an article but reserve the right to move in and out of said investments at my own discretion based upon the wisdom of doing so. I implore you to do your own due diligence, invest at your own considerable risk attaining the just reward your efforts have wrought. And always be well.