Refining and marketing companies just finished reporting the worst quarterly numbers in three years, with negative earnings reported by BP (NYSE:BP), ExxonMobil (NYSE:XOM), Chevron (NYSE:CVX), Royal Dutch Shell (NYSE:RDS.A), Sunoco (NYSE:SUN), Valero Energy (NYSE:VLO), Tesoro (NYSE:TSO), Marathon Oil (NYSE:MRO) and Murphy Oil (NYSE:MUR).
We have considered here the the refining and marketing segment profits for the integrated companies and net income of pure refining and marketing companies.
The graph below shows income for these companies against the marketing margins in the United States and gross refining margins (GRMs) in the U.S., Europe and Singapore. As can be seen, GRMs are one of the lowest in the 2007-2009 period in the U.S. and Asia but slightly better in Europe than in 2007 and early 2008. Marketing margins have improved in the recent quarter and were only 15% below 4th quarter 2008 levels.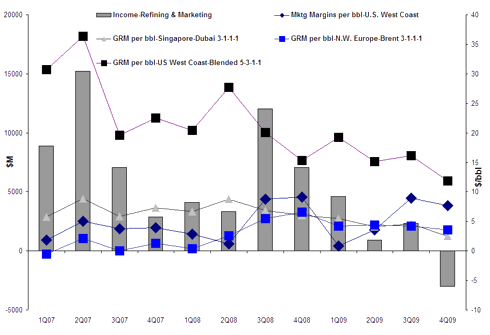 Source: Gristone Research, company filings

The rationale for such a bad performance, therefore, is that refining margins have dropped drastically while marketing margins are stable year-over-year. There are two factors that impacted refining performance: heavy-light crude price spread (which has shrunk) and diesel spreads, which are sharply lower as Europe has yet to come out of recession. Interestingly, diesel started cracking only in the Apr.-June '09 period, suggesting that demand for diesel started falling sharply two quarters after the Lehman collapse. Gasoline margins are higher year-over-year.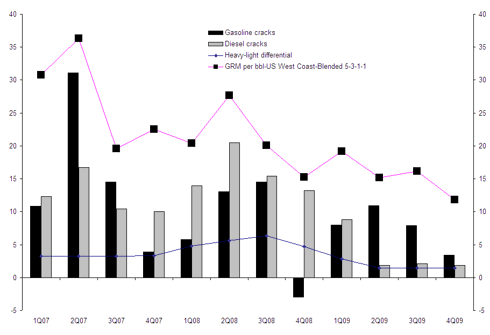 Source: Gristone Research, company filings

Refining companies expect refining margins to remain subdued; this is reflected partly in the capacity utilization of U.S. refineries, which is at 3-year lows. The sharp drop in utilization in Sept. '08 should not be correlated with the collapse of Lehman. Utilization was the lowest for the week ended Sept. 19 - the week Lehman filed for banruptcy. However, it was the preventive shutdown as a result of Hurricane Ike that impacted utilization.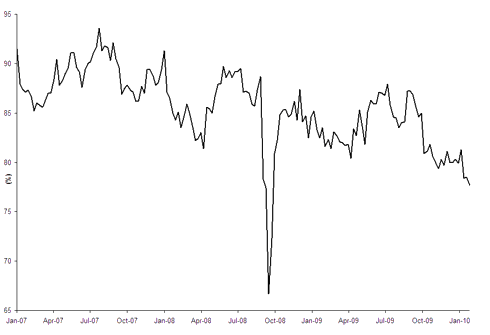 Source: EIA, US Dept. Of Energy

Capacity in the U.S. has been increasing even after the financial crisis, as orders for refining equipment placed before the crisis and into the implementation stage then are getting executed.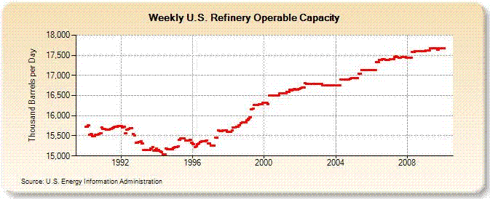 Source: EIA, US Dept. Of Energy

While refineries are getting closed, as in case of Sunoco's Eagle Point refinery, the capacity overhang may be too large for margins to improve sharply. With threats from alternative fuels and electric vehicles over the long-term and with demand unlikely to rise sharply until the driving season of 2010, refining does not seem to be out of the bottom of the barrel for now.

Disclosure: No holdings in any of the companies