After Caterpillar's (NYSE:CAT) dismal third-quarter performance, it was quite refreshing to read about Deere's (NYSE:DE) record earnings performance in its fiscal fourth quarter results.
Though Deere's worldwide net sales fell 3% in the quarter, the firm's net income of $806.8 million, or $2.11 per share, set a record for the period (up 17% and 21%, respectively). Lower shipment volumes were more than offset by a much favorable pricing environment, which worked wonders on the company's bottom line, particularly in its 'Agricultural & Turf' segment (where operating profit jumped 7%). Deere's 'Financial Services' operations also experienced a nice 26% jump in operating profit during the quarter thanks to improving credit performance and crop-insurance margins. We continue to like the underlying fundamentals of firms with pricing power, and Deere is certainly one of them.
For fiscal year 2013, Deere posted net cash from operations of $3.25 billion and capital expenditures of $1.16 billion, resulting in free cash flow of $2.1 billion, or 5.5% of sales on a consolidated basis. Excluding its 'Financial Services' operations, net cash provided by operating activities was $4.67 billion for the year (yearly comparisons shown in image below), resulting in free cash flow of $3.5 billion, or about 10% of equipment sales. The free cash flow performance is significantly improved from last year, where a significant inventory build took its toll. Deere's equipment operations generated free cash flow of $1.6 billion in 2012. Net cash from operating activities, excluding its financial business, is expected to fall to $3.9 billion in 2014 (as shown below), but free cash flow should be resilient.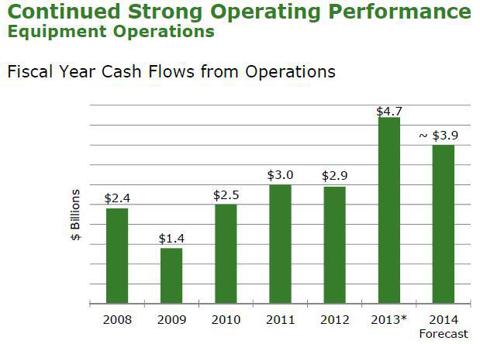 Image Source: Deere
Looking ahead to fiscal 2014, company equipment sales are projected to decline 3% for the year, while net income attributable to Deere will fall to $3.3 billion - a modest decline from the record of $3.54 billion set this year. The firm anticipates that lower commodity prices and farm incomes in 2014 will lead to as much as a 6% decline in worldwide sales of agriculture and turf equipment for the year.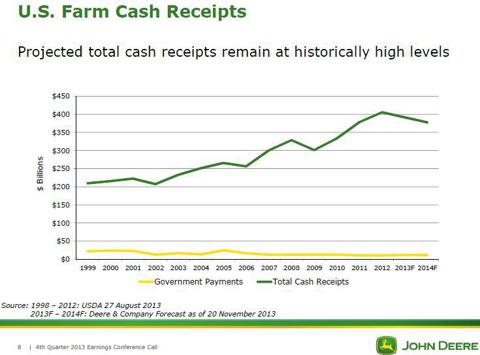 Image Source: Deere
Pressure on its 'Agricultural & Turf' segment will be offset by strength in its 'Construction & Forestry' operations, where sales are expected to advance 10% in 2014, thanks to improving housing starts in the US. The firm's 'Financial Services' business is expected to generate $600 million in net income for the year, as the division continues to benefit from historically low credit losses as a percentage of its average owned portfolio. Though there are myriad risks, Deere's fiscal 2014 is shaping up to be another good year - not a record one, but a good one.
Valuentum's Take
Deere's performance stands head-and-shoulders above that of Caterpillar, which continues to face significant pressure from mining equipment sales. Deere's annual dividend yield of 2.5% at the time of this writing isn't as large as Cat's 2.9% measure, and while both of the firms' dividends are not at risk of a cut, we like the consistent increases that we've been seeing at Deere as of late. We need a better entry point to consider Deere in the portfolio of our Dividend Growth Newsletter on the basis of valuation, but it's one we're keeping an eye on.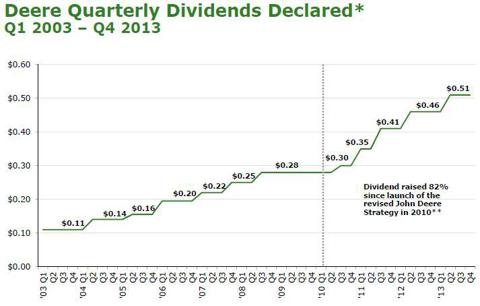 Image Source: Deere
Disclosure: I have no positions in any stocks mentioned, and no plans to initiate any positions within the next 72 hours. I wrote this article myself, and it expresses my own opinions. I am not receiving compensation for it (other than from Seeking Alpha). I have no business relationship with any company whose stock is mentioned in this article.