In my previous article on Alcoa (NYSE:AA), Alcoa: Aluminum Prices Are Still Key, But Watching Some Positives, I noted that Alcoa's stock price was not declining on bad news, which could be a bullish signal. I was (and still am) cautious on Alcoa so I did not benefit from the spike in the stock price since the previous article. After years of Alcoa's stock price following the trend in aluminum prices, the two have been diverging recently. A drop in aluminum prices mainly impacts Alcoa's upstream segment. Although management has been positioning the downstream segment as the engine of the company's growth, I continue to view the upstream operation (and aluminum prices) as the main swing factor in Alcoa's valuation and stock price. Aluminum prices are at multi-year lows and are facing a key "bounce or breakdown" test. In this article I will explore these dynamics and the potential impact on Alcoa's stock price.
Basic Thesis On Alcoa
The following is my basic thesis about Alcoa from my previous article:
"Alcoa is a well run company with an attractive downstream business that produces components for several growing end-markets, especially automobile and aviation. However, its upstream business has been pressured from very weak aluminum prices. Alcoa has a lot of debt and is marginally cash flow positive, so the price of aluminum is the key driver of Alcoa's overall profitability and the stock price. The drop in aluminum prices below $1,800 could lead to a sharp move lower. The more time it takes for aluminum to recover this level, the greater the downside risks. Alcoa faces continued short term pressure with these low aluminum prices. Eventually, low aluminum prices will lead to more supply cuts, but it is unclear when that will happen and if they will be successful in reversing the downward move."
Stock Price Bottom Before Good News Arrives
Alcoa's stock price reflects a lot of pessimism already priced-in.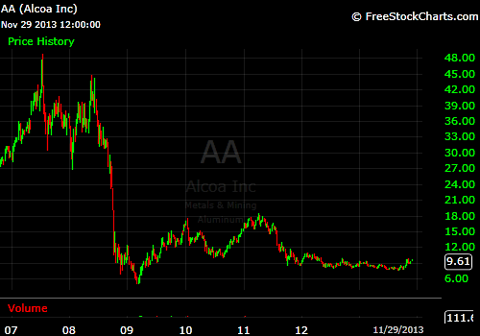 (Source: FreeStockCharts.com)
Considering this history, the stock price may bottom before good news appears.
The one-year chart shows the recent run-up in the stock price.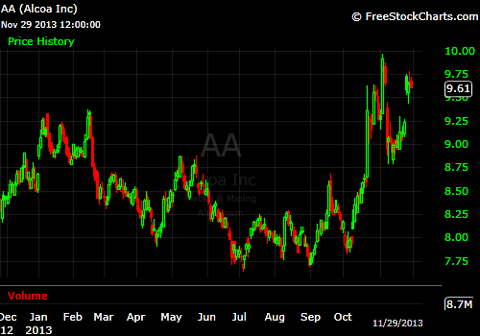 (Source: FreeStockCharts.com)
Positive Sentiment From Analysts
Over the last few weeks, there have been a number of analyst upgrades:
Aluminum Prices
Despite the positive sentiment, aluminum prices are at new lows. Here is a one-year chart for LME aluminum (3 month buyer).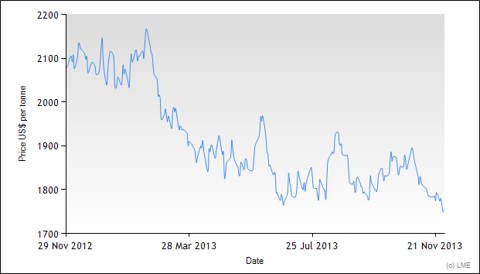 (Source: LME.com)
For most of the last year, aluminum prices and Alcoa's stock price fell in tandem. However, over the last few week's Alcoa's stock price diverged from aluminum prices. Alcoa's stock price has been rising while while aluminum prices dropped to new lows.
The new lows in aluminum prices are significant on a longer term timeframe as well.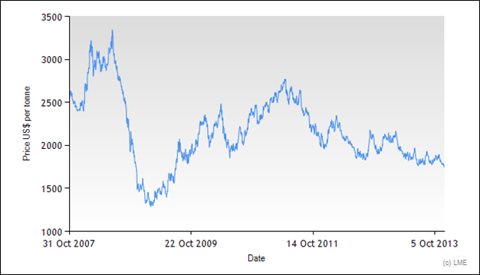 (Source: LME.com)
Aluminum is at a key "bounce or breakdown" level. Some may argue that equity investors are anticipating a bounce in aluminum prices and driving up Alcoa's stock price in advance. However, I am not willing to call a bounce in aluminum prices just yet.
The aluminum market is continuing to face over-supply. The Wall Street Journal recently reported:
"Worldwide aluminum production exceeded demand by 1.2 million tons in the first nine months of the year, according to the latest figures from the World Bureau of Metal Statistics. That is more than double the 539,000-ton surplus recorded over the whole of 2012." (Source: Wall Street Journal, Aluminum Price Falls to Four-Year-Low Territory)
With supply/demand dynamics like this, I think it is risky to be early in projecting a bottom in aluminum prices.
LME Warehousing Rules
The price that producers like Alcoa get for their aluminum production is comprised of the LME price plus regional premiums (and other adjustments). Recent changes to the LME rules on withdrawing aluminum from warehouses may have a negative impact on regional premiums. Bloomberg recently reported:
"Premiums will fall at a faster pace as a result of the rule changes, Matthew Chamberlain, the exchange's head of strategy and implementation, said at the press conference. Waiting times may rise at first as investors order metal removed from warehouses before dropping back, he said." (Source: Bloomberg, LME Alters Warehousing Rules to Shorten Withdrawal Times)
The changes in the LME warehousing rules will probably not result in the opening of the floodgates releasing massive supply onto the market. However, I don't see how this will be a positive for regional premiums and/or aluminum prices. (I am not an expert on this, so if you have a different view, please let me know in the comments section below).
Financials and Valuation
The key issue for Alcoa is its ability to boost free cash flow. With a mountain of debt and pension obligations it needs significantly higher free cash flow. On a positive note, Alcoa is not facing near term debt maturities so it has time to grow its free cash flow.
Although the company is doing a good job of growing its downstream business, lower aluminum prices could be a headwind to free cash flow.
It is hard to argue that Alcoa is undervalued or overvalued in the short term. A lot depends on the key swing factor: aluminum prices.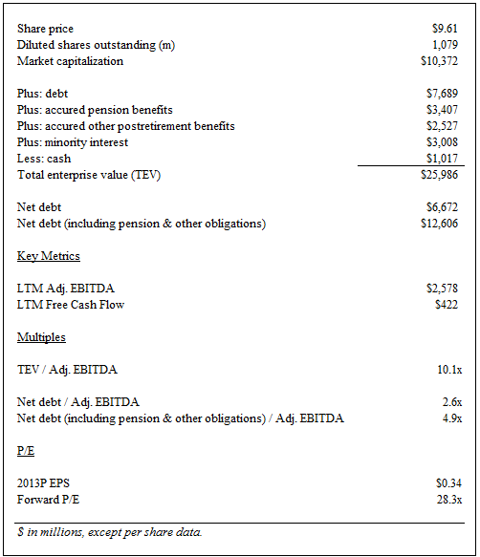 Short Interest
Short interest is up dramatically over the last year, but fell in the most recent period. It will be interesting to see if the shorts hold their positions if Alcoa's stock price continues trading in the $9-10 range. If Alcoa's stock price remains resilient, some shorts may cover and provide additional demand for the stock.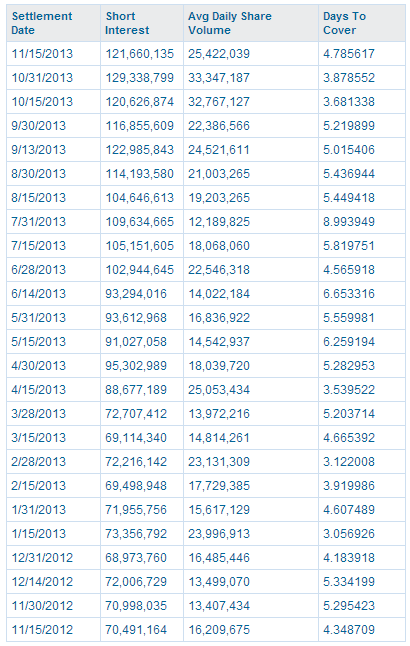 (Source: Nasdaq.com)
Conclusions
In my last article I noted that Alcoa's stock price was not declining despite bad news. Since then, sentiment on Alcoa improved as two analysts upgraded the stock.
For the first time in a while, Alcoa's stock price diverged from the negative trend in aluminum prices. However, there seem to be ongoing headwinds in the aluminum market. I remain cautious on aluminum prices until I see more evidence of a turnaround.
I remain cautious on Alcoa until aluminum prices gives more signals of putting in a bottom. I may be late to the party, but prefer to minimize my risk. Alcoa has a tremendous amount of operating and financial leverage, so when things turn around there will probably be plenty of opportunity on the long side.
Disclaimer: The opinions expressed above should not be construed as investment advice. This article is not tailored to specific investment objectives. Reliance on this information for the purpose of buying the securities to which this information relates may expose a person to significant risk. The information contained in this article is not intended to make any offer, inducement, invitation or commitment to purchase, subscribe to, provide or sell any securities, service or product or to provide any recommendations on which one should rely for financial, securities, investment or other advice or to take any decision. Readers are encouraged to seek individual advice from their personal, financial, legal and other advisers before making any investment or financial decisions or purchasing any financial, securities or investment related service or product.
Information provided, whether charts or any other statements regarding market, real estate or other financial information, is obtained from sources, which we and our suppliers believe reliable, but we do not warrant or guarantee the timeliness or accuracy of this information. Nothing in this article should be interpreted to state or imply that past results are an indication of future performance.
THERE ARE NO WARRANTIES EXPRESSED OR IMPLIED AS TO ACCURACY, TIMELINESS, COMPLETENESS, OR RESULTS OBTAINED FROM ANY INFORMATION IN THIS ARTICLE OR ANY LINKED WEBSITE.
Disclosure: I have no positions in any stocks mentioned, but may initiate a long position in AA over the next 72 hours. I wrote this article myself, and it expresses my own opinions. I am not receiving compensation for it (other than from Seeking Alpha). I have no business relationship with any company whose stock is mentioned in this article.
Additional disclosure: I may trade any of the securities mentioned in this article at any time, including in the next 72 hours.