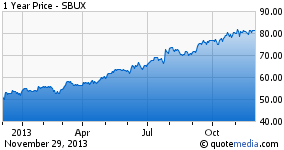 I'm sitting here in my local Starbucks (NASDAQ:SBUX) doing what I like to do in the AM - enjoying a great cup of coffee. One reason I love Starbucks is that it is not a hamburger chain that also sells coffee and neither is it a doughnut shop that also sells coffee. Starbucks is a coffee house; coffee - quickly served -- is their core business.
While contemplating these heady thoughts, I notice a great looking Barista - who by the way had a 4.0 GPA in high school and a full-boat academic scholarship to a major private University and is bi-lingual - wiping a table. Starbucks must have one dynamite-recruiting program! Of course, it's not hard to recognize talent when it walks up and steps on your toe. She smiles too -- customer service with a smile; can't be beat.
After a few sips of coffee and checking my email, I notice that she is back again wiping the same tables that had remained unoccupied since her last visit. So, I say, "back again?" She replies: "Every 8 minutes." (Later changed to 30 minutes; flexibility is all!) Having been a daily customer of this particular Starbucks since it opened, I had been noticing that the lines of customers waiting for coffee had been getting longer and longer because the wait-time for coffee delivery had increased. In fact, when my favorite Barista had come by the second time, people were waiting to be served.
Something was wrong with this picture. Why would you have a Barista cleaning already clean tables while customers were waiting? I also noticed that there were two cash registers and only one was in operation while employees were doing "other things."
So, being the fat old retired guy that I am and with time on my hands, I started asking questions. Us old guys are a curious lot. It seems that management in Seattle has come up with a grand plan called "Playbook." A simple explanation is that it is a choreographed, assembly-line operation whereby employees are assigned different tasks to be rotely performed at set times - 30-minute table wipes, for example. I call it "The Playbook Dance." And, I saw that this dance was being performed on a rigid schedule, lines of waiting customers notwithstanding.
The Playbook idea was inspired by Toyota and was written up in the Northwestern University's Kellogg School of Management publication "The Operations Room" that cited an August 4, 2009, Wall Street Journal article" The Playbook idea is not new. It has its roots in Frederick Winslow Taylor's scientific management school. Taylor concentrated on the time aspects of production and later these ideas were combined with the motion studies and theories of Frank and Lillian Gilbreth; thus the time and motion school of management was born. As an aside, the Gilbreths are better known for their 1950's book "Cheaper by the Dozen," later a popular movie. Playbook is an application of the time and motion school of management that was adopted by the Japanese after World War II, and now by Starbucks in 2013. Noting that the Wall Street Journal made the announcement in 2009, it has taken a while for Starbucks to begin to implement the idea.
One person in Starbucks management told me that in the past, a customer might want a particular beverage and the Barista would find that some ingredient was missing. That required stopping the service process and running into the back room and getting the missing item. Or, tables were not as clean as expected; an errant crumb resided on a table. So, I'm guessing that these and similar events garnered a customer complaint or two. Then, on a rainy day in Seattle (Is there any other kind?) some executive decided it was a system-wide problem and came up with a grand plan - Playbook. If it works for Toyota (NYSE:TM), why not Starbucks? This is a guess that I readily admit may be off base, so this is my mea culpa in mia cupa (Christmas Blend at the moment) before some righteously indignant Starbucks executive appears and severely chastises me for proffering an incorrect guess.
Then, just as Playbook was being introduced, Starbucks introduced new menu items that required heating. So, now I am sitting here watching the lines grow even longer. Customers are waiting both for coffee and for menu items to be heated. Not only that, but people are coming in the door, seeing the line, and turning around and leaving. They are getting the message - service is slow!
To add to this story, I happened to be on a road-trip this weekend, and I stopped at the Starbucks in Harrisonburg, VA, home to James Madison University. I hit town right when classes had just let out and spent a half-hour in the Starbucks there. At no time were there less than 20 people waiting to be served, and no one waited more than 5 minutes to be served. Service was quick, and the manager confirmed that the store was not on the playbook system. My next Starbucks was in Winchester, VA, where they have both counter service and a drive-through operation. Like Harrisonburg, the wait time there was no more than 5 minutes, and they were not on Playbook. Humm.
Volkswagen created the image of being a small, inexpensive car, and for a time, was king of the road. When it became a small, expensive car, sticker shock drove away its customers. VW lost its market. What happened was that Volkswagen had type cast itself as offering an inexpensive product, and it could not shake the image on which it had built its success. Starbucks is a coffee house that has built its image on serving very good coffee -- quickly. Put in other terms, Starbucks is in the fast food business. In this case, it's fast coffee. When "fast" is deleted from the formula, financial trouble can be brewing (pun intended).
The wisdom of installing the playbook system recently has taken on additional national notice. A Wall Street Journal article, cited customer complaints and a corporate directive for Baristas to slow their service. Yes, you heard right, slow down the service. The article stated in part:
Amid customer complaints that the Seattle-based coffee chain has reduced the fine art of coffee making to a mechanized process with all the romance of an assembly line, Starbucks baristas are being told to stop making multiple drinks at the same time and focus instead on no more than two drinks at a time-starting a second one while finishing the first, according to company documents reviewed recently by The Wall Street Journal.
One Barista (possibly former Barista by now) posted a public blog commenting on the wisdom of making the process of handing a customer a cup of coffee and piece of pumpkin bread a 6-step process. Even employees are questioning the wisdom of the Playbook reorganization of the work process. This blog garnered a number of comments from other dissatisfied Baristas who overwhelmingly supported the Blogger's questioning of Playbook's wisdom.
I believe that it can be said that Starbucks is employing the ancient and time-honored method of dealing with people without dealing with people - reorganization! Mr. Schultz, take note: "We trained very hard, but it seemed that every time we were beginning to form into teams we would be reorganized. I was to learn later in life that we tried to meet any new situation by reorganizing, and a wonderful method it was for creating the illusion of progress whilst producing confusion, inefficiency and demoralization." Petronius (AD 166). I note that there are some who challenge the origin of this quote, but provenance notwithstanding, the warning is worth heeding.
In this writer's opinion, Playbook is a classic case of overkill. The store in which I sit has a Store Manager, and Assistant Store Manager and three team leaders. There is enough management on hand to deal with an occasional crumb on a table or making sure that there is enough milk at a prep station or fresh coffee is brewing. Managing workflow, both in terms of who does what and whether stuff is available to get the job done, after all is what management leadership is all about. A whole program that makes sure clean tables are cleaned again every 8 or 30-minutes while customers wait in line to be served is counterproductive. And any program that imperils the foundation of the core business model is ill advised. Mr. Schultz, what were you thinking? Slow service is not the name of the game!
Starbucks' financials show that it has had a great run in the past year. The stock has risen from $50 to $80, a 60% increase in share value. That's wonderful, but Starbucks is not bullet proof. All it has to do is look over its shoulder -- and not very far over its shoulder -- to just a year ago to see that its stock went from $67 to $44, a 37% decrease in share value. This drop occurred in only two-and-a-half months! There were different reasons, of course, but the message is clear: If not careful, it can happen.
If you don't believe it, look at McDonald's (NYSE:MCD). Since their April 2012 high, the stock price has steadily declined. A part, not all, can reasonably be attributed to public health concerns over their menu offerings, especially as they impact on kids. Stocks at all-time highs can be particularly sensitive to even imaginary problems on the horizon, and investors will bail out at the first hint of real trouble. The market is, after all, about the future and how the investor sees it. And, when at the top, the natural inclination is to look down and protect (profit) against a potential fall.
For Starbucks, if Playbook is implemented on a system-wide basis with the same results that have been observed both locally and in the national media, sales may suffer and the stock price - now at an all-time high - could be vulnerable. Investors - keep a close eye on Starbucks' financials.
Disclosure: I have no positions in any stocks mentioned, and no plans to initiate any positions within the next 72 hours. I wrote this article myself, and it expresses my own opinions. I am not receiving compensation for it (other than from Seeking Alpha). I have no business relationship with any company whose stock is mentioned in this article.