By Guy Adami
I was born on Dec. 18, 1963, so my first Super Bowl memory was the Miami Dolphins defeating the Washington Redskins in Super Bowl VII on Jan. 14, 1973, at the Los Angeles Memorial Coliseum. Of course, that was the Dolphin team that finished the regular season a perfect 14-0. Miami accomplished that feat despite losing quarterback Bob Griese to a broken leg in a Week 5 game against the San Diego Chargers.
Although the game itself was rather nondescript, the highlight to this day was actually a botched play by the Dolphins. Miami had a field goal attempt blocked, only to be picked up by kicker Garo Yepremian. The Cyprus-born kicker made an ill-advised forward pass that was intercepted and returned 49 yards for a touchdown by Redskin cornerback Mike Bass.

Dolphin safety Jake Scott was named the game's Most Valuable Player after intercepting two passes himself, and returning one for a touchdown. But to many watching the game, the real MVP was defensive tackle Manny Fernandez, who had an astonishing 17 tackles. However, back then, the MVP was selected by one person.

In Super Bowl VII, Dick Schaap of SPORT Magazine had the honors. Later he would admit that he was out late the night before and was not all that focused on the game. What many folks don't remember is that, although the Fish finished the year undefeated, they were a one-point underdog to the Skins going into the game. All neat Super Bowl VII tidbits, but not terribly useful if you're looking for help with trading, I know.

Still, while recalling how Schaap overlooked the contributions of Fernandez, I couldn't help but think about the market lately and how investors have overlooked some warning signs. For me, one stock has taken over as the proxy stock for the broader market, and that is Goldman Sachs (NYSE:GS).

Like just about every other stock, GS put in a 52-week low on March 9. But after trading down to $72.78, GS enjoyed a monster run that culminated in a 52-week high of $193.60 on Oct. 14. The very next day, Goldman reported third-quarter earnings of $5.25 per share, which easily beat the consensus number of $4.20. Their revenues of $12.37 billion also crushed estimates of $10.98 billion. The company then reported third-quarter annualized ROE of an impressive 21.4 percent.

But something rather interesting happened. Although the broader market would rally nicely over the next couple of months, GS started a slow and methodical move lower. In fact, Friday the stock was trading around $150, down some 22.5 percent from Oct. 14's 52-week high. In this case, the market was the flashy Jake Scott and his two-interception, one-touchdown game. In reality, however, the underappreciated Manny Fernandez-like performance was the contra-market move lower in Goldman Sachs.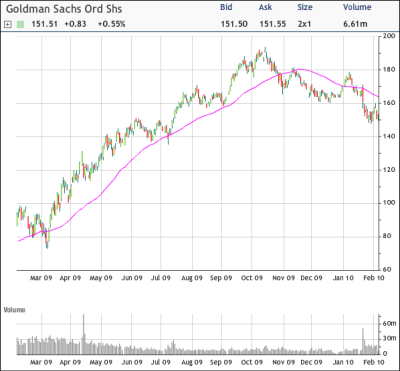 The keen eye would have looked past the move in the overall market and homed in on Goldman Sachs as a possible warning sign for potential top. Not convinced? Well what about another proxy stock for the broader market, but this time in the technology sector.

Google (NASDAQ:GOOG) made a 52-week high of $629.51 on Jan. 4. After the close that day, Apple (NASDAQ:AAPL) said it would announce a multimedia tablet device later in the month. Although the market continued to rally, GOOG began to sell off, trading as low as $525.56 in Thursday's session. From 52-week high to yesterday's low, that is a move of some 16.5 percent in one month's time.

Still not convinced that the warning signs were out there? OK, let's look at another tech/retail fave, Amazon.com (NASDAQ:AMZN). On Dec. 3 AMZN made an all-time high of $145.91. Barron's threw some cold water on the name on Dec. 12, saying the stock was way too rich even under the best scenario. The article stated that Amazon was trading at 69 times 2009 estimated profits and 53 times 2010 estimated profits. "The valuation is so rich, it could have the stock go nowhere for a decade," Barron's said.

While the broader market went on its merry way higher, AMZN began to sell off, trading as low as $113.82 on Feb. 1. From all-time high to the intraday low this past Monday, the stock moved some 22 percent. Once again the broader market was the flashy headline, but the real story came in the form of Amazon.com.

But let me say this: Although I remain bearish for the broader market, nothing goes straight up or straight down, and we should always be on the lookout for trading opportunities. So let's look at each of the stocks mentioned above and try to figure something out:
Amazon.com (AMZN): We need to go all the way back to April and December of 1999 to see a nice "double top" around the $107 level. Previous resistance becomes support, and we may have found that support in Monday's trading action when the stock fell to $113.82 on some 37.7 million shares.

Google (GOOG): We will turn to an old favorite, Fibonacci retracement. As mentioned earlier, GOOG made a 52-week high of $629.51 on Jan. 4. Using the March low of $288.35, a 38.2 percent correction brings us magically to $500. Although I generally loathe "whole number" levels such as $500, this time it is backed up by the technicals.

Goldman Sachs (GS): Here we can use the "best of breed" argument. If you are of the belief that Wall Street will emerge from the rhetoric of Washington, then you must identify the companies that will be best suited to gain market share in the years to come. Regardless of what you think about Goldman Sachs, it is the cream of the crop in the financial industry and will figure out how to flourish in any type of regulatory and financial environment.
As for this weekend's Super Bowl? Clearly, the sentimental favorite is the New Orleans Saints. But frankly, they got manhandled at home by the Minnesota Vikings and, but for a late gaffe by Brett Favre, would be watching the game in the comfort of their homes this weekend.
The Indianapolis Colts, meanwhile, dominate in all three phases of the game. Do not underestimate their defense and special teams.

It may be interesting going into halftime, and I can't wait to see what Daltrey and Townshend have in store for us. But when the clock turns 0:00, the Colts will emerge victorious. Final score: Indianapolis 38, New Orleans 17.

Disclosures: Long Goldman Sachs