Natural gas is the fossil fuel du jour. At Davos, BP (NYSE:BP) CEO, Tony Hayward, described unconventional natural gas as a 'complete game changer'. The rest of the panel agreed. In December Exxon Mobil (NYSE:XOM) bought XTO Energy for $41bn to access its resource base of 45tcf (trillion cubic feet) of unconventional natty. Some see this as Exxon pivoting away from difficult to find oil into where the future fossil fuel growth will be. America is now apparently awash in a 100 year supply of nat gas. Why not use that for transport and stop the annual outflow of some $300bn out of the American economy, much of it to supposed enemies, all while creating those elusive green jobs?

Seeking Alpha author Michael Fitzsimmons has for a long time been passionately advocating natural gas as a panacea for the prospective peak oil problem. Many here agree, decrying Secretary Chu's "agnostic" stance towards its use for transport. T. Boone Pickens, in his Pickens' Plan redux, suggests that by transferring 18 wheelers and buses to natural by 2020 we could cut OPEC import dependence in half. I decided to take a quick look under the hood myself. My straw man will be that the US can stop all oil imports by 2035.

I find graphs are a powerful way to cut through the rhetoric and get down to the quantitative basics so I'll try to supply a few here.

Let's start with the crude facts. Figure 1 shows the current and projected crude oil situation. While one should never make predictions, especially about the future, the EIA Annual Energy Outlook 2010 has figures for projected US oil production and imports out to 2035 in its reference scenario. The historical data is here.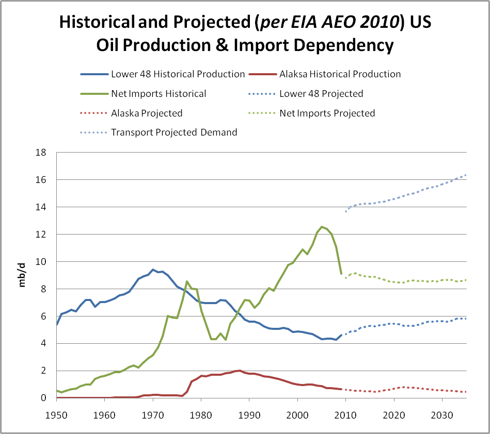 Figure 1 shows net imports of 8.5mb/d in 2035. Perhaps more remarkably, the EIA reckon production from the continental US (on and offshore) will halt its almost 40 year decline and rise from 4.5mb/d to 6mb/d. Anyone have any thoughts on the accuracy or otherwise of that? It also shows that transportation oil demand will grow to 16mb/d, indicating that, as a first order approximation, 55% of US transport energy would have to come from natural.

Figure 2 shows US 2008 crude gross oil imports by country of origin. Data obtained from here.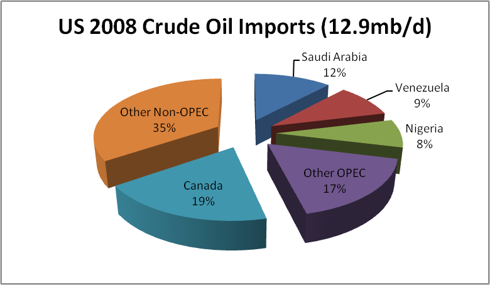 So the US gets about half its imports from OPEC, the other half from not OPEC. No prizes for guessing which half is projected to get relatively bigger and which half will decline. Most Canadian oil sands production is ecologically, environmentally, perhaps politically, and perhaps financially unsustainable. Shell (NYSE:RDS.A) recently cancelled plans to go from 0.26mb/d to 0.7mb/d in oil sands production. This was on the back of shareholder environmental activism but there was also the suggestion that its balance sheet could not take the capital intensive budget requried.

The other 35% Non-OPEC is in decline. Saudi Arabia, Venezuela and other OPEC countries have been lying about their reserves since the '80s, their oil is becoming more sour, their water cut is increasing fast, and their domestic consumption is rising, leaving less for export. At a guess, though, the import countries in 2035 would probably be more weighted towards OPEC than non-OPEC.

As an an aside, Figure 3 shows the exports of finished petroleum products from the US. The US is a key exporter of refined oil to the Americas. Exported oil is commonly left out of the calculation for independence, with the implicit assumption that the US would stop any exports if a crude crunch materialised. This would leave a lot of countries twisting in the wind, which is a fairly dystopian vision that I'm not sure would be politically acceptable. Data here.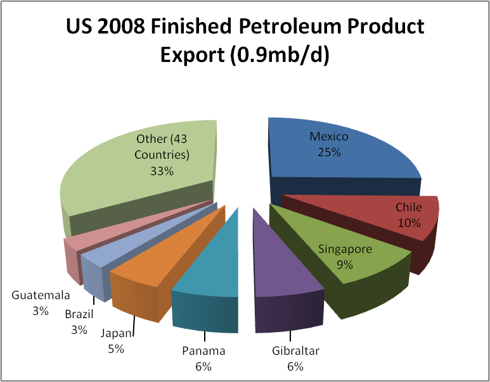 Figure 4 shows 2008 US petroleum consumption. Data here.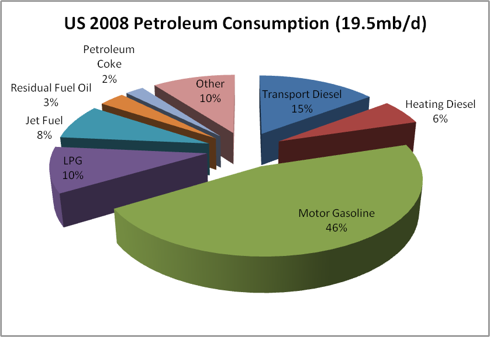 The refinery golden rule is to either maximize gasoline output or distillates (heating diesel, transport diesel & jet fuel). The winter heating season sees them attempt to maximize heating diesel while gasoline is maximised during the summer driving season. Even on full driving season mode, where refineries change the crude slate and reorient the refineries to produce gasoline, there is only a 2% drop in distillate production.

Despite being the most complex in the world, this indicates that, were demand for transport diesel to drop precipitously (per Pickens' Plan), US refiners would not be able to simply stop producing the transport diesel. Only 4% of US vehicles run on diesel, they just happen to be heavy duty 18-wheelers. To avoid the import of a barrel of crude, then, ceteris paribus, because the average barrel yields three times as much gasoline as transport diesel you would need to:

(a) decrease passenger car gasoline consumption threefold (by efficiency, hybrids & reduced use) per unit diesel avoided or
(b) have a twofold increase in passenger cars using diesel (diesel cars are more efficient)
(c) increase passenger car natural gas use threefold

The problem with (a) is that it's unlikely to happen because people still don't get it. The problem with (b) is that only 40% of gas stations sell diesel which creates the classic catch 22 situation. The problem with (c) is the infrastructure and time needed to develop natural gas stations. There are about 550 public natural gas stations in the US versus over 200,000 regular gas stations.

The likely result of Pickens' plan being successful would be that by 2020 heating diesel and jet fuel would get cheaper (distillates are made with the same molecules) or else the diesel would be exported. The exposure to crude oil wouldn't change.

I had meant to include the natural gas production projections to see if there will actually be enough natural produced to meet additional transport demand. I'll come to that in the next article, as this article is getting a bit long. Are there any inaccuracies so far? Perhaps a refining expert could weigh in.

Disclosure: No Positions