Green Mountain Coffee Roasters' (NASDAQ:GMCR) stock jumped by 16% after the company released its fourth quarter and full year 2013 earnings. The company posted full year net earnings of $484 million, up 33.2% YoY beating Wall Street's expectations. The company has also declared dividends for FY14 for the first time and announced a share repurchase program.
These aspects are expected to increase shareholders' earnings in the future.
A Glance at FY13 Earnings
Green Mountain Coffee Roasters generated revenues of $4,358 million in FY13 compared to $3,859.2 million in FY12, reflecting an increase of 12.93% YoY. The drivers for this growth include a 59% increase in portion pack net sales and a 45% increase in Keurig Single Cup and accessories sales.
The company has two segments: Domestic and Canada. Its domestic segment contributed to top line growth with a YoY net sales growth of 15%. The Canada segment'snet sales were up by 1% compared to last year's net sales.
Over the last four years, the company's revenues have grown at a CAGR of approximately 34% indicating that Green Mountain has been successful in creating higher demand for its products among consumers. Management was able to target the right triggers for their products in such a highly competitive market.
The company's gross margin improved by 4.3% primarily due to lower green coffee costs and lower labor and overhead manufacturing costs. The margin in FY13 was 37.2% compared to 32.9% in FY12.
Source: SEC Fillings
The operating margin increased by 2.91%, from14.74% in FY12 to17.56% in FY13.During the last four fiscal years the operating margin has improved by 733 basis points reflecting effective executions of the company's operations.
The lower average debt in FY13 caused the interest expense to decline by 21% compared to expense of the last fiscal year.
The growth in net sales along with improved margins resulted in a remarkable increase in net income. The net margin jumped by 169 basis points YoY. From 2010 to 2013, the margin has increased by 525 basis points.
Diluted per share earnings this year were$3.16 per share compared to $2.28 per share in 2012, up by 38.6%. Diluted per share earnings was $0.89 per share which was 18.67% higher than analysts' expectations of $0.75.
Debt Profile
Green Mountain is focusing on improving its balance sheet health. The company has been reducing its level of debt from 2010. As of September 28, 2013 the carrying value of long term debt was $173.2 million compared to $473.7 million at September 29, 2012.
During FY13, Green Mountain Coffee Roasters primarily used its cash generated from operations to reduce its borrowings under long-term debt obligations by $4297.8 million. By the end of FY13, the company had $251 million in outstanding debt compared to $531.5 million in outstanding debt by the end of FY12 reflecting a decrease of almost 53%.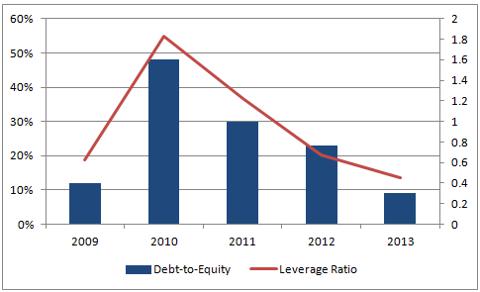 The company's debt-to-equity has reduced by 39% over four years, from 48% in 2010 to only 9% in 2013. As the debt holders' stake in the company has significantly reduced a major portion of the company's future earnings would go into shareholder's accounts.
The leverage ratio declined from 1.83 in 2010 to 0.45 in 2013 indicating the company's greater ability to meet financial obligations through its income.
Liquidity and Capital Resources
Green Mountain Coffee Roasters generated $836 million in cash from operations during FY13 compared to $477.8 million generated in FY12 mainly due to higher net income and higher accounts payable and accrued expenses in FY13. Besides paying long term debt obligations, the company used cash generated from operations to fund capital expenditures of $232.8 million and repurchase common stock shares of $188.3 million.
Share Repurchases and Dividends
At the end of FY13, the company's management announced a new share repurchase program of $1 billion which will be executed over the next two years. The program will be effective once the company completes its current buyback program of $500 million shares.
Green Mountain has also declared a dividend for the first time. It will pay $1 per share on an annual basis in FY14or $0.25 per share on a quarterly basis.
Since the company has enough cash reserves it will fund these programs through the cash from operations.
Future Outlook
It is expected that Green Mountains Coffee Roasters will be able to continue its revenue growth in the next year as the demand for coffee in U.S. has increased over the years. According to the National Coffee Association USA, coffee consumption jumped by 5% in 2013.The highest growth is expected in the single-cup segment. The demand is expected to grow further as there is now an increasing trend in drinking coffee due to the newly revealed benefits of coffee. Since the single-cup segment contributes a major portion to Green Mountains' sales this projected growth will have a substantial impact on the company's future sales.
However, the demand could be affected by increasing prices because it is projected that coffee prices in 2014 will rise by 1.13%.
Another favorable factor for the company's future earnings is the increased supply of Arabica coffee beans which will result in lower prices. Columbia, the leading producer of high quality coffee beans, has returned to the market after suffering from a virulent strain of coffee fungus.
As the company's costs and earnings are highly dependent upon the price and supply of high quality Arabica coffee beans I expect that its margins and earnings will improve in FY14.
Moreover, the company's new launches and expansions into new geographical areas will enable it to expand its revenue base.
Conclusion
FY13 proved to be a great year for Green Mountain as it brought better than expected profitability for the company leaving it and elevated it into even better financial health. The company will be able to provide higher returns to shareholders in the future due to a positive outlook for its future revenues and earnings, improved debt level, lower leverage ratio and improved liquidity position.
Disclosure: I have no positions in any stocks mentioned, and no plans to initiate any positions within the next 72 hours. I wrote this article myself, and it expresses my own opinions. I am not receiving compensation for it (other than from Seeking Alpha). I have no business relationship with any company whose stock is mentioned in this article.