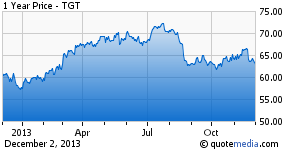 Analysts and investors were very negative on Target (NYSE:TGT) heading into Black Friday setting expectations low and as Thanksgiving weekend sales slumped rather than shone, the stock continued to trade off. This may prove to be a good deal for investors looking to buy shares rather than merchandise. The combination of low expectations, good margin control despite weaker than expected sales last quarter and promising, double digit increase in order traffic over the Thanksgiving holiday makes TGT shares a good risk/reward.
I see three weak points in Target's third quarter report that reduced expectations and are unlikely to be the focus for the current quarter:
1) Home Furnishings - After the interest rate spike in 2Q drove a slowdown in housing sales, we shouldn't be surprised that furniture sales could be a weak area despite strength over the last two years.
2) High End Retail - The sector overall has seen a resurgence but is a category Target is trying to establish its brand. Gap has been a standout in this area.
3) Canada - Sales and margins were dramatically lower than expected in 3Q but expectations have been reduced with management guiding to $0.22 to $0.32 cents of dilution. The company is on track to meet its target of 150 stores being opened by 2017 with 120 open today.
Home furnishings and Apparel are two categories that The government shutdown was a temporary phenomenon that impacted the third quarter results and was alleviated in the fourth quarter. This lack of a negative hasn't showed up
The NRF believes that total spending over the weekend was $57.4 billion, down 2.7% year over year. This is the first time in 7 years that sales growth was negative. Overall this is a significant disappointment but Target may end up being one of the bright points. Target saw a its online order volume double on Thanksgiving day according to a press release.
In addition to the opportunity for better than expected growth in general merchandise, Target has been building its base of REDcard clients which can put upward pressure on margins. The Target REDcard offers two key benefits for Thanksgiving weekend shoppers: 1) delayed returns and 2) free shipping for online customers.
From a valuation standpoint, Target shares are cheap. The stock is trading at 12.7x FY15 (January) estimates of $4.98 which is below its 5 year average of 13.6x and considerably below the S&P of 17.1x. While you are waiting for evidence of a turnaround, you are also being paid a dividend of 2.5%.
Target is an example of a conservative company, trading at a low valuation with potential upside to numbers. As people begin valuing the company on 2015 numbers in the next few months, if the company can simply execute on its existing plan, there is considerable upside from here. It's unlikely to offer huge returns but represents a high probability of 10 to 20% of upside in the next 12 months.
Disclosure: I have no positions in any stocks mentioned, and no plans to initiate any positions within the next 72 hours. I wrote this article myself, and it expresses my own opinions. I am not receiving compensation for it (other than from Seeking Alpha). I have no business relationship with any company whose stock is mentioned in this article.