It has been five months since our last article on Ruger (NYSE:RGR) and Smith & Wesson (SWHC) was published. In that article, we predicted the outperformance of RGR over SWHC, which has been seen in the past six months; RGR is up over 50% compared to SWHC being up almost 30%. This article will examine whether the thesis of the last article still stands; whether RGR is still the stronger stock, and whether profits should be taken.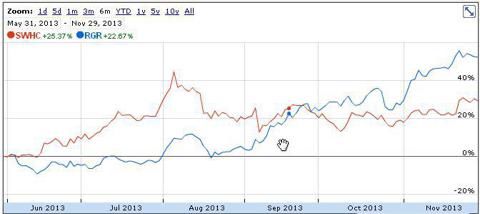 The success of gun stocks in recent history has been the result of valid fears of new gun laws, restrictions, or bans as the President has a history of supporting such measures. Such levels of panic buying led to backlogs in orders for RGR and SWHC, but without further political and media pressure for new gun control measures gun demand has decreased. Despite this, RGR and SWHC have performed admirably, with RGR reaching all time highs of around $80/share in late November.
3rd quarter 2013 for both RGR and SWHC saw a decline in revenue of 4.8 and 4.3% respectively. For RGR this was the first quarter of decline in the last year, while SWHC saw an additional small revenue decrease of 0.3% in the first quarter this year. An interesting comparison is between Q3 2013 and Q1 2013, where the latter took the immediate panic buying after the Sandy Hook school shooting and associated push for new regulations. For RGR and SWHC, the increase in revenue was 10 and 25% between these quarters respectively. They both exhibit very similar gross profit margins, ranging from 35-43% over the past five quarters. Despite lower revenues in Q3, SWHC managed to grow gross profit by 6.3% in this quarter while RGR saw a 2.1% decline.
When the selling, general, and administrative expenses are compared they are very similar between the two companies; however RGR comes out slightly on top with SGA expenses ranging from 26-40% in the past five quarters compared to SWHC's ranging from 30-43%. In this same time period net profit margins have ranged between 11 and 16% for SWHC, compared to 14-18% for RGR.
Over the past four quarters, RGR's return on assets has ranged from 11-14% compared to the 5-8% seen for SWHC. RGR also has no debt compared to SWHC, which has $100 mil of long-term debt as of Q3 this year. While SWHC does have more debt than RGR, as of the most recent quarter they could pay it off within 3.8 years using net earnings, up from the 1.7 to 3.0 years it would have taken over the previous four quarters.
Late in 2012, RGR paid a special dividend of $4.5/share, which reduced their retained earnings by 39% between Q3 2012 and Q4 2012. Since then retained earnings have been grown by 44%, leaving RGR's retained earnings only 12% lower than where they were before the special dividend was paid. It is conceivable that in the coming quarters that RGR may pay this dividend again. Over the same time period, SWHC has grown retained earnings from -52.5 mil in Q3 2102, to 34.9 mil in Q3 2013 while buying back stock twice. Unfortunately, despite a strong financial position, RGR has not bought back any stock over the same time period.
When the treasury stock-adjusted return on equity is compared between the two companies, in the most recent quarter, RGR's ROE was 25%, down from the 32-35% seen in the previous three quarters. SWHC's ROE was up to 17% in Q3 2013, the highest it has seen in the past five quarters, but still lower than RGR.
When the capital expenditures as a percentage of net earnings is compared between RGR and SWHC, RGR has spent between 32 and 46% of net earnings on capital expenditures compared to SWHC which has spent between 35 and 86%, indicating the stronger position of RGR.
Finally, when one uses the methodology of Buffett in treating a company with a durable competitive advantage as an equity bond (explained in this article), the coupon rate of SWHC has ranged from 17-32% in the past five quarters, while for RGR it has ranged from 12-22%.
So considering the above, we believe RGR to be in better overall financial shape than SWHC and a better hold for the long run, however SWHC has shown improving financials over the same period. As RGR has recently run up almost 50% in the past 3 months compared to SWHC's 8% rise, in the next few months SWHC's price is likely to take into consideration the improving financials and appreciate. Unlike other writers, we do not think the gun market has a large downside (but we do see a pullback in RGR after the appreciation and taking into account recent insider selling) ahead as both RGR and SWHC have significantly greater revenues in the most recent quarter compared to the one immediately following the last major shooting and push for gun control. Furthermore, we do not see the Second Amendment and the human right of self-defense not being under attack in the future given the current political landscape of the US, and when the next push for gun control comes, RGR and SWHC stand to profit greatly from the next round of panic buying.
Disclosure: I am long RGR. I wrote this article myself, and it expresses my own opinions. I am not receiving compensation for it (other than from Seeking Alpha). I have no business relationship with any company whose stock is mentioned in this article.