Following the release of fourth quarter revenues and earnings guidance that disappointed investors, Akamai (NASDAQ:AKAM) has traded lower. Shares are now trading in my buy zone, but the actual top differs from my estimated top. So now I need to figure out how I should be thinking about shares of Akamai.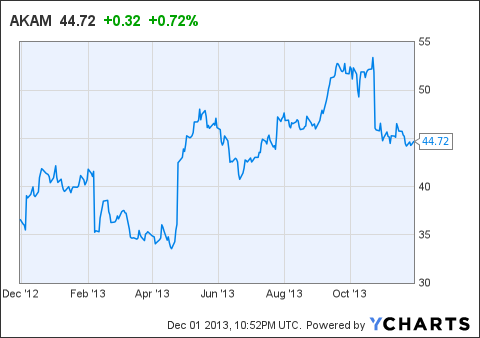 To do that, I will take a look at third quarter results, the forecast for the fourth quarter, my forecast for 2014, and the underlying fundamentals of the business. Additionally, I will value the common equity shares.
The fundamentals of the business are bullish for the valuations. High level, I'm bullish on the companies that are the backbone off the Internet. I think that management is probably correct in their forecast for $5 billion of annual revenues by the end of the decade, which means that the valuations have a high teens financial performance tail wind.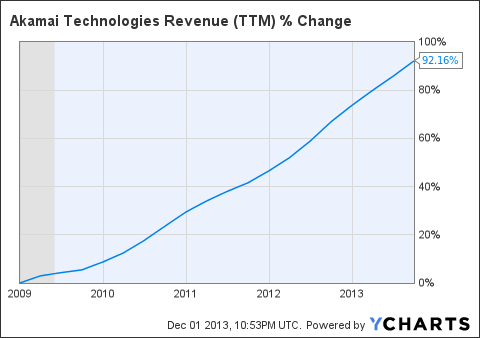 AKAM Revenue (TTM) data by YCharts
I am bullish on Akamai, but I would like a larger margin of safety before I accumulate shares.
Fundamental Analysis
I view Akamai as one of the companies that is the backbone of the Internet. I am bullish on the Media Delivery Solutions and Performance and Security Solutions segments. Additionally, I'm bullish on the company's new hybrid cloud optimization offerings.
Some of the key drivers of the business are video delivery, software downloads, gaming and social media.
In the third quarter, the financial performance was solid with revenues growing about 15% and operating income increasing 25% on a reduction in depreciation expenses and a tax credit, which may not be sustainable.
Looking forward to the fourth quarter, I agree with management's guidance of high-mid single digits to mid-teens revenue growth. This is also my forecast for calendar 2014.
Management is setting the goal of $5 billion of annual revenues by the end of the decade. Akamai is currently generating about $1.5 billion in annual revenues. I think management can reach that goal, which could have positive implications for the valuations.
IBM (IBM) acting as a reseller of Akamai's security offering should boost revenues in calendar 2014.
Cisco's (NASDAQ:CSCO) partnership with Akamai allows the firms to offer branch offices an end-to-end performance improvement and optimization solution, which could be accretive to 2015 revenues.
According to Tom Leighton, chief executive officer of Akamai, the company strengthened its advantage in the speed of content delivery over the leading competitor.
I think that the increased size of the sales force as well as the partnerships with IBM and Cisco should drive strong operating results in fiscal 2014 and 2015 and act as a tailwind to the valuations.
Valuations
To value the common equity shares of Akamai, I will use the technicals, multiplier model and enterprise value to EBITDA ratio. Cisco is used as a comparison company because it is the closest comparable that I can think of for Akamai.
So I think the $45.50 to $37.50 zone is the buy zone. Under my worst case scenario, the share price returns to the $20-25 range; in that scenario, given solid fundamentals, I would look to overweight Akamai. I do not view a bottom as being in place yet.
Cisco is trading at half the EV/EBITDA of Akamai, which could be explained by Akamai's higher operating income growth rate. In terms of profitability the companies' ROIC are similar, which means they should be trading at similar values. In terms of risk, Akamai should be trading at a lower valuation than Cisco, but the betas are similar. I think that this model suggests that Akamai is fairly valued relative to Cisco because its higher valuation is justified by its higher growth rate, and similar risk and profitability.
| | | |
| --- | --- | --- |
| | AKAM | CSCO |
| EV/EBITDA | 12.53 | 6 |
| Operating income 5-year growth rate | 16.76 | 3.47 |
| ROIC | 11.72 | 13.01 |
| Beta | 1.49 | 1.24 |
Akamai is typically valued higher than the S&P 500, which is probably explained by the fundamentals of the business. Relative to its historic valuations, Akamai is modestly undervalued. I would like a larger margin of safety before I accumulate shares.
Disclosure: I have no positions in any stocks mentioned, and no plans to initiate any positions within the next 72 hours. I wrote this article myself, and it expresses my own opinions. I am not receiving compensation for it (other than from Seeking Alpha). I have no business relationship with any company whose stock is mentioned in this article.