In an article published two years ago I concluded:
There is at least one reason to believe that Japan has much more potential than South Korea to dramatically increase production of Li-ion batteries in the world in the next five years or so. It has to do with the Li-ion battery value chain. Nowadays, most anodes, cathodes, separators, and electrolyte solutions -- the four main components of Li-ion batteries -- produced in the world are made by Japanese companies. So in a way South Korea´s current dominance of the market may not be sustainable unless it undertakes in the coming years a true revolution in its lithium-ion battery value chain. In addition, Hyundai´s decision not to pursue production of pure electric cars in the near future may also need to be revised.

Does this mean Japan will win the Li-ion battery war? It does have the potential to do so, except for one thing: lithium. It lacks the resource indispensable to win the most important economic war of the present century. Hence we shouldn't be surprised if Japan becomes much more proactive in the lithium resource market a few years from now.
For that I used Roland Berger's forecast of global shares in the Li-ion battery market for 2015 where four Japanese battery makers (AESC-NEC, Panasonic/Sanyo, GS Yuasa and Hitachi) appeared to account for 45% of the market, while two South Korean companies (LG Chemical and Samsung) constituted only about 21% of the cake, and the rest was attributed to A123, Bosch, 12 Chinese battery producers and other Li-ion advanced storage system companies.
Here I would like to retake up this issue with data published by www.hybridcars.com corresponding to the period January-October 2013 for the US electric vehicle market. In the following table, I synthesize all the information required to accomplish this task.
Li-ion Battery Sales for the U.S. Electric Vehicle Market
January - October 2013

Source: www.hybridcars.com.
As can be seen, during the period under consideration, Japan, with 161,502 (77%) EVs sold using Li-ion batteries, showed clear dominance in the U.S. market. Another interesting finding is that only two companies, Panasonic-Sanyo (OTCPK:PCRFY) (from Japan) and LG Chem (OTCPK:LGCLF) (from South Korea), accounted for almost ¾ of the market. In addition, Panasonic-Sanyo seemed to control more than half the US market for these artifacts, whereas LG Chem supplied about a quarter of the market, regardless of the type of EV considered. These numbers are consistent with my supposition that Japan did indeed have more potential than South Korea to increase production of Li-ion batteries in the world in the last two years and will most likely consolidate its leadership of the market in the following three years or so.
The last part of the latter statement is based on a recent announcement that in about that time frame Panasonic will supply almost 2 billion of 18650 Li-ion cells to Tesla Motors (NASDAQ:TSLA) as well as the fact that AESC's is also expected to significantly increase its Li-ion battery production for Nissan's (OTCPK:NSANY) Leafs at its recently inaugurated plant in Holland, Michigan in the United States.
In this context, the question remains as to whether South Korea's current supremacy in the overall Li-ion battery market in the world will be sustainable considering that, on the one hand, following Roskill, until 2017 the most important impulse of Li-ion battery production growth will gradually shift from electronic products to EVs, which may clearly affect Samsung (OTC:SSNLF), and on the other hand, neither GM nor Hyundai (OTCPK:HYMLF), have shown interest in augmenting considerably their demand for Li-ion batteries in the next 3 years or so, which will likewise have an impact on LG Chem.
True, LG Chem is likely to start producing Li-ion batteries for GM's Volts at its new plant in the U.S. and Kia, Hyundai's associate, has announced that it will soon launch a new all-electric car to the market. But these intentions have been overshadowed by GM and Hyundai's decision to begin commercializing fuel cell electric vehicles between 2014 and 2015 in the US market.
Let's see now how the stock market has reacted in the last 12 months to all these developments. This is depicted in the following figure where both Panasonic and NEC exhibit unambiguous leadership of the market which also serves to validate another previous prediction of mine that NEC had in fact "much more potential to produce Li-ion batteries than the great bulk of battery companies included in the [Global X Lithium ETF]" and that this argument could "be applied to Panasonic/Sanyo as well."
Stock Price Evolution in the Lithium-Ion Battery Market
December 2012 - November 2013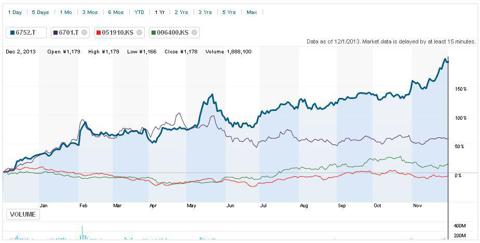 Source: Reuters
What is puzzling though is that despite all the potential Japan seems to hold to control the lithium-ion battery market in the world in the years to come, this country hasn't shown much interest in ensuring access to an adequate amount of lithium resources in different parts of the world. Time will tell whether this rather passive reliance on the plays of the market will pay off or manifest itself as a source of frustration for the East Asian power.
Disclosure: I have no positions in any stocks mentioned, and no plans to initiate any positions within the next 72 hours. I wrote this article myself, and it expresses my own opinions. I am not receiving compensation for it (other than from Seeking Alpha). I have no business relationship with any company whose stock is mentioned in this article.