Creative destruction is accelerating and it is bringing new risks to established companies, as well as new opportunities to those investors that identify these trends early on. When the corporate Goliaths are taken far from the terrain where they feel comfortable competing and into uncharted territory, it is then David that has the advantage. Be it due to nimbleness, agility, creativity, or a combination of all these, it is the disruptor that has the advantage.
One such Goliath can be found in the electric generation and distribution industry. This industry is characterized by regional monopolies that are highly regulated by the government, but it is an industry that is starting to experience disruption by new entrants like SolarCity (SCTY) with innovative business models and cutting edge technology. In the last few years renewable and environmentally-friendly energy sources have gained significant momentum, and these technologies continue to experience incredible reductions in price. If these trends continue, the market for SolarCity will continue to rapidly expand.
The vision of the company is to capture these trends to become a reinvented version of a utility company, delivering clean and cheap power through distributed generation: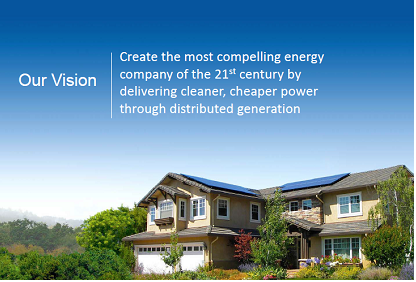 Source: SolarCity Investor Presentation
For customers in locations where SolarCity offers a lower price making the change is an easy decision. They don't have to pay upfront costs; the contract can be transferred, and is a simple way to switch to solar. In return the company obtains predictable long-term cash flows, returns improve as technology costs decrease, and SolarCity has an opportunity to sell other related services.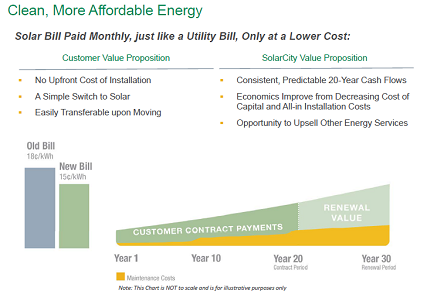 Source: SolarCity Investor Presentation
One key competitive advantage the company has is its diversified sales strategy, specially the partner referrals component. By using its first mover status to negotiate preferential agreements with referral partners the company is getting a head start on the competition and might be able to lock some of them out of the referral flow in the future.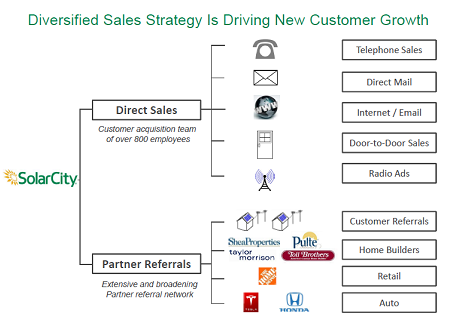 Source: SolarCity Investor Presentation
A second barrier to entry is the scale the company is creating, and which will make increasingly more difficult to others to copy the business model. With more customers there is more operating leverage on the service operations centers. This also applies to the cost of developing specific technology to optimize the solar systems and the installation processes.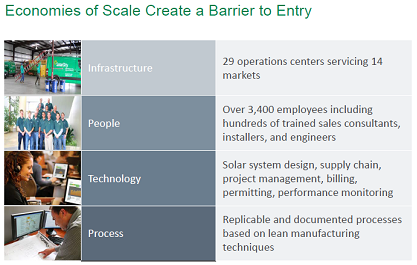 Source: SolarCity Investor Presentation
By heavily investing in software technology SolarCity is also gaining an information advantage. This is key to choosing the right customers and quoting the right amount (you can leave unprofitable customers to the competition!).
Source: SolarCity Investor Presentation
However, to maximize these advantages SolarCity needs to move quickly and lock in as many buyers as possible at the present time (which is the strategy they are following).
Conclusion
SolarCity is a remarkable company that will likely be able to continue to set itself apart from the competition and be able to maintain very high growth rates. My only concern is that this growth is coming at a high price, so the recommendation is to keep the company in your watch list and buy when/if it approaches a more reasonable valuation.
Disclosure: I have no positions in any stocks mentioned, and no plans to initiate any positions within the next 72 hours. I wrote this article myself, and it expresses my own opinions. I am not receiving compensation for it (other than from Seeking Alpha). I have no business relationship with any company whose stock is mentioned in this article.