It's that time of year. Yes, the time when shoppers flood the malls and retail outlets in search of their beloved bargains. It happens this time every year. It's also the time when investors take a sharper look at retailers. This time each year, it seems, investors review their retail holdings and look for others that may win the flavor of the holiday shopping season - and the favor of those droves of shoppers.
I love this time of year and I love retail. Retail is my favorite sector of the market. Retailers are the companies I enjoy writing about - and owning - the most. In fact, the very first article I wrote for Seeking Alpha, Why the Consumer Is Not Dead (And Why That's Good for Retail); December 22, 2010, was on the subject.
At the time, many were touting the death of the American consumer. With unemployment at close to 10%, it was unfathomable that retail could be a thriving sector going forward. Nearly three years later, retail has been one of the best performing segments of the market.
In that article I mentioned several companies as well as the SPDR S&P Retail ETF (NYSEARCA:XRT). The exchange traded fund is now up 82% since that time versus 44% for the S&P 500 Index. I also said that a resurgent consumer should benefit companies like Macy's (NYSE:M), Target (NYSE:TGT), Kohl's (NYSE:KSS), Tiffany & Co. (NYSE:TIF), and Coach (COH). While Kohl's and Coach have vastly underperformed other retailers, Macy's and Tiffany have done much better. Macy's is up 112% and Tiffany is up 26%. None of the retailers have declined. Other than Macy's, investors would have better off holding the SPDR S&P Retail ETF.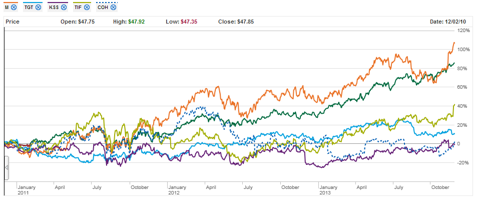 Since the retail sector has run so far over the last three years, it's likely that, going forward, owning great individual retailers will reward investors much more. I like three retailers in particular for long-term performance.
Macy's
Chairman and CEO Terry Lundgren has led the retail giant back from being a ho-hum department store to being a destination for middle to upscale shoppers. The company has been benefiting on the low-end from the near death of competitor J.C. Penney (NYSE:JCP) as well as stealing share on the high-end from department stores like Nordstrom (NYSE:JWN) and Saks Fifth Avenue.
Macy's may well be the best managed retailer in the industry. Over the last five years, Macy's has increased earnings at an annualized rate of 10%.
Despite Macy's top-tier performance, the stock trades at a very reasonable price. Macy's trades at 15x trailing earnings and 14x forward estimates. It also trades at just 0.70x sales and boasts a return-on-equity of 25.5%. I am still buying Macy's at its current price.
Coach
It's been a long, tough road as an owner of Coach. The last two years have not been friendly to the 70 plus year-old company. Coach has been dogged by competition from Michael Kors (NYSE:KORS), a stuffy and "tired" brand, and the retirement of CEO Lew Frankfort.
Coach has a lot going for it in the future, though. Incoming CEO Victor Luis is a company veteran and appears more than capable of revitalizing the retailer. Michael Kors may be the flavor of the season, but Coach has a venerable brand that has tremendous staying power. Lastly, the company is growing in China and has experienced success in its expanded Men's line.
The stock is trading at 15x earnings. It boasts a very high return on equity of 47% and pays a dividend yielding 2.3%. Expectations for the stock have been marked down like a Black Friday door buster. Coach should regain its luster as a long-term holding over the next several years.
Starbucks (NASDAQ:SBUX)
Visit any Starbucks location and you'll realize it's as much a retailer as it is a food service. The company serves up fresh, hot affordable luxuries to consumers daily as well as profits for investors. I wrote a positive article on Starbucks on November 9, 2011; Strong Earnings Make Starbucks A Buy. At that time the stock was trading at around $44 per share. I have owned Starbucks ever since and am still bullish on this "best of breed" retailer.
I see a couple of big catalysts going forward. Starbucks is continuing to expand around the globe, particularly in China, where the brand is loved. Starbucks is also attempting to replicate its success in coffee with tea. After purchasing Teavana, the company wants to take the brand global. If the company can replicate the "coffee shop" success the pay-off could be huge. Tea is the most consumed beverage in the world but its retail sales have lagged other beverages, according to an NBC News Business article. If that could be changed tea could be the next big thing for Starbucks.
Trading at more than 30x 2014 earnings estimates, Starbucks isn't cheap by a long shot. The company has grown revenue at an annualized rate of more than 11% over the last three years. The company's earnings growth could have kept pace had they not had to pay Mondelez International (NASDAQ:MDLZ) $2.7 billion over a failed product licensing deal with the former Kraft Foods. Though the stock isn't cheap, I'm betting on excellent management, global growth, and a hot market in tea to fuel Starbucks for years to come.
The retail landscape can be difficult to navigate. Big winners one year may become the dogs of retail the next. It's extremely difficult to win and maintain the hearts and wallets of consumers. I prefer to stick with large, well-managed retailers that have shown tremendous staying power over many years. These three fit the bill.
Disclosure: I am long M, COH, SBUX. I wrote this article myself, and it expresses my own opinions. I am not receiving compensation for it (other than from Seeking Alpha). I have no business relationship with any company whose stock is mentioned in this article.
Additional disclosure: Disclaimer: Mr. Constantino is a proprietary investor and does not provide individual financial advice. The stocks mentioned in this article do not represent individual buy or sell recommendations and should not be viewed as such. Individual investors should consider speaking with a professional investment adviser before making any investment decisions.