Intevac Inc. (NASDAQ:IVAC) investors are cheering relatively decent quarterly results and stock buyback program but this is just the beginning as there are numerous catalysts ready to take the stock much further.
Leading indicators for the business are pointing that end markets are at cyclical trough and manufacturers should start to work on capacity expansions. For highly cyclical capital equipment stocks, the best time to look is when orders are just starting to flow in and looking at some of the data points, the company seems at the start of a new growth cycle especially with
Order backlog at multi-year highs.
Gap between solar panel market demand and "relevant" manufacturing capacity is shrinking
Strong growth in enterprise storage capacity shipped and used, in Exabyte terms
New programs with U.S. government ramping up
Besides the improving business fundamentals, the stock should find "floor" in a strong balance sheet and rising gross margins that are expected to maintain the momentum after cost cutting efforts of recent times.
The company with a dominant market share in the markets served, a market-leading system for the HDD media manufacturing and potential of new products being sold in additional markets in Photonics division should trade at valuation level 1.5-2 times book value, which is 30-70% upside from the current levels.
Products and its end use
Intevac (IVAC) is a capital equipment manufacturer with two divisions - Process Equipment and Photonics. Company's Process Equipment division manufacturing capital equipment for Hard disk drives manufacturers and Solar panel manufacturers. The company has technically sound vacuum process equipment solutions for high-volume small substrate manufacturing with precise thin film properties, which are required by the hard drive and solar cell manufacturers.
For Hard Disk Drive (HDD) industry, the company manufactures equipment that is used primarily for Disk Sputtering and Disk Lubrication systems. Disk sputtering is deploying a magnetic film or non-magnetic film like coats on disks using chemical vapor deposition technologies and Disk Lubrication is a process to apply lubricant to the disk. The company has a sizable market share in these products.
For Solar panel manufacturing, Intevac makes equipment used for doping by ion implant, etching the surface of a solar cell and applying a thin film. Products are based on technology acquired via Solar Implant Technologies Inc. in 2010.
Photonics division sensors, cameras and systems used in defense applications like night vision goggles and long-range target identification products. Intevac has a technological edge in providing small-footprint, highly sensitive digital-optical products used for capture and display of low-light images.
Backlog, a key metric for capital equipment business, is strong and getting stronger
Like any other capital equipment business, where delivery times are longer, backlog is among the foremost leading indicator of the business. For Intevac, backlogs have been strong.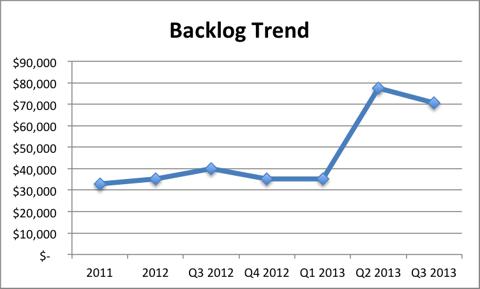 It's important to note that in the most recent backlog of $70.7 million, Equipment backlog, at approximately $20 million, included two 200 Lean systems and no solar systems but the company added 1 PVD solar system in its backlog after the end of the quarter.
Backlog as per each division

 

Q3 2013

Q2 2013

Q1 2013

Q4 2012

Equipment

$19,759

$29,295

$11,542

$8,902

Photonics

$50,988

$48,295

$23,575

$26,282
This rise in backlog, so far, has predominantly been due to good order flow in the Photonics division and any improvement in solar manufacturing or the HDD industry can only add to the backlog strength.
Solar getting better as orders have started and 2014 should be much better
Solar panel manufacturing equipment demand has been suffering from demand-supply mismatch with supply outstripping the demand for last few years. According to GTM Research analyst, this may be about to change as approximately 13 GW of panel capacity is "permanently retired" and manufacturers need to start looking at the capacity additions scenarios.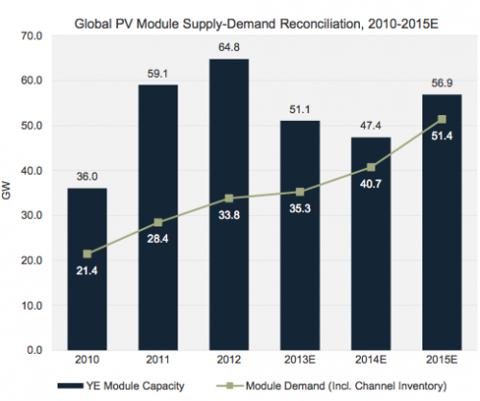 Source: GTM Research
Giving confidence to the premise, the company, in the current quarter, received an order for one PVD thin film deposition system from a "tier 1" customer, which will be used in manufacturing advanced solar cell structures.
Intevac's equipment is especially relevant for crystalline silicon based solar cell manufacturers and the company should benefit as manufacturers adopt new technologies, involving deposition of metal films, to push cell level efficiencies.
As per the company, Total Available Market (NYSE:TAM) for such tools is around $200 million by 2017 and the company seems well positioned to garner 25-30% of such demand. Looking at the cash flow trends at some of the panel manufacturers, there is increased hope for the equipment suppliers.
Hard Disk Drive, close to bottom, should improve as the storage market improves
The HDD is another market, which is going through slow demand and lack of major capacity additions at the manufacturers end. The HDD market dynamics are changing PC unit volumes declining but cloud based storage increasing.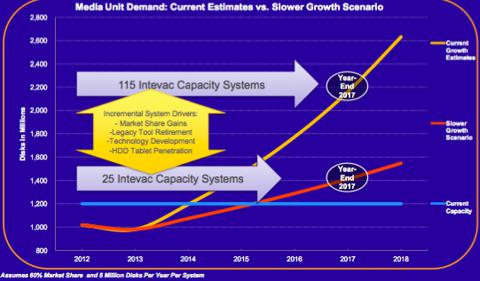 Source: Intevac presentation
The strength of recovery can depend on various issues but one this certain that rise in storage capacity shipments and average drive capacity would push manufacturers to place orders for new capacity by late 2014 or early 2015, as per the company.
As for HDD demand, the Coughlin Associates report estimates that growth should be back soon after declining 12% in 2013, which was mainly due to poor PC unit demand.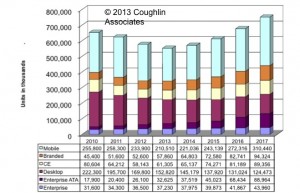 Coughlin Associates
The underlying storage capacity growth is still going steady and is expected to grow between 30-40%, as per various reports. For next years, as per IDC, average storage space should grow by 35-40% for external storage and 33-38% for internal storage.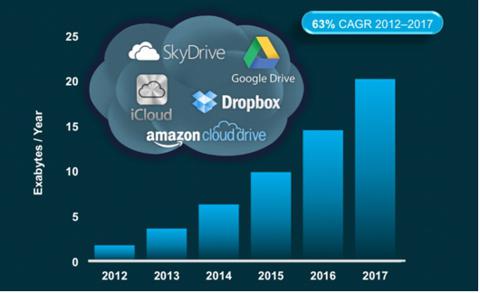 Cisco cloud storage white paper
Another big factor to contribute storage growth over the next few years is the rise in cloud storage including the "personal content lockers", which are expected to grow at more than 60% over next five years, as per Cisco (NASDAQ:CSCO) cloud index forecast.
Overall, due to strong demand in Exabytes and average drive capacity; manufacturers should start seeing capacity limitations by 2014 and in turn may start to place orders thereafter.
Photonics to benefit from the Apache program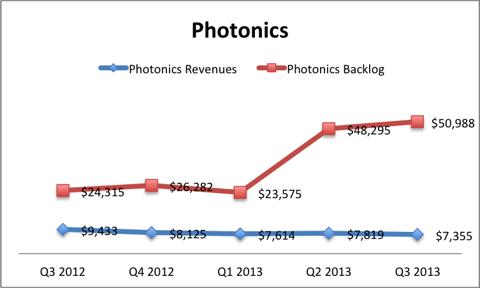 Watching Photonics division revenue alone would make one miss the strong momentum building in the business. Even though revenue for the division has been weak for the past few quarter, mainly on account of
Sale of Raman spectroscopy instrument product line in Q1 2013
Shipment delays related to a government shutdown
Lower contract R&D work after the completion of several contracts
The company has talked about delays causing push outs in some milestones related to the pre-manufacturing phase, which may cause lower shipments in Q4.
But the momentum in the Photonics business is consistently building up and these delays are not causing any impact on the backlog, which is consistently rising. Currently there are 600 cameras in the backlog and approximately $30 million worth of backlog is for the Apache program.
2014 looks promising with the expectations of first camera shipments in the current quarter, Apache program roll out and other programs with the defense department.
Risks to the thesis
Capital equipment is usually among the first casualty of the economic uncertainty so like other capital equipment players; Intevac is also prone to broader economic issues. Besides that, there are various industries related events that can have a negative bearing on the fundamental business. Some are
Weakness in the enterprise side of the storage sector
Further weakness in the PC market negatively affecting the HDD sector
The slowdown in the Solar panels picks up due to cut back in subsidies or otherwise
"Government shutdown" like delays in defense spending
The company has been consistently making operating losses for last few years and may continue to do so for at least another 2-3 quarters.
A few details worth keeping handy while looking at the Valuation
Share repurchase: The Company recently announced a share repurchase program worth $30 million. At current market price, it should reduce the outstanding shares by approximately 4.8 million or 20% of the total outstanding. Post repurchase, the company should have $55 million (excluding any cash burn in the quarter) or $2.8 per share.
Breakeven: Currently, operating expenses stand at approximately $10 million but the company has been consistently reducing the operating cost structure. In the first quarter, the company reduced workforce by 18 percent that reduced employee related costs by $6 million.
Breakeven calculation

Operating Expense

$10,000

Other Expenses

$100

Tax - Foreign operations

$175

Total

$10,275

 
 

Gross Margin

36%

 
 

Revenue BE (Approx.)

$28,542
Back of the envelope estimate, using some of the guided cost and margins expenses, points to break-even revenue levels of around $28-29 million. Some noteworthy points in the calculation are
Every 1% increase in gross margin reduces the breakeven by approximately $700k.
Gross margins are constantly improving through the year
| | | | |
| --- | --- | --- | --- |
| Gross margins | Q3 2013 | Q2 2013 | Q1 2013 |
| Equipment | 40% | 15% | 22% |
| Photonics | 30% | 32% | 30% |
Upgrades and spare parts usually carry better gross margins
Cash: Currently, the company has $85 million on the books and even after the complete share repurchase, Intevac will have $55 million. At current burn-rate of $2.5-3 million per quarter, there is hardly any risk or need to go to market for cash in the near future. The tangible book value is close to $5 per share.
Conclusion
One can label this opportunity in many ways, be it late cycle technology play, "bottom fishing", the start of a new growth cycle or by any other investing strategy parlance but the core thesis stands on decent valuation and end markets bottoming out, which is leading to the rise in order flows for the company. Order flows usually serve as the foremost indicator for any capital equipment stocks and the trend for the company bodes well.
Disclosure: I have no positions in any stocks mentioned, and no plans to initiate any positions within the next 72 hours. I wrote this article myself, and it expresses my own opinions. I am not receiving compensation for it (other than from Seeking Alpha). I have no business relationship with any company whose stock is mentioned in this article.