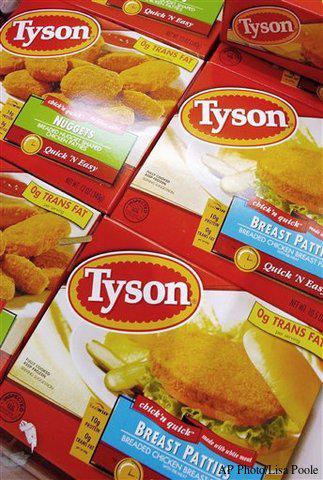 Tyson Foods (NYSE:TSN), the traditional meat-processing company, is becoming more involved in the prepared food business that can provide added value and often earn higher margins. The company has long been in the production of primal and sub-primal raw meat, along with its animal breeding-related business and feed productions. Although its conventional business is essential and staple, it presents little growth opportunities. Getting into the prepared food business can potentially increase sales and lift margins, but choosing a suitable sales channel can be as challenging as deciding what products to offer.
Packaged food companies such as Hormel Foods (NYSE:HRL) and Hillshire Brands (NYSE:HSH), two dominant labels of packaged meat products at many grocery chains, have historically achieved better and more stable financial performances. In comparison, Tyson Foods, mostly a raw-meat processor, has seen substantial earnings fluctuations over the past 5 years, including losses. Income statements of the 5-year period reveal that Tyson Foods grew sales at an average annual rate of 4.8% and had an operating margin of 3.8%. The same measures often mark out better for value-adding prepared food companies, for example, Hormel Foods, whose sales growth rate and profit margin were a respective 5.8% and 8.9%.
Current and expected future financial results have directly affected stock valuation of different food companies. Shares of Hormel Foods and Hillshire Brands are trading at a P/E ratio of around 21 and 24, respectively, where Tyson Foods stock is selling for only about 13 times its earnings. As a result, market capitalization for Tyson Foods is a mere 1.3 times equity book value, whereas the measure is multiple times the respective equity book value for Hormel Foods and Hillshire Brands. By expanding into the higher-margin packaged food business, Tyson Foods hopes to improve its financial results, as well as potentially increasing its stock value.
But an equally difficult task, if not more, is how Tyson Foods can better market its newly developed packaged foods to consumers. While food companies usually rely on large grocery chains to sell packaged foods, Tyson Foods is betting on using local convenient stores to attract shoppers making quick stops for gas and convenient foods. It does sound like a suitable marketing strategy, especially given that grocery stores are already crowded with packaged foods selections from specialized food production companies, including Hormel Foods and Hillshire Brands, two major suppliers of meat-centric packaged foods.
Because of the competition at grocery stores, it will be definitely challenging for Tyson Foods, relatively new to the packaged food business, to compete for customer attention with established suppliers. But can convenient stores really deliver favorable results? Despite its appeal to certain customers, convenient stores are part of the old-time business that will likely see structural changes over time. It remains uncertain if convenient stores can continue to grow into the future. With groceries and foods being the last consumer products that the Internet commerce will find a way to accommodate for easier transactions, the day of customers buying foods regularly online may be here sooner than realized.
With potentially fewer people visiting convenient stores over time, it'll be less cost-effective to make them the place to sell packaged foods. The gradual disappearance of street corner stores may foretell future decline of other types of convenient stores due to mainly the now widespread convenient online shopping. With mobile online access available to so many average consumers, companies today can virtually interact with potential customers at all times. For Tyson Foods, solely relying on convenient stores to sell its packaged foods seems to be counter-intuitive in today's constantly evolving e-commerce environment.
Unlike fresh produce and other perishable food items that require additional care, packaged foods is most suitable for online purchases. Focusing on selling its packaged foods through convenient stores, Tyson Foods is missing out on what's popular and promising in today's changing retail operations. While consumers can check out Tyson Foods' product offerings on the company's website, the site doesn't function as an online sales operation that would allow consumers to make purchases wherever they see a product on the site, a potential loss of sales opportunity.
Convenient store sales may stop to grow at some point, partly because foot traffic to the stores, largely based on consumer driving patterns, remains unpredictable for the future. In one aspect, as telecommute has sometimes become a factor that people consider when taking up jobs, there could be potential decline in how much people will drive going forward. Thus, tying its packaged food operation and future financial performance to the uncertain convenient store business, Tyson Foods is thinking rather short term, while the company clearly relies on the long-term success of its packaged food business to help grow future sales and expand margins.
While investors should feel encouraged about Tyson Foods' expansion into the packaged food business, they can't be sure whether it's a suitable strategy to sell packaged foods through convenient stores. What seems convenient is to have an online operation as part of the marketing effort. Until then, investors may want to keep shopping around for what can surely deliver the better results.
Disclosure: I have no positions in any stocks mentioned, and no plans to initiate any positions within the next 72 hours. I wrote this article myself, and it expresses my own opinions. I am not receiving compensation for it (other than from Seeking Alpha). I have no business relationship with any company whose stock is mentioned in this article.