This article covers micro-cap stocks. Please be aware of the risks associated with these stocks.
With Thanksgiving behind us and everything turning to Christmas, it is all too easy to become a little myopic in regard to our outlook. I try to avoid Black Friday or any other shopping event this weekend and invest some quality time evaluating my positions. Looking ahead to 2014 and trying to determine if an individual stock will perform just as well after Christmas as they are now. To do this properly we have to deal with some thorny issues and take a position on a Macro view. Then identify the sectors we like before delving in to pick a winner or two.
Please Sir, Can I Have Some More?
Much has been written about the Fed this year. We started with the first hints of tapering and who was next in line to the throne. Almost every prediction has proved to be wrong and tapering has been pushed out till some time in 2014. Many out there attribute this to the dovish stance of Janet Yellen, but there is more to it.
Last July, in an article from Reuters that covered the restart of Sino-US investment treaty talks:
Chinese Vice Finance Minister Zhu Guangyao said China had about $20 billion of direct investment in the United States and $1.2 trillion in U.S. treasury bills.

"With such an extensive investment relationship, it is necessary for the two sides to have an institutional environment for the protection of these investments," he told reporters.
I find it hard to believe that somewhere in those lengthy talks there was no hint that the Peoples Bank of China would soon stop purchasing US treasuries. Perhaps with all the posturing about cyber security, intellectual property and the Snowden incident there just was not time. Putting speculation aside, we will just say that due to data points the Fed got more dovish going into the fall.
Last week SA contributor Katchum released his article "People's Bank Of China Announces End Of U.S. Treasury Buying". This is a solid piece and I definitely recommend you read the whole thing. There are a few areas in which our view point differs but we agree for the most part. So the PBOC has beaten the Fed to the tapering punch. Essentially they have forced the Fed's hand and some form of QE must be maintained.
Katchum rightly identifies that "the Chinese own mostly longer dated U.S. treasuries. They will do everything to shorten their maturity and sell the longer dated treasuries." and then suggests that

"While this conversion happens, the U.S. government is eagerly buying up these longer dated treasuries and helping the Chinese to unload."
This is where our opinion starts to differ. We should consider the Chinese conversion from long to short end securities as Operation Twist in reverse. I see it as more likely the Fed would implement something like Operation Twist again to counter. When S & P downgraded the US credit rating to AA+ in August 2011, China reduced their holdings in a similar manner. The Federal Open Market Committee ended its September 2011 meeting by announcing the implementation of Operation Twist. Unlike QE, Twist brought about strengthening of the dollar because the Fed's balance sheet was not expanded.
Dollar strength may be much in demand to help counteract the weakness created by the moves of the PBOC. The other main effect of Twist was risk aversion in the equity markets. Equities continued to make moderate gains under twist. QE3 was not enough to set them off and they did not really take off until the end of Twist and announced expansion of QE3 in December 2012: additional $45 billion per month of longer term securities. Twist ended because the Fed did not have enough short dated securities left to sell. As a result they just started buying at the long end.
Ok, so obviously no repeat of Twist, so what will they do?
I feel that they will start to ease up on the purchase of Mortgage Backed Securities first, and continue buying at the long end. The Housing Market has improved substantially over the last five years. The continuous trickle of first time buyers may be enough to sustain it going forward provided that there are jobs for these new young adults. So how can the Fed create Jobs?
Qualitative easing is a shift in the composition of the assets of the central bank towards less liquid and riskier assets, holding constant the size of the balance sheet (and the official policy rate and the rest of the list of usual suspects). The less liquid and more risky assets can be private securities as well as sovereign or sovereign-guaranteed instruments. All forms of risk, including credit risk (default risk) are included. Professor Willem Buiter of the London School of Economics
The Fed will continue buying long term bonds to prop up demand as China exits. A portion of the $40 billion per month spent on agency mortgage-backed securities could be funneled into state and local government bonds. Building schools, repairing roads and bridges, and creating the jobs needed. It may be the final admission that Congress will do absolutely nothing to help the economy. Ben Bernanke shrank from it, trying to give Congress the opportunity to do something during his term, but Yellen may be more assertive. Moves by the PBOC could force her hand as we are still in the middle of another debt ceiling debacle.
There is a lot to consider, but the mixture of Qualitative and Quantitative Easing may be preferable. Although the housing market may suffer initially, the inflationary effects of QE will attract buyers. The Fed balance sheet would not be expanding any faster than it currently is. The inverse correlation between the US Trade Deficit and foreign holders of US debt holds promise. Higher employment figures would support higher interest rates and tapering, both of which are inflation capping. We should remember Yellen has previously stated that occasionally letting inflation rise could be a "wise and humane policy" if it increases output.
The Affordable Care Act
The only thing more embracing this year than the most recent debt ceiling debate was the rollout of the government website. Instead of poking fun at a broken website, I would like to focus on the financial implications of the law itself.
For many low wage earners this is a pay raise with conditions. You got the increase but it has to be spent on health care insurance. For many employers this is seen as an increase in tax. For a restaurant worker earning $8 per hour, or $1200 per month, health insurance is a big deal. An employer paying $300 per month towards your health insurance is a 25% increase. For the employer it represents a 200% increase in the cost of that employee (not including any tax credits or variations in state and local taxes). This increased spending will expand GDP next year and has a deflationary effect on the economy. For the restaurateur the only way to cover these costs is to increase efficiency, increase customers or raise prices.
Food costs may decline a little due to the pullback in oil and transportation costs. Customer bases may increase if we get the jobs. Small price increases may be possible but does not help attract custom. 2014 could be a very tough year in some sectors just because of the ACA. Going forward I believe that the ACA will be beneficial and absorb some of the long term inflationary pressures of QE3, but short term there are some real issues.
Double coverage through a spouse's/parent's employer will become a thing of the past. Less expensive supplement coverage may fill the gap for many who want the additional coverage. I would consider this to be a longer term trend also, but UPS (NYSE:UPS) and others have already announced they are going down this road. The uncertainty is preventing me from establishing any position in the sector.
Quick Summary.
The PBOC will put its resources to work elsewhere. Commodities would appear to be the obvious choice. With gold (NYSEARCA:GLD) and silver (NYSEARCA:SLV) at some of the lowest values in recent years, they ought to get a boost. If we consider the implications to Forex caused by PBOC actions, many other commodities like aluminum may see price appreciation. From the currency perspective the long slide in the CND may reverse and would also be bullish for the AUD.
With regard to my earlier suggestions concerning action by Janet Yellen and the Fed: I do not believe she will be brazen enough to take any action ahead of the midterm elections. I see us muddling through 2014, in much the same way we did in 2012. The initial months of the year may be more fraught as talks begin again around the debt ceiling. January and February are the most likely candidates to host the pullback from current highs. If Q4 earnings fail to meet expectations and congress fails to accomplish anything meaningful, it may be a lot worse than a pull back. If the politicians are not careful, the Dow (NYSEARCA:DIA) could find itself looking for support at 13.5K before the end of Q1. In that instance expect to finish the year close to current levels. It is this possibility that is most likely to stabilize the USD in the face of actions undertaken by the PBOC. However I would note that much of the outflows from the market will end up in commodities and could cause a temporary recovery in oil prices.
So What Do I Like?
Airlines should outperform the broader markets in Q1. I particularly like a couple of them Alaska (NYSE:ALK) and Spirit (NASDAQ:SAVE). There are plenty of good articles on Alaska Airlines here at SA. I have written a couple about Spirit and since my first article, in late August, the stock has performed handsomely.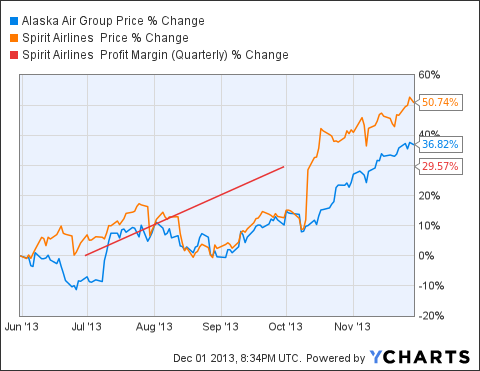 The continued decline in oil prices should add to margins for both these companies. I expect the good passenger numbers from earlier this fall to continue through the holiday season and further add to earnings. Both have minimal debt when compared to their peers and should continue to do well in a rising rate environment.
Metals, Mining, Basic materials etc: Costs here are in a large part connect to the price of energy. Lower production cost brought about by lower oil prices will help the miners through 2014. After a slow-ish start to the year Gold Miners in particular have the ability to outperform given the sentiment from the PBOC.
Alcoa Aluminum (NYSE:AA), many analysts and stock pickers think that a turnaround in the company's fortune is imminent. I even caught Jim Cramer talking about them on CNBC the other week. Alcoa gets plenty of coverage and my regular readers know that I try to find you the less obvious more speculative plays. Take a look at Norsk Hydro ASA (OTCQX:NHYDY) ADR.
"Norsk Hydro ASA, an integrated aluminum company, engages in power production, bauxite extraction, alumina refining, aluminium smelting and remelting, and rolling and extrusion activities. The company operates in Bauxite and Alumina, Primary Metal, Metal Markets, Rolled Products, and Energy segments. The Bauxite and Alumina segment is involved in bauxite mining activities, production of alumina, and related commercial activities, primarily the sale of alumina. The Primary Metal segment engages in the aluminum production, remelting, and casting activities. It primarily offers extrusion ingots, foundry alloys, and sheet ingot products. The Metal Markets segment sells and distributes products from the companys primary metal plants; and operates remelters, as well as physical and financial metal trading activities. The Rolled Products segment operates rolling mills that primarily provide aluminium foil, strip, sheet, and lithographic plate for application in sectors, such as packaging, automotive, and transport industries, as well as for offset printing plates. The Energy segment operates 19 hydroelectric power plants with a total installed capacity of approximately 1,900 MW. Norsk Hydro ASA was founded in 1905 and is headquartered in Oslo, Norway." From Yahoo finance.
The biggest concern here is the inability to get out in a hurry, the Avg Vol is just under 21K. With 2 billion shares outstanding, it is surprisingly low volume for a company with an 8.75 billion Mkt Cap.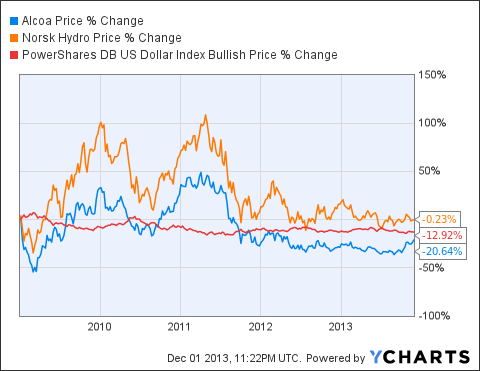 It gets more even more interesting when we look at cash per share.
| | | |
| --- | --- | --- |
| | Price | Cash per Share |
| Alcoa Aluminum | $9,61 | $0.95 |
| Norsk Hydro | $4.29 | $0.84 |
In fact when you look at many of the key ratios relative to current price Norsk Hydro appears to be a better buy. They have comparable debt but Norsk Hydro has slightly better margins. 2014 should be a stronger year for the industry. Norsk Hydro has also suffered in previous years as the NOK lost ground to both the EUR and USD. From that perspective I see the cash hoard as an opportunity to hedge against a weaker dollar or euro in the future. Although, in comparison, the movements in the dollar are slight; there is a direct inverse correlation. I would contend that without the currency weighting the charts for AA and NHYDY would be almost identical.
Both companies are currently trading at a discount to book. This may be further exaggerated by a broader slump at the beginning of the year and could be an ideal time to step in.
Technology. The world is hooked on tech and it is not going to change any time soon. I consider tech to be immune from the effects of QE and tapering. It has become such an integral part of our daily lives. During the housing collapse when people were losing their homes they still had a smartphone. There will always be winners and losers, but on a case by case basis.
Apple (NASDAQ:AAPL), Microsoft (NASDAQ:MSFT) and Sony (NYSE:SNE) all released encouraging early sales figures this week. I see them all having a great Q4 which should help to propel them in early 2014. On the more speculative side I will be sticking with Himax Technologies (NASDAQ:HIMX) and Adaptive Medias (OTCPK:ADTM). Himax has performed exceptionally well since my first coverage 18 months ago. I see this continuing in 2014.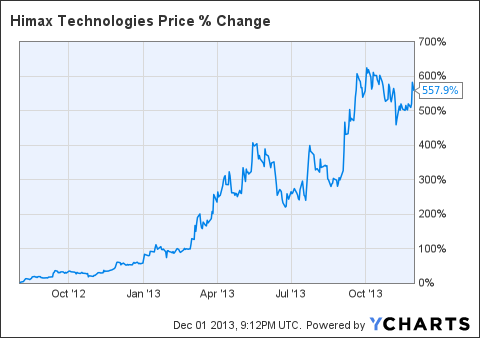 Himax is well positioned in supply and affords me the luxury of not having to choose a brand winner. They supply virtually everyone and do well regardless. I will not write more here as I covered both of them this week in Papa's Q4 Tech Topup.
Water Transportation. The oil tanker industry has been a killing zone for years. Tanker fleets were decimated and many of the largest players filed for bankruptcy protection. At the beginning of the month MTF Investing released an article sighting (NYSE:NAT) as "Nordic American Tankers is One of the best of breed". A good article that covers a lot of the opportunity that now exists in this sector. They also took the time to compare to others in the industry Frontline (NYSE:FRO) and TeeKay (NYSE:TNK). I agree that NAT has made some real progress, but I feel the DHT Holdings (NYSE:DHT) is better positioned going forward.
Here is a quick look at the stats from Yahoo Finance.
| | | |
| --- | --- | --- |
| Valuation Measures | DHT | NAT |
| Market Cap (intraday)5: | 87.11M | 534.72M |
| Enterprise Value (Dec1, 2013) | 190.93 M | 687.65M |
| Trailing P/E (NYSE:TTM) | N/A | N/A |
| Forward P/E (fye) | N/A | N/A |
| PEG Ratio (5 yr expected) | -0.53 | N/A |
| Price/Sales | 1.11 | 4.33 |
| Price/Book (mrq) | 0.51 | 0.63 |
| Enterprise Value/revenues | 2.49 | 6.49 |
| Enterprise Value/EBITDA | 9.77 | -31.43 |
| Financial Highlights | | |
| Fiscal Year Ends | Dec 31 | Dec 30 |
| Most Recent Quarter | Sep 30 | Sep 30 |
| Profitability | | |
| Profit Margin | -28.51% | -109.3% |
| Operating Margin | -11.10% | -83.17% |
| Management Effectiveness | | |
| Return on Assets | -1.42% | -4.93% |
| Return on Equity | -12.33% | -13.83% |
| Income Statement | | |
| Revenue | 76.65M | 106.00M |
| Revenue Per hare | 4.96 | 1.77 |
| Qtrly Revenue Growth (yoy) | -29.60% | 45.60% |
| Gross Profit | 61.98M | 130.68M |
| EBITDA | 19.55M | -21.88M |
| Net Income Avl to Common | -21.85M | -115.86M |
| Diluted EPS | -1.41 | -1.94 |
| Qtrly Earnings Growth (yoy) | N/A | N/A |
| Balance Sheet | | |
| Total Cash (mrq) | 50.00M | 90.47M |
| Total Cash Per Share (mrq) | 3.20 | 1.37 |
| Total Debt (mrq) | 156.00M | 250.00M |
| Total Debt/Equity (mrq) | 93.91 | 30.57 |
| Current Ratio (mrq) | 5.53 | 5.49 |
| Book Value per Share (mrq) | 10.69 | 12.39 |
| Cash Flow Statement | | |
| Operating Cash Flow | 19.10M | -35.51M |
| Levered Free Cash Flow | 21.94M | 15.86M |
DHT is undervalued compared to NAT. While NAT is confined to one section of the market with its' larger all Suezmax fleet; DHT has a smaller more versatile fleet. The fleet consists of eight double-hull crude oil tankers, including four very large crude carriers, two Suezmax tankers, and two Aframax tankers. The capacity is roughly equal to 11 of NAT's 20 Suezmax tankers.
NAT has a break even charter rate of $12000 per day; DHT is a little lower at $10000. This leaves more room for upside as charter rates increase.
Recent settlements announced this week should see revenues increase by over $1 per share in Q4, Due to the nature of the income DHT's cash position should improve to about $4.20 per share.
A recently announced equity placement will affect these numbers. With approximately 28M common and 97K preferred, cash per share should equal $5.05. That is just $0.52 below Fridays close with a Mkt Cap above 150 million.
(Update) As of Dec 2nd 2013 the equity placement has been completed. This sparked an upgrade by Hunter Global Securities this morning Tuesday 3rd Dec. The change in Mkt Cap will be reflected in due course. I will caution however that DHT remains a small cap stock and investors should be aware of the risks associated. The restrictions surrounding the equity placement should help to provide some stability going forward, but DHT remains a risky venture. Much of the capital raised in the placement will be immediately utilized in fleet expansion.
Conclusions
I still like Himax, Spirit and Adaptive Medias going forward and see no reason to change.
Norsk Hydro, like Alcoa has engaged in a lot of restructuring over recent years. I like the ability to hedge both the EUR and USD through Norsk. I am expecting some uncertain times for Forex in 2014 and this may provide some protection. I will initiate a position in NHYDY if we get the anticipated pull back early in Q1.
Gold, I intend to be long GLD in very early January.
DHT, I will prefer to be in ahead of Q4 earnings release on 1/27/2014. The exact timing may be very similar to Gold. Again due to Mkt Cap, I would urge caution and proper due diligence prior to initiating any position.
This is a very speculative portfolio, I do not recommend Investment in all of these unless you have substantial other holdings. It may be appropriate to dedicate a small percentage of your overall portfolio to such speculative plays, but you should conduct your own due diligence. I have tried to highlight some attractive aspects of stocks that otherwise receive little coverage.
Disclosure: I am long HIMX, OTCPK:ADTM, SAVE. I wrote this article myself, and it expresses my own opinions. I am not receiving compensation for it (other than from Seeking Alpha). I have no business relationship with any company whose stock is mentioned in this article.
Additional disclosure: This article may contain certain forward-looking statements. I have tried, whenever possible, to identify these forward-looking statements using words such as "anticipates," "believes," "estimates," "expects," "plans," "intends," "potential" and similar expressions. These statements reflect my current beliefs and are based on information currently available. Accordingly, such forward-looking statements involve known and unknown risks, uncertainties and other factors which could cause actual results, performance or achievements to differ materially from those expressed in or implied by such statements. I undertakes no obligation to update or provide advice in the event of any change, addition or alteration to the information contained in this article including such forward-looking statements.