Santa Claus is a savvy investor. He is near retirement and has been investing to better enjoy retirement, making sure there are sufficient funds to cover medical and extra care expenses in later years. He understands that retirement investing has changed in recent years. During the 20th century capital gains typically provided at least 2/3 of investment gains. However since 2000, capital gains have been limited even though the Dow Jones Industrials is at record levels.
Dividends supply the remainder of investment gains and the track records of company dividends have varied considerably during recent years. Some highly regarded companies have stumbled, especially during the financial meltdown 5 years ago, which resulted in dividend cuts. However Dividend Aristocrats have continued to pay dividends and also raised annual dividends for a minimum of the last 25 years. Some have streaks that exceed half a century of raising dividends.
Considerations for retirement are different than in the past. Retirees are living longer and more income is needed to pay for inflation and added retirement costs. Higher nursing, medical and related costs, especially in later years when costs can skyrocket, have become important along with unknown cost increases relating to Obamacare. The main objective for the vast majority of retirees is to increase income, primarily from rising dividends.
Below are 7 Dividend Aristocrats that Santa invested in for 2014 and beyond. The first 6, with higher incomes, are more appropriate for those looking for high and growing income. A lower yield on the last one is more appropriate for accounts with longer time horizons. The chart shows the current price, yield, dividend and streak (in years) for raising the annual dividend.
Santa's Stocks for Retirement
| | | | | |
| --- | --- | --- | --- | --- |
| | Price | Yield | Dividend | Streak |
| HCP (NYSE:HCP) | $36.77 | 5.7% | 2.10 | 28 |
| AT&T (NYSE:T) | $35.21 | 5.1% | 1.80 | 29 |
| Leggett & Platt (NYSE:LEG) | $30.21 | 4.0% | 1.20 | 42 |
| McDonald's (NYSE:MCD) | $97.37 | 3.3% | 3.24 | 37 |
| Chevron (NYSE:CVX) | $122.44 | 3.3% | 4.00 | 25 |
| Coca-Cola (NYSE:KO) | $40.19 | 2.8% | 1.12 | 51 |
| VF Corporation (NYSE:VFC) | $234.58 | 1.8% | 4.20 | 41 |
(1) HCP Inc., the only REIT that qualifies as a Dividend Aristocrat, invests in healthcare real estate: senior housing, medical office, nursing and hospitals. Healthcare services require more real estate for their growing businesses. Future growth in real estate comes from: demographics demanding more healthcare services, specialized nature of healthcare real estate investing and consolidation of a fragmented sector. In taxable accounts, about 76% of the dividend was taxable last year. The dividend is up 18% since 2007 (including a 5% increase this year).
(2) AT&T is a leader in wireless, Wi-Fi, high speed Internet, voice and cloud-based services. Wireless coverage is worldwide and its phones work in the most countries. With its predecessor company, Ma Bell, it has been providing phone services from the beginning. Now AT&T also offers advanced TV service. Last year, 81% of the revenue came from wireless and IT services. There are 10 million customers who receive AT&T wireless or high speed internet. Wireless growth has been helped because it sells the iPhone from Apple (NASDAQ:AAPL). AT&T has traditionally been thought of as a high yield stock and the dividend has risen 28% since 2007.
(3) Leggett-Platt is a leading supplier of products and components for the home, including: mattress springs, pocketed coils, power foundations, bed frames, ornamental beds, bedding accessories and carpet cushion. Last year it acquired Western Pneumatic Tube which is expected to double the revenue growth rate within 4 years. Most LEG products are #1 or #2 in their markets. International sales represent 27% of total sales and the company has high leverage so that sales gains can bring significant earnings gains. LEG measures success using Total Shareholder Return (TSR) with a goal to be in the top 1/3 of S&P 500 companies. Last year it was in the top 37% of the S&P 500. The dividend is up 54% since 2007.
(4) McDonald's is the largest restaurant chain, serving 70 million customers daily. Almost 70% of its business is in Europe and the US. The greatest growth potential is expected in Asia, Africa and Latin America. The company has 35,000 restaurants in 119 countries and added more than 1,400 new restaurants last year. The stock offers one of the highest yields in MCD history. The dividend has been increased annually since the IPO in 1976. In September the dividend was raised 5% to $3.24 (versus $1.50 in 2007). MCD expects to return $5.0 billion to shareholders this year with dividends and share repurchases.
(5) Chevron has become the second largest energy company in the US with worldwide oil-equivalent production of 2.6 million barrels per day and about 75% of the volume comes from more than 20 countries. The production goal is 3.3 million barrels of oil-equivalent per day by 2017, more than 20% above the 2010 level. Upstream (extracting oil and gas) accounts for almost 90% of income and the balance comes from the downstream (refineries). Capital expenditures YTD were $28.9 billion, $6 billion higher than last year, including developing the Wheatstone LNG natural gas base in Australia. The company purchased $1.25 billion of stock in Q3 (last year treasury purchases were $5 billion). CVX just became a Dividend Aristocrat and is proud annual dividend increases have been averaging 11% growth since 2004. With EPS above $12, more double digit dividend increases are coming.
(6) Coca-Cola is the world's largest provider of non-alcoholic beverages. Its drinks are sold in every country except Cuba and North Korea. Business is split into sparkling beverages (carbonated) and still beverages (Minute Maid, Dasani and vitaminwater). In 2009 KO established its "2020 vision" to double revenue in this decade. In the past 3 years, 3.3 billion incremental cases were sold and daily servings increased 200 million (during a challenging macroeconomic period). Growth will come from increasing consumption in countries with big populations. Beverage servings per person are under 20 in India and Indonesia and in China that figure is under 40. The US figure is 401 and the leader is Mexico at 745. The dividend has risen 65% since 2007.
(7) VF Corporation is the world's largest apparel company with its branded lifestyle apparel. Its 5 businesses are: Outdoor & Actions Sports, Jeanswear, Imagewear, Sportswear and Contemporary Brands. Major brands include: Wrangler, Lee, The North Face, Lee, Vans and Nautica. Success has come from divesting slower growth brands and expanding in leisure brands (such as Timberland). Going forward, management is guiding for 10% revenue growth and 12% annual EPS growth. TSR averaged 30% during the last 3 years and with the stock up over 50% YTD this will be an excellent year. The annual dividend has almost doubled since 2007. The annual dividend was raised 21% last month to $4.20 along with a 4-1 split.
Even with the Dow and the S&P 500 at record highs, uncertainty and difficult times lie ahead in 2014. From the low in October 2011, the Dow has surged 5,400 to 16,086 including a 3,000 advance YTD. It is difficult to imagine what the Dow can do for an encore next year. A better measure of performance is that the Dow is up a modest 40% since the start of 2000, equivalent to a 2.4% growth rate. From the record in October 2007, the Dow is up nearly 14% which is equivalent to a 2.1% growth rate. Consistent and dividend increases are why Santa invested in these companies.
Dow Jones Industrials -- 3 years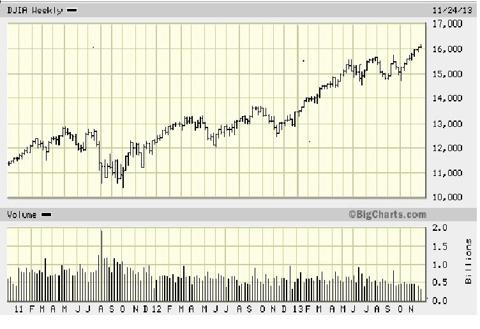 These stocks with dependable and rising dividends can be counted on for years of rewards. Lower yields at VFC will be attractive for investors who are expecting to live many years during retirement. The yield is about 1% below higher yielding stocks, but intelligent management has done well in recent years by investing in more company stores, emphasizing international growth and expanding branded leisure clothing brands. EPS grew from $4.13 in 2009 to almost $11 forecasted this year. MCD has had choppy same store sales recently. New management is upgrading menus, restaurants and the number of restaurants keeps growing. Analysts are forecasting a 4% increase for this year's EPS and 7% for next year for new records. The others are doing well and will be extending their streaks as Dividend Aristocrats.
While Santa is getting ready for his big day of work coming up, he is not concerned about his retirement portfolio going into 2014. Owning these stocks makes him feel comfortable. As a bonus, rising income feels good in retirement accounts when the stock market sells off.
Disclosure: I am long KO, VFC. I wrote this article myself, and it expresses my own opinions. I am not receiving compensation for it (other than from Seeking Alpha). I have no business relationship with any company whose stock is mentioned in this article.