The future growth prospects of the retail sector lies in the combination of comparable store sales, new stores, international expansion and e-commerce. In such a scenario investors should be looking for companies that possess this combination. In this article I will analyze Wal-Mart (NYSE:WMT) to see whether the company is heading in the right direction.
Historical Outlook
During the most recent quarter of fiscal year 2014 the company reported revenues of $115.6 billion, reflecting an increase of 1.7% year over year. Cost of goods sold and operating expenses were $86.6 billion and $22.69 billion, reflecting increases of 1.4% and 2%, respectively. Topline growth was negatively impacted by sluggish consumer confidence, unfavorable translation gain and an overall weak global economy.
DuPont Analysis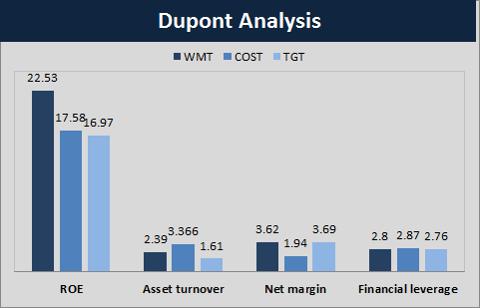 The chart above represents the DuPont Analysis of three companies. Wal-Mart has been generating the highest return on equity compared to Costco (NASDAQ:COST) and Target (NYSE:TGT). The company has an average financial ratio of 2.8, average asset turnover of 2.39 and the highest net margin of 3.62.
The most critical measure for large retailers is asset turnover. Wal-Mart's asset turnover is lower than Costco's simply because Costco has a very low store count compared to Wal-Mart. Hence, through this analysis, we can conclude that the source of superior return for Wal-Mart is its higher profit margin and reasonable asset turnover.
Operating efficiency

As represented in the above table, we can clearly see how gigantic Wal-Mart is compared to its rivals. In this, I have calculated average store size by taking reciprocal of total square footage of stores by total number of stores. In addition to average store size, I have calculated sales per square foot by taking reciprocal of total sales by total square footage of the company.
As it can be seen that company earns $428.57 per square foot which is less than revenue per square foot earned by Costco, the main reason for this apparent inefficiency is the number of stores. As Wal-Mart has 10,464 more stores than Costco, it is obvious that there will be cannibalization to a certain extent. Costco, due to low number of stores, is not facing any cannibalization. To support my point, one can see target per square foot sales is also less than that of Costco.
Steps that will define the future:
Online Grocery Business
The prerequisites for online retailing of grocery products are huge infrastructure investments, including a network of storage warehouses and a vast logistics system.
The industry giant Wal-Mart has concentrated its focus to widen a percentage of its online business as it is expanding its grocery business which now accounts for 55% of sales. The company has increased its online sales estimates to $482 billion by 2014. Moreover, the company currently has the largest chain of stores and warehouses for both fresh and refrigerated food, trucks and distribution centers. Wal-Mart has a say in the market and its online grocery sales in the US are growing and are expected to be $10 billion this year up from $7.7 billion last year. It is estimated that the current growth rate will increase. The major shift to online retailing will be easy for Wal-Mart.
Focus on International Growth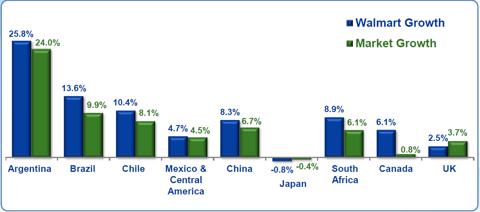 (Source: Company presentation)
The company's move into the international markets is quite noticeable. Wal-Mart is benefiting significantly from its operations in India, Brazil, Argentina, Chile, Africa and other emerging markets and is experiencing steady growth. The company's performance in the Asia-Pacific countries was quite impressive, except in Japan. China experienced almost double digit growth in revenues and a reasonable increase in market share. So in the wake of the galloping growth in China, Wal-Mart has decided to open 110 new stores by the end of 2016. It has been operating more than 400 stores in China and the addition of 110 new stores will help Wal-Mart to build an economic stronghold in the world's fastest growing economy.
Despite rapid international expansion the company has not forgotten its domestic market that still accounts for approximately 60% of total sales. The company plans to keep its domestic stores well-stocked and stands ready to change its strategies according to changing customer trends.
Cost saving initiative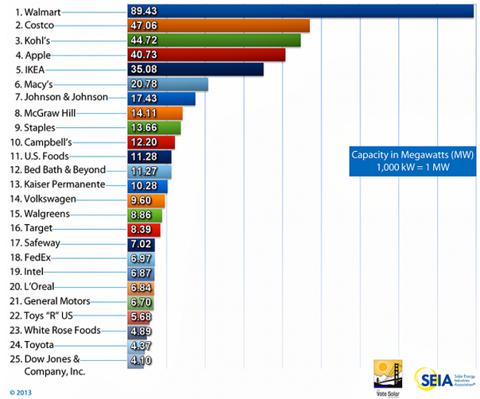 Wal-Mart has taken numerous steps in the past to cut down its operating cost and has proved to be extremely successful. Likewise, Wal-Mart is the leading renewable energy user among the big retail giants. The company realizes the need to further cut expenses so that it can remain competitive and earn higher margins. For this purpose it has signed several power purchasing agreements with solar panel developers that will deploy, own and operate electric systems and supply low cost energy to the company.
Currently the company is using 89 megawatts of renewable energy installed at 215 locations which it plans to expand nationwide.
Forecast of Revenues and Net Income
In the table presented below I have forecasted Wal-Mart's revenues, net income and net margin Wal-Mart. For my calculations I have taken numerous assumptions to incorporate the impact of the recent steps taken by the company. I have quantified Wal-Mart's growth in the international market, the company's steps to cut down operating costs, the inflation effect and other such factors.

Moreover,the company has a long history of sharing its success with shareholders. The company currently has a dividend yield of 2.2% which is higher than the industry average of 1.9%.
Is it the Right Time to Invest?
In addition to the company's future prospects the current stock price is equally important for making a decision regarding the stock.

The company's per share earnings, book value, sales and cash flows have been calculated using trailing twelve month figures. Moreover, the weights to the P/E, P/B, P/S and P/Cash Flow ratios have been assigned on the basis of survey estimates.
On the basis of given multiples of industry and the company, the fair value of the stock should be $91.5 reflecting an upside potential of 13.76%.
Conclusion
A high-revenue generating company like Wal-Mart is doing everything to save its market share. The company is heading in the right direction and will surely boost its revenues and profits. Additionally its stock is trading at low multiples compared to the industry average.
Moreover the new CEO of Wal-Mart, Doug McMillon, is a well-respected and innovative man who has a long history of successfully resolving tensions.
Hence, after my analysis I am quite confident that Wal-Mart will outperform its peers and deliver some impressive results. So I recommend buying stock in Wal-Mart.
Disclosure: I have no positions in any stocks mentioned, and no plans to initiate any positions within the next 72 hours.
Business relationship disclosure: The article has been written by a Blackstone Equity Research research analyst. Blackstone Equity Research is not receiving compensation for it (other than from Seeking Alpha). Blackstone Equity Research has no business relationship with any company whose stock is mentioned in this article.