The irony about karma is that you sometimes do not know if you are on the receiving end of bad or good karma. And fortunes can change in mid-flight. Oil markets in this context are fascinating right now. This year, oil-consuming nations have witnessed the heavy footprint of OPEC over global oil markets lighten.
News of Iran's potential slow ramp up of oil supply resounded with a downward small ping in prices, later to bounce back based on supply realities and economic growth. Iraqi oil supply keeps increasing, averaging about 3 million barrels per day, a new high in the last 20 years from sanctions lifted from the Saddam Hussein days and the passing of time of the U.S.-led incursion. Iraq plans to keep pumping - growing production 500,000 - 750,000 barrels more per day in 2014. Iraq's output relative to OPEC production hovers near 10%, from around 7.5% in 2008. Iran's contribution to OPEC production was around 12% in 2008, dropping in 2013 to 8.6%, according to a recent Wall Street Journal article. Iraq's gains come at a time of Iran's losses. Iraq's intended supply increases could be dampened by security threats and aging infrastructure though.
Some countries will have to give in to curtailing production to maintain OPEC quotas, with Saudi Arabia the most likely candidate. One analyst cites a $10 per barrel reduction in Brent crude prices if Iran's export capacity is restored in full. Many OPEC members rely on $100 crude to stabilize their respective budgets, notes the WSJ article. However, the London-based Center for Global Energy Studies cites a minimum oil price of $85 per barrel for Saudi Arabia to cover its spending, assuming production of 9.6 m/b/d. OPEC produced 30.01 m/b/d in November. The Saudis hold about one-third market share of OPEC's production.
A Moderating Force?
The U.S. shale oil boom has leveled the playing field in terms of U.S. imports. At the height of our oil import consumption in 2005, U.S. imports were 60% of demand; today imports are around 36%, as noted by an Economist Intelligence Unit report.
From roughly 500,000 barrels per day in 2009 to nearly 2.5 million in 2013, U.S. shale will continue to make a difference. The October 2013 assessment from the Energy Information Administration's drilling report indicates where the new production is coming from. Note the Permian Spraberry (bottom brown), Wolfcamp (dark brown) and Bonespring (blue) shale plays. Estimates for the Spraberry/Wolfcamp are that it is producing 450,000 boe per day, growing to 2.5 million in 20 years. That's the entirety of what is depicted here below, and this is cumulative. The consultancy IHS expects 4.5 m/b/d of shale oil production in 2035.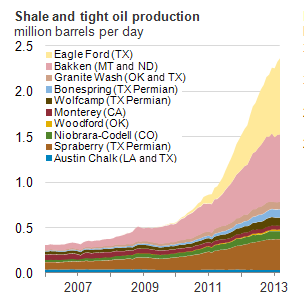 Overall, U.S. production was 10.24 m/b/d in 2013, according to the Paris-based International Energy Agency, and it expects growth to rise to 11.13 m/b/d in 2014, a fairly conservative estimate.
Both Saudi Arabia and the UAE are pushing back their investments in production capacity. The Saudis say they will hold tight at 12.5 m/b/d to 2040 because of supply growth elsewhere. This is a signal that maintaining higher prices is a goal over market share, even within OPEC. A Financial Times analysis suggests that investment is increasingly tied to replacing declining production from mature fields versus adding new production capacity. The most likely scenario for the OPEC cartel is to curb output and agree on production quotas, if perceived and potential supply surges manifest.
U.S. supply itself is not a huge threat to OPEC. A greater concern is the technology transfer and repeat performance of the shale oil "revolution" elsewhere. China, Russia, Argentina, Libya and Mexico have technically recoverable shale oil assets, as do many other countries. The following chart is sourced from the Energy Information Agency's shale gas and oil assessment of June 2013. The estimates of technically recoverable resources are fractions in comparison to risked oil-in-place figures.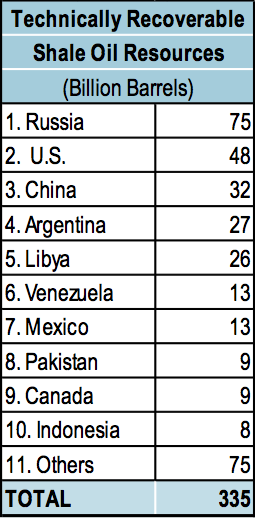 There are numerous caveats to the global expansion of shale oil exploitation. Larger U.S. independent producers such as Pioneer Natural Resources (NYSE:PXD), Apache (NYSE:APA), Laredo Petroleum (NYSE:LPI) and many other smaller firms are making strides to lower the cost of production and master the "manufacturing" of shale plays. If anyone can figure out how to produce shale oil at its lowest cost, the U.S. oil and gas industry will muster its ingenuity and strive to meet this challenge. In fact, the Permian Basin, with its varied geologic plays within plays, is another proving ground beyond the learning that has already occurred in the booming Bakken and Eagle Ford Shales.
Economics the Messenger
In this arguably "new" hydrocarbon-plenty era, economics will drive investment decisions. Exploiting the shale oil and gas is relatively expensive. And a subtle but sticky-priced floor is likely emerging given supply realities. Given that U.S. production would be hit hardest by any serious decline in oil prices, E&P firms have been hedging portions of production, up to three years ahead in cases. Between U.S. firms' financial hedges in place and OPEC's lever of production cuts, if needed, the volatility that oil could face is becoming lessened to a degree by new supply realities. In other words, the price volatility from negative supply shocks of years past is temporarily muted because of U.S. oil production.
In the nearer term, demand shocks and dampeners, such as economic crisis or recession and U.S. policy paralysis that squanders a decent recovery, are more of a catalyst for oil prices to fall. The EIA reports that "energy use in non-OECD countries is projected to grow by 2.2% per year, and the share of non-OECD energy use is expected to rise from 54% of total world energy use in 2010 to 65% in 2040." Growing developing countries will mop up excess supply. Further out on the horizon is the impact of greater fossil fuel consumption and whether the closed system of the earth's ecosystem can handle it.
Changing energy portfolios among and within countries may and will likely factor into oil supply and demand equations in the future. Being less vulnerable to Middle East and North African political crisis - a sort of U.S. energy-induced peace dividend - provides an opportunity to make progress on global economic, trade, and development fronts. It also provides a respite to address longer-term security threats, which are influenced by lack of economic opportunity, and confront "challenges of the commons" requiring cooperative initiatives.
Disclosure: I have no positions in any stocks mentioned, and no plans to initiate any positions within the next 72 hours. I wrote this article myself, and it expresses my own opinions. I am not receiving compensation for it (other than from Seeking Alpha). I have no business relationship with any company whose stock is mentioned in this article.