ETF Spotlight on the ALPS Alerian Energy Infrastructure ETF (NYSEARCA:ENFR), part of an ongoing series.
Assets: $3.7 million
Objective: The Alerian Energy Infrastructure ETF tries to reflect the performance of the Alerian Energy Infrastructure Index, which is comprised of 30 North American energy infrastructure companies that engage in transportation, storage and process of energy commodities.
Holdings: Top holdings include Crosstex Energy (XTXI) 6.7%, SemGroup (NYSE:SEMG) 4.7%, Targa Resources (NYSE:TRGP) 4.5%, Oneok (NYSE:OKE) 4.5% and TransCanada (NYSE:TRP) 4.5%.
What You Should Know:
ALPS sponsors the fund.
ENFR has a 0.65% expense ratio.
The ETF has 30 components and the top ten make up 45.3% of the overall portfolio.
Sub-sector components include US MLP affiliates 30%, energy infrastructure MLPs 25%, Canadian energy infrastructure companies 20%, US energy infrastructure companies 15% and Canadian MLP affiliates 10%.
The fund started trading November 1.
The ETF is down 1.2% over the last week and down 0.3% over the past month.
ENFR caps exposure to master limited partnerships at 25%.
MLP ETFs that hold more than 25% of their portfolio in MLPs are structured as C-Corporations in order to track an underlying MLP-related index and must pay corporate income tax on distributions before passing them to investors.
Since MLPs act like a toll road and transport energy, the companies are less affected by changes in oil prices.
The Latest News:
Demand for Cheap Canadian oil is rising.
"We now have the cheapest oil in the world, and simple economics says it will find a way to a market," Colin Soares, CEO of High North Resources, said in a Financial Post article. "The light oil might go to the west coast via a new pipeline, or it might travel across Canada to the eastern Maritime provinces, but it will find a way-for both heavy and light oil."
Additionally, there is always U.S. demand for heavy oil.
"The US will always want our heavy oil, as their refining complex is mostly heavy oil," Soares added. "And our heavy oil trades at a discount to both Mexican and Venezuelan heavy oil."
ALPS Alerian Energy Infrastructure ETF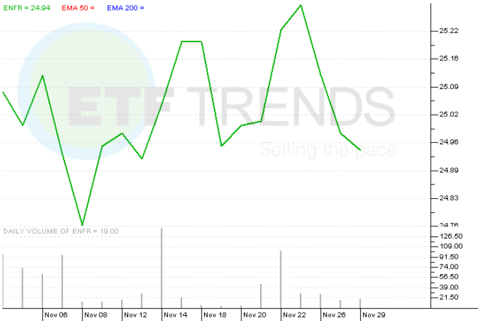 Disclosure: I have no positions in any stocks mentioned, and no plans to initiate any positions within the next 72 hours. I wrote this article myself, and it expresses my own opinions. I am not receiving compensation for it. I have no business relationship with any company whose stock is mentioned in this article.